Review: Mil-Tac's "Code Zero" 1911 Grips
Pat Cascio 05.16.16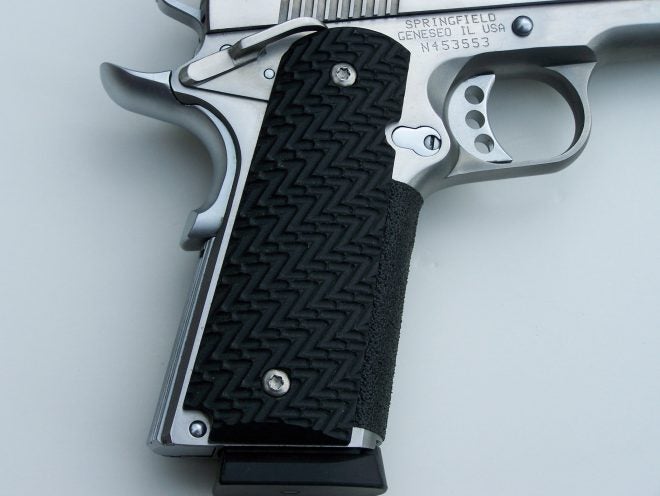 I rarely toot my own horn, but every now and then I feel a need to do just that.
Several years ago, I sat down and decided to design the ultimate G10 handgun grips for the 1911 Government Model. I wanted a design that had just the right texture: not too aggressive, but enough to provide a firm grip. I worked closely with Mil-Tac's owner, Craig Sword, to design and refine these grips, and it took us the better part of a year to get the design just right and get the CNC program set up. It was a much bigger and time-consuming task than I thought it would be.
I should add here that although I designed these grips, I never received royalties from them, so there's not a conflict of interest in my writing this article. I do NOT make any money from these grips sold to the public!
By the way, Mil-Tac also makes some outstanding fighting knives, two of which (CE-1 and CE-2) I helped design in conjunction with custom knife maker Ray Ennis and Mil-Tac owner Craig Sword–again, I make no money off these designs.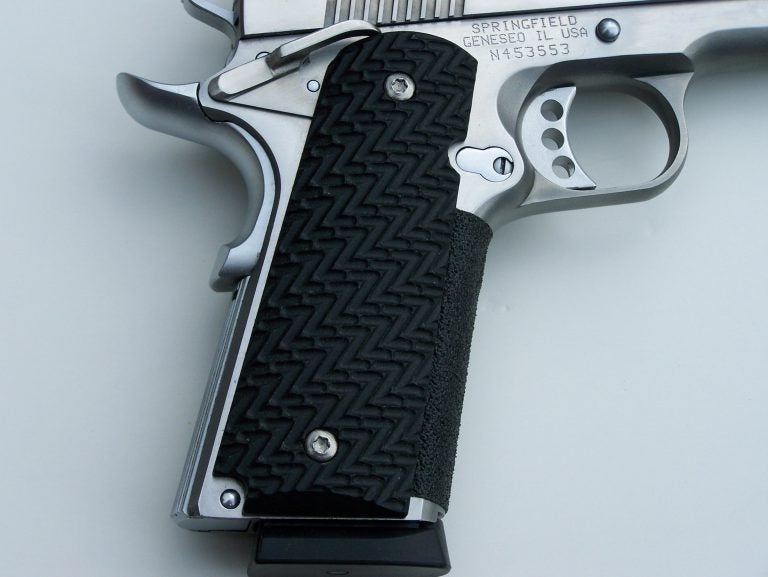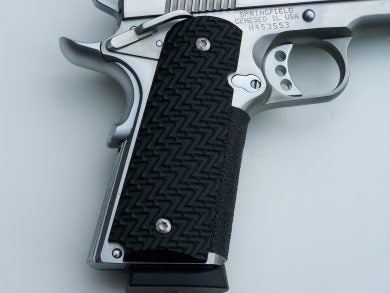 There are all manner of custom-made grips for the grand ol' 1911 pistol. There are probably hundreds of different designs, but there's nothing quite like the "Z" pattern that Craig Sword and I came up with. I wanted a good-looking, unique grip that also served a function by helping me hold onto the gun during rapid-fire under any weather conditions, and I believe the "Code Zero" 1911 grip design does just that.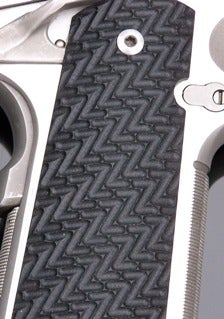 My grip design allows the "meat" of the hand to flow into the deeply machined "Z" pattern, which aids in getting a firm grip on the 1911. One of the major problems we had getting the "Z" pattern just right was machining the "Z" pattern to different depths on the G10 grip panels. We didn't want them to be too deep "here" and not deep enough "there." As you can imagine, a lot of computer programing that went into it–much more work than I anticipated when I drew my original sketches and presented the design to Mil-Tac.
Craig Sword and I selected G10 laminate for the handle material of Code Zero grips because this material is almost bulletproof. Unlike Micarta, which can easily chip or fracture if dropped the G10 material will stand up to all manner of abuse without breaking.
Craig Sword provided me with 30 pairs of these grips to send out to other gun writers and magazine editors, and everyone who tested this design loved it. The grips have been written about and featured in gun magazines. When we placed these grips on a couple 1911s at my local gun shop for people to test, everyone loved the design. Folks love how they felt in the hand, providing good grip but without sharp edges.
Everyone who tested our grip design also commented on how "cool" they looked. Of course, that wasn't our number one intention when we came out with them. We wanted functional 1911 grips that allowed a great hold on the gun without cutting into your hand, and I believe we accomplished that.
Additionally, these grips don't cling to your clothing like rubber grips do, possibly hindering your draw from concealment or even having your clothing rip the gun right out of your hand, as sometimes happens with rubber grips.
While you are checking out the "Code Zero" 1911 grips at Mil-Tac, be sure to look at their fixed and folding knife designs. They have some real winners there, some designed by Craig Sword and some by custom knife makers. I'm betting you'll find something you can't live without. Mil-Tac Code Zero 1911 grips retail for $69.00 and you can purchase them directly from Mil-Tac. If you're a dealer, Sword offers a great dealer program with low minimum purchases, too.