Mossberg Suing Fellow Gun Companies Over AR Triggers
Russ Chastain 05.23.16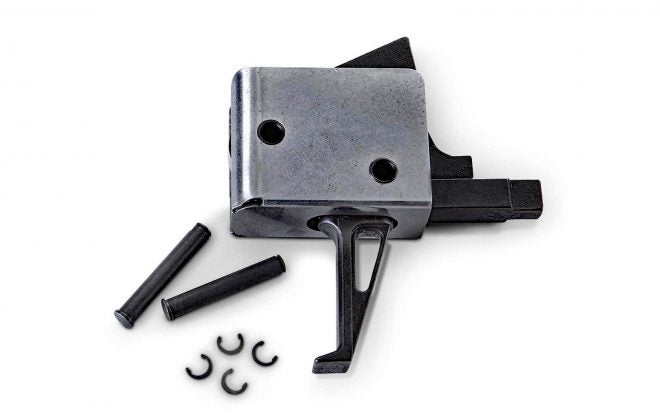 Hmmmm.
Our friends over at The Firearms Blog (TFB) have reported that gunmaker Mossberg is suing a number of companies for violating a trigger patent (US 7,293,385 B2), the rights to which Mossberg owns.
The patent, filed by Michael L. McCormick and dated 2007, covers drop-in triggers that use pins to secure them in place, and the patent document clearly shows an AR receiver.
While the TFB post clearly takes umbrage with this lawsuit, the company that currently makes triggers under that patent (CMC Triggers) posted a statement regarding the lawsuit on their Facebook page, apparently referring to articles that may paint Mossberg in a bad light: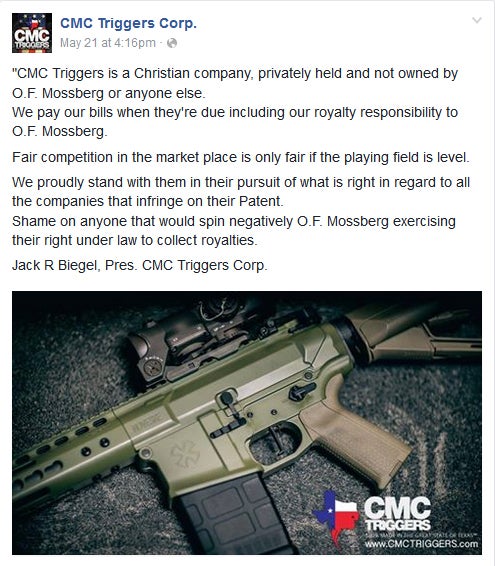 CMC Triggers is a Christian company, privately held and not owned by O.F. Mossberg or anyone else.

We pay our bills when they're due including our royalty responsibility to O.F. Mossberg.

Fair competition in the market place is only fair if the playing field is level.

We proudly stand with them in their pursuit of what is right in regard to all the companies that infringe on their Patent.

Shame on anyone that would spin negatively O.F. Mossberg exercising their right under law to collect royalties.

Jack R Biegel, Pres. CMC Triggers Corp.
To those who may not understand how all this fits together, here's what I think we know:
Chip McCormick patented a trigger for the AR15, which became very popular.
The company reportedly had trouble keeping up with demand, and in 2011 the rights to manufacture the trigger were sold to a company "that would make the production of the CMC Triggers their main objective and fill the supply lines."
That trigger is currently being made by CMC Triggers, but the patent is owned by Mossberg. Therefore, CMC pays royalties to Mossberg.
Mossberg does not own CMC Triggers.
A number of other companies have been making similar triggers without paying royalties, and this lawsuit seeks to amend that situation.
To me, the litigation seems to be reasonable action taken by a company to protect its interests.
What do you think?