Review: Seekins Precision AR15 "Little Billet Parts"
Major Pandemic 05.23.16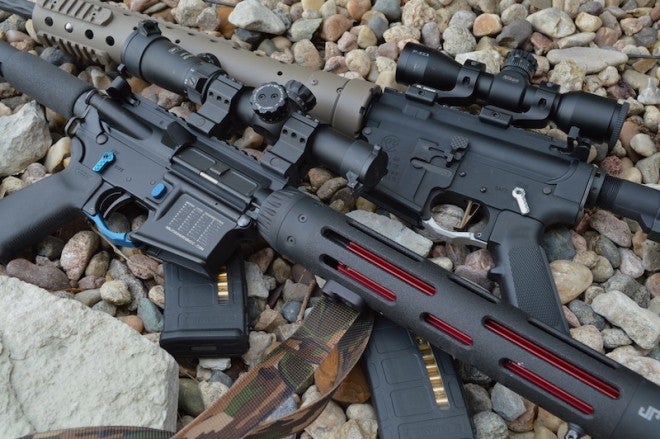 Now that we all own a couple basic AR15s, we glance over at our friends' tricked-out ARs with all that billet goodness and then stare blankly at our basic, plain, battle rifle and wonder what we could do to dress it up a bit.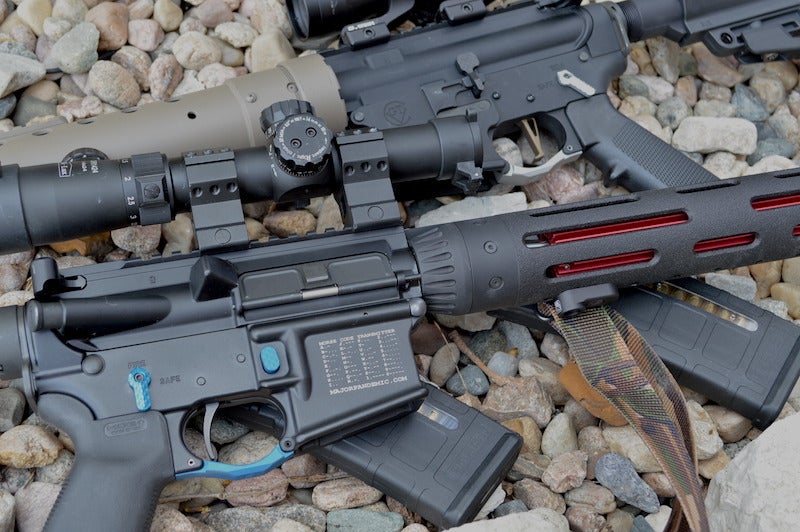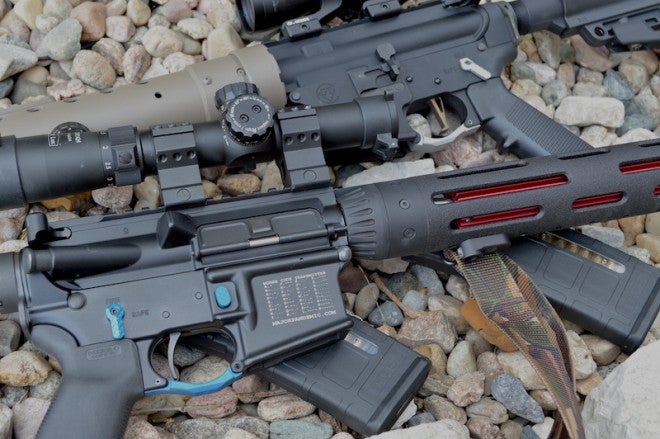 One of the biggest booming markets around our fun little AR15s are all those great Little Billet Parts, or LBPs. These LBPs are designed to add those little custom touches here and there. Just ten or so years ago, such parts only included extended trigger guard, ambi selector, and maybe an extended latch charging handle, but times are changing.
Why have an functional-but-ugly selector or a plastic extended trigger guard when you could have some gleaming cool-looking billet part for the price of a couple sub sandwiches? The AR15 market has matured beyond the look of chest thumping, all-black, mil-spec battle rifles. Now the average shooter is actually excited about adding parts that get noticed and are not just basic black.
Seekins Precision
Long before many of the "me too" manufacturers even knew what an AR15 was, Seekins Precision was manufacturing billet and custom AR15 receivers under their own brand and for other companies. Today the company offers loads of custom billet AR15 parts, as well as complete rifles with all those beautiful receivers and parts included.
The best part? Seekins  makes premium LBPs with a price that is downright inexpensive, and they're available in a huge array of anodized colors as well. Last time I checked, there were seven colors with more being added all the time.
There are a lot of cheap imported LBPs coming in now, but all Seekins parts are 100% made right here in the USA. Despite all the crazy custom AR15 builds that I do, I still had a few AR rifles that needed some updates. I looked to Seekins for a few selectors, trigger guards, mag releases, and bolt catches to show off what they offer.
Even for the AR15 owner without build experience, most of these little aftermarket upgrades are easy to install–some without any tools, other with punch and hammer or screwdriver and hex wrench.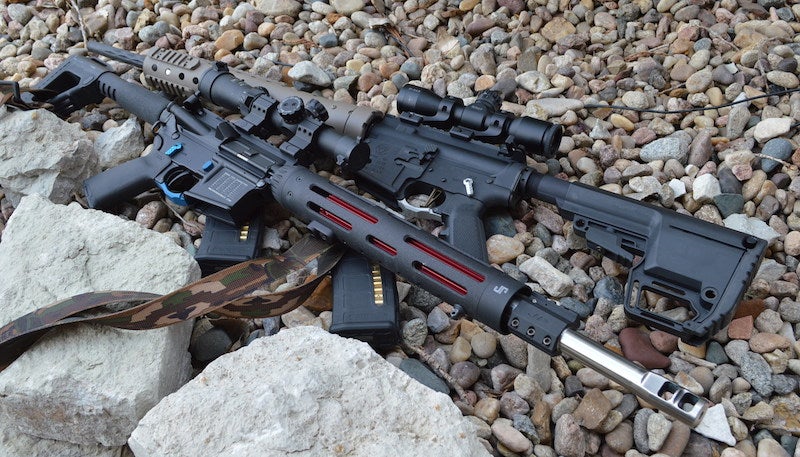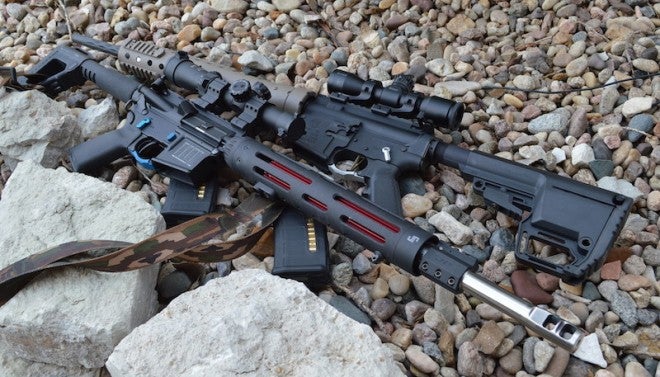 The first rifle that needed some bling was my custom laser logo DoubleStar receiver AR15, which hosts a JP Rifles match grade competition barreled upper. With the bright red JP Rifle Barrel heat sinks peeking through the handguard and a fair amount of white lasered lettering and logoing, this rifle needed some blue for a fun red, white, and blue theme. I added a Seekins magazine release, extended trigger guard, and ambi selector. It added just the right touch.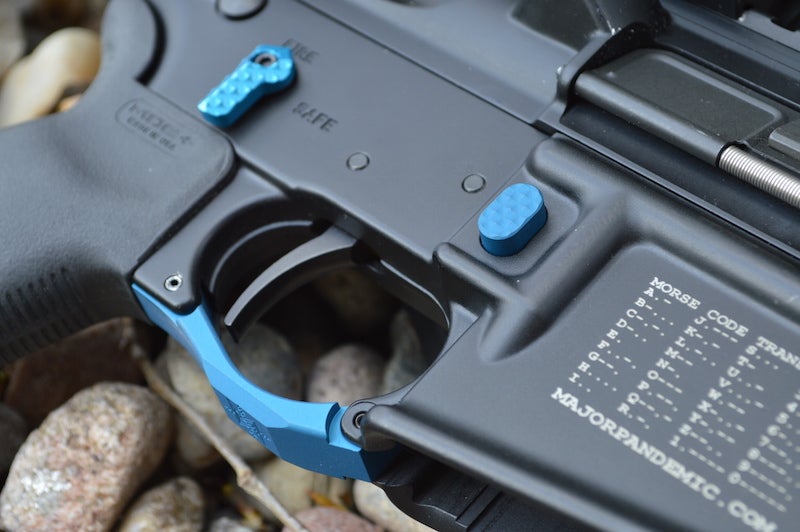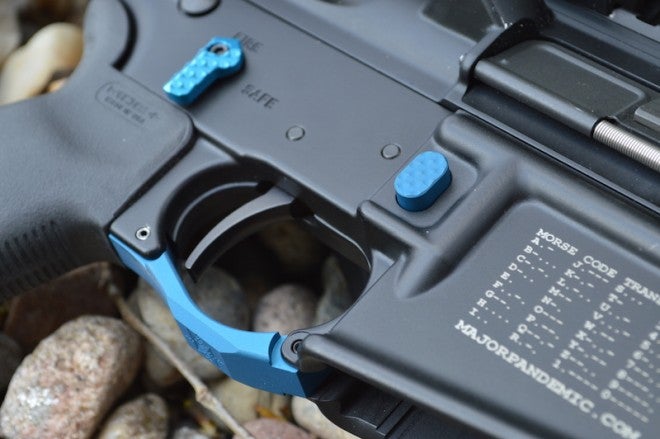 The mag release button delivers a better-looking release without the typical hole all the way through and adds a classy diamond pattern. I use a lot of these 6061 billet aluminum mag releases because they are only $5.99 where most other comparable parts are nearly three times the price.
It's amazing to me that Seekins can offer a little part like this for only $2 more than a standard mil-spec release, but they do. Installation only requires the stock release to be depressed enough for the magazine catch to clear the bolt release and to start unscrewing it.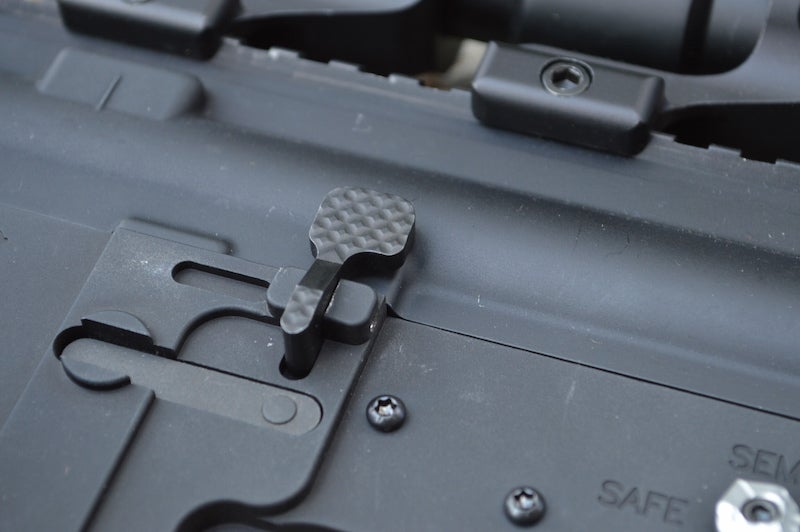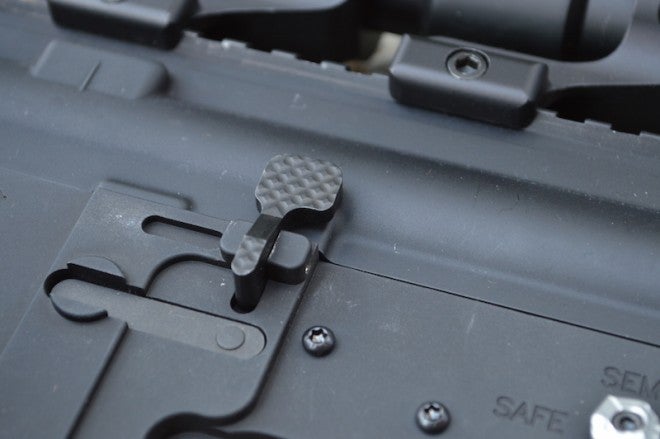 The other AR15 ready for some gleaming billet was a GTVC billet lower receiver. GTVC made handfulls of cash during the boom, but has since dropped the manufacture of AR15 receivers and moved back into aerospace manufacturing.
This is one of those AR15s that I shoot a lot and I decided that I would add some highlights to an otherwise straightforward build. This build received a silver anodized Seekins mag release, extended trigger guard, and ambi selector, but I also added a Seekins extended bolt release. This is a unique MIM (Metal Injection Molding) part that uses a proprietary metal that is stronger than the mil-spec release. The Seekins design gives you a larger bolt release paddle and an extended bolt hold open latch. At $12.99 it's a competition-killing price point.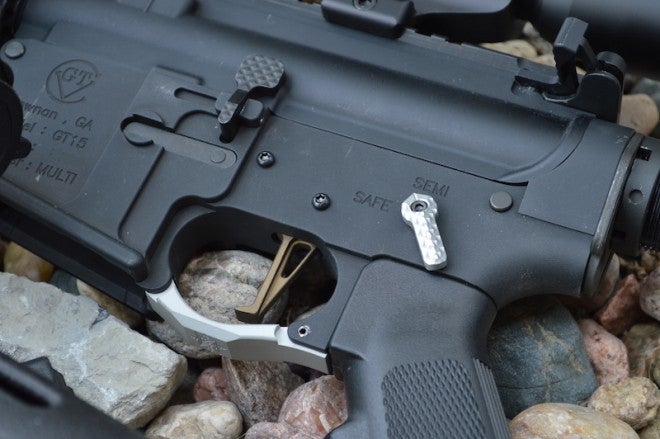 An extended trigger guard is an upgrade very few shooters will ever actually use, but it looks cool, so people do it. In this case it looks extremely cool and Seekins has added a lot of style into an otherwise understated part, and they sell it for $19.99.
Like most other extended guards, the spring loaded detent on the front of the guard is released, the factory roll pin is driven out with a punch, and the new guard is reinstalled with the roll pin. The front of the guard is secured with machine screws.
The Seekins selector is a bit unique in that it can be installed to be either a standard 90-degree or a 60-degree-throw lever. Install the selector "barrel" one way and you have a 90-degree throw; flip it around and you have a 60-degree throw. Pretty cool and innovative LPB for only $39.99.
Final Thoughts
I know the guy next to you might have spent the equivalent price of a good used luxury car on all his upgrades, but Seekins Precision parts can help add a lot of class and style to your AR15 for not a lot of money. As I write this, I have a box of their mag releases and trigger guards coming my way to upgrade a few extra rifles that need some style.
And if you are one of these rough-and-tough chest-thumping all-black-battle-rifles folks, Seekins makes all these parts in black as well.