Review: Ruger SR-556E AR-Style Rifle
Pat Cascio 05.24.16

Not that long ago, Ruger would let writers know about new guns months in advance. That gave us time to get a sample, test it, and write about it. Then, when the article appeared in print, the gun would be ready to sell to the public. But that didn't always work out. Sometimes the guns were delayed for some reason, and readers would be more than a little dismayed. Gun writers like myself would catch the flak from our readers because we told them that the gun would be available when the article was out in print.
A few years ago, Ruger came out with a new policy: they usually let us gun writers know about a new gun design about a day before the public knows about it. I'm not sure if this policy is good or bad. I do know that we no longer get samples in advance, and I can live with that.
The bad news for consumers is that, by the time writers get our samples and test them, they may have already purchased a model without the benefit of reading a review and learning about its problems.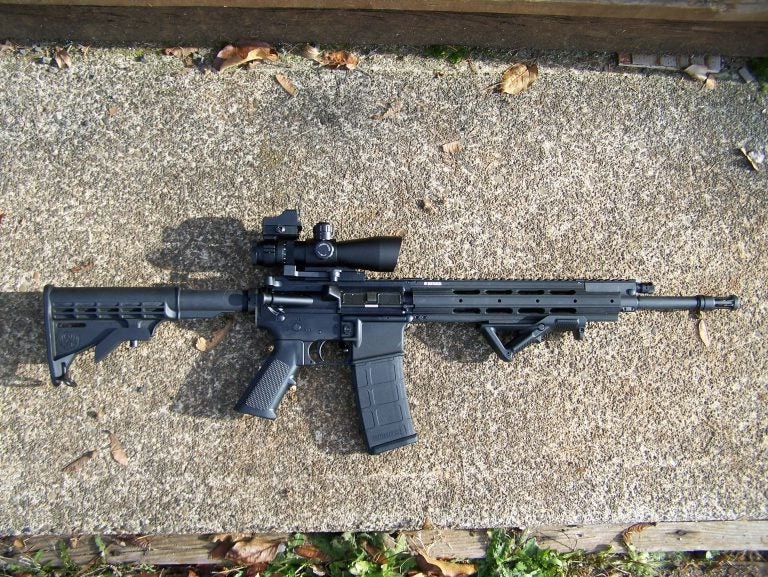 Happily, Ruger is usually on the ball, but there have been a few problems in recent years where a design flaw was detected and there was a huge recall. I'm glad to report, though, that Ruger steps right up and takes care of any defects instead of trying to hide them.
A few year ago, I tested the then-new Ruger SR556, a long-awaited AR-style rifle, with a few differences. The SR556 was a piston-driven rifle instead of a direct gas impingement design. A piston-driven design runs cleaner and cooler because it keeps hot gases from being vented back into the bolt/bolt carrier.
I loved the SR556 and had just one problem. I thought the gun was a bit top/front end heavy, and it just didn't balance quite right to my way of thinking. Still, it was a winner in my book!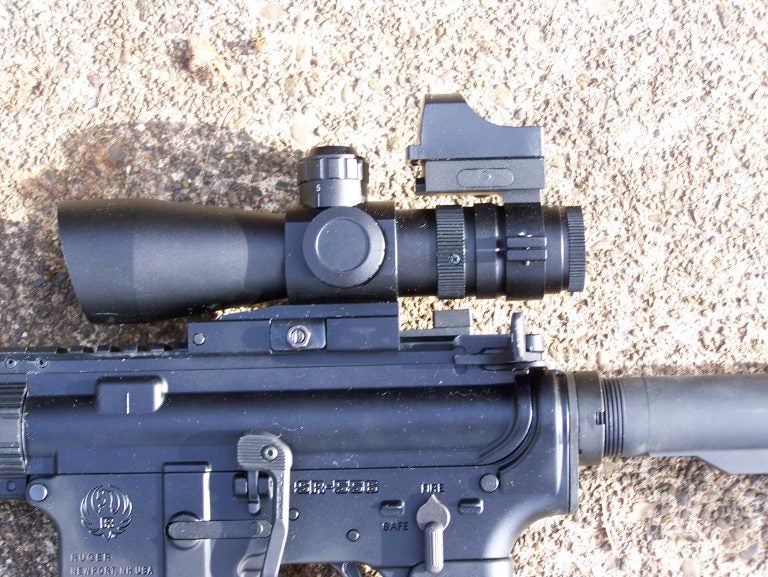 Enter the Ruger SR556E. While the SR556 retails for $1995 (pretty steep for many buyers), the SR556E has a full retail of $1,375 and that's quite a savings. You aren't getting everything that the SR556 has, but not everyone needs it.
For instance, the SR556 comes with a nice padded carrying case, three MagPul PMags, a Picatinny-style forend with rail covers, and mounting points at all four positions on the rail. The SR556E comes with a nice forend, but it only has mounting points at the 12:00 position (although you can purchase additional rails for mounting things at the 3:00, 6:00 and 9:00 positions).
To me, the SR556E balances a whole lot better with its 16.12-inch cold hammer forged barrel as opposed the the SR556 model, which felt much heavier than it was. We are only talking a few ounces difference in weight between the SR556 and the SR556E models, but I prefer the SR556E. I'm not one to hang much on my AR-style rifles to start with, so I don't need all the mounting space on the forend.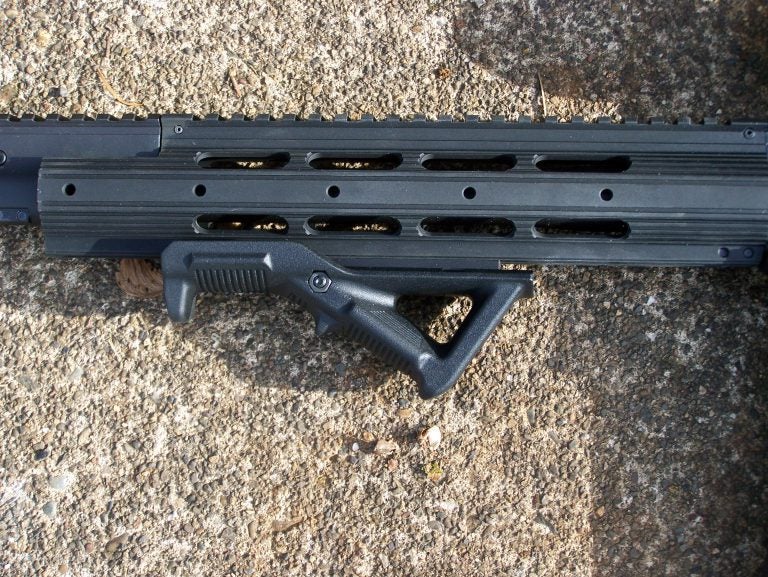 The SR556E does include a soft case, which is nice considering so many places simply give you a cardboard box with your expensive AR. I've never understood that. When you pay a lot of money for a nice rifle, why can't gun companies at least throw in a $10.00 plastic case? Ruger does it right in this case.
The SR556E comes with rapid-deploy front and rear sights, so if you don't mount some kind of optic on your SR556E, you can use these nice, usable sights instead. The factory sights fold down to stay out of the way of scopes or red dot sights, but when needed they pop up at the touch of a button.
A lot of AR makers don't give you any sights at all on their flat top models, which means more money you have to spend.
We also have a mil-spec 6-positon telescoping stock, A2 pistol grip, non-ambi safety, forward assist, flash suppressor–all the basic stuff on most AR-style rifles. So what sets the Ruger SR556E apart from other ARs? Simple! The two-stage gas piston with an adjustable regulator that provides a cleaner and cooler firearm.
Gas vs. Piston
If you shot a direct gas impingement AR next to one that has a short-stroke piston setup, you could readily tell that the piston gun is running smoother. It's hard to explain, but you can feel it.
When you fire a gas impingement AR, the hot dirty gases are directed back through a gas tube right into the gun's action, which naturally makes it hot and dirty. With the piston-driven SR556E, most gas fouling is vented out the bottom of the gas block and away from the bolt carrier, keeping the gun cleaner and cooler.
You can fire off a couple 30-round magazines and take the bolt carrier out, and it will be clean and cool to the touch. I've done it myself. Try that with a direct gas impingement AR, and you'll burn your fingers while getting them dirty.
Gas Regulator
The SR556E's four-position gas regulator controls the amount of gas that is released to cycle the piston. It comes from the factory set at the #2 position. I found no need to change it, but for the sake of the article, I tried the different positions. They all worked just fine, with some settings throwing the empty shells farther than others.
The "0" position turns the gas off and the action doesn't cycle. Use this when using a suppressor. If your gun starts to run a little sluggish due to fouling or underpowered ammo, use the #3 position. And if you happen to have some really hot ammo, you can use the #1 position. But as I said, the #2 position works just fine most of the time.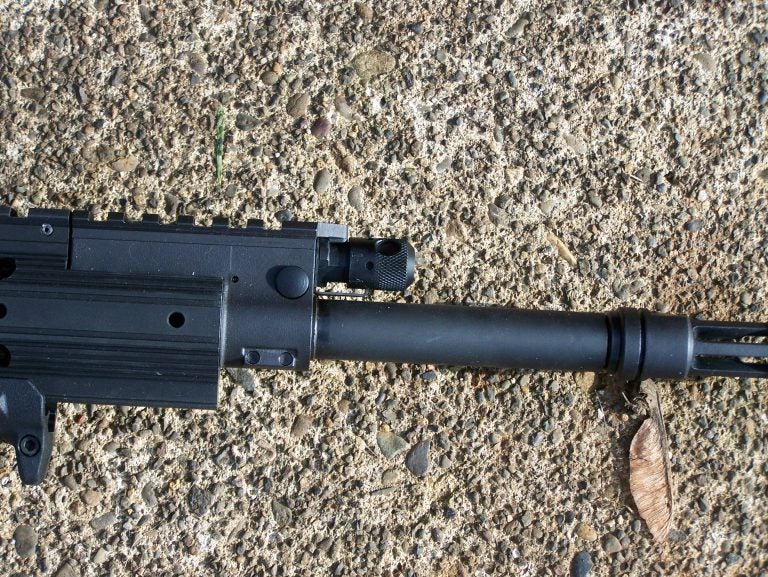 The SR556E can handle 223 Remington and 5.56mm ammo, which are NOT the same. And its gas block, piston, and bolt are chromed, which really helps in cleanup.
The barrel has a 1:9 twist, which is optimal for most bullet weights as heavy as 68 or 69 grains. I tested the SR556E with a variety of 223 and 5.56mm loads and had zero problems with any of them. Just out of curiosity, I did try some heavier 77-grain bullets, and just as I expected, the 1:9 Barrel twist failed to stabilize the bullet.
At the Range
Weather conditions were miserable for my range sessions with the SR556E. Heavy fog limited my shooting to 50 yards, and even then the poor visibility made it difficult to get a good sight picture on the target.
I tried the SR556E with these loads:
Buffalo Bore 55-grain Ballistic Tip Sniper load
Buffalo Bore 69-grain JHP
Black Hills 55-grain FMJ
Black Hills 55-grain Soft Point
Black Hills 68-grain Heavy Match Hollow Point
Winchester white box USA 55-grain FMJ
I ran three 30-round magazines of the Winchester load through the SR556E as fast as I could pull the trigger with no malfunctions. I broke the gun down and pulled out the bolt/bolt carrier, and it was still clean and cool to the touch–try that with a direct gas impingement AR.
I settled down for some accuracy testing, using my favorite method: a rolled-up sleeping bag over the hood of my SUV. With the Buffalo Bore 55-grain Sniper Load, I was getting 2-inch groups at 50 yards. With their 69-grain JHP load, I was getting groups right at 1.25 inches.
Both Black Hills 55-grain loads gave me two-inch groups, while the 68-grain Heavy Match load was grouping right at 1.50-inch. Remember, these are 50-yard groups.
I believe the SR556E is capable of smaller groups, but I wasn't able to get a perfect sight picture and it was hard to see the target at times. On a good day with the right ammo, I believe the SR556E can easily shoot tighter groups.
Conclusion
As I mentioned earlier, I like the way this SR556E balances; it just feels a lot better than the SR556 I tested. I'm getting sold on piston-driven ARs these days. I like that they run cooler and smoother and don't get the bolt/bolt carrier group so dirty. And theoretically, they should be more reliable.
If I had to nit-pick the SR556E, it would be that there is no front sling attachment (but that's an easy fix). That said, I am going to have to convince the wife that I actually "need" one more AR-style rifle because this sample isn't going back to Ruger.
The SR556E in the accompanying photos is lightly customized and belongs to a friend. My own SR556E is just the way it came from the factory, which I like. I just wanted to show readers some sensible customizing on the SR556E, instead of one with 10 extra pounds of junk mounted on the gun, making it too heavy and not combat worthy.
I like the SR556E, and don't believe for one second that the "E" stands for Economy. It means "Everything." Everything you need in an AR-style rifle.