So You Want to be a Knife (or Gun) Writer?
Pat Cascio 06.01.16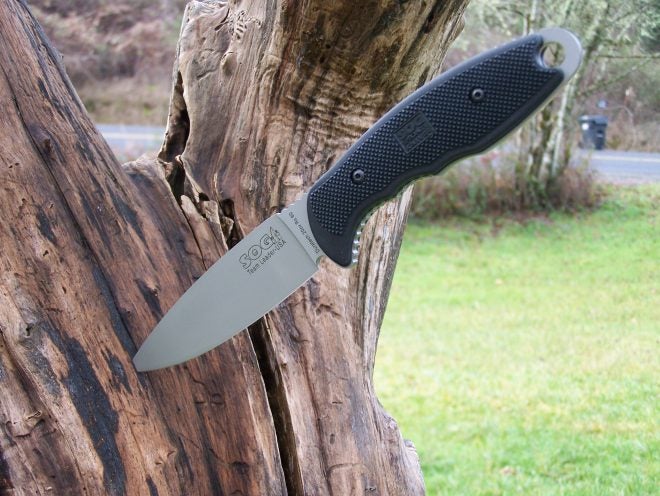 Whenever people ask me what I do for a living, I give them a list: I raise and train German Shepherd dogs, I teach firearms classes, I'm a security consultant/protection specialist, and I write articles. When people find out I'm a writer of sorts, they'll often ask, "How could I get started writing articles?" My first response is, "Don't quit your day job," and the second thing I tell them is, "Don't quit your day job."
There aren't many writers who actually make a living in this line of work. There are a few who have done okay writing magazine articles, but for the most part we do this to supplement our incomes and because we have a passion for the things about which we write. If you're not passionate about something, don't write about it!
I don't want to discourage anyone from starting a second career as a writer; far from it. I'd like to see some fresh blood in the firearms and cutlery magazines. I just want you to know what you're in for. There are a number of things a magazine editor looks for in writers–or should I say, in their articles. I'll try to outline some of these things in this article, and you can go from there.
I broke into this field at the urging of the late Col. Rex Applegate. I worked for the good Colonel on a full-time basis for about three years, maintaining his vast gun and knife collections among other things. During this time, Applegate told me that I had a talent when it came to guns and knives, and I was introduced to a number of folks in the gun and knife fields.
The late Chuck Karwan and I became good friends, and at the time we lived just 45 minutes apart. Chuck was my personal "editor" and helped me in no small part with my first articles. My articles would come back from Chuck with red ink all over 'em. At first I thought he was being hard on me. Such was not the case; he was helping me more than I knew.
You've got to present as clean an article as possible to an editor. If an editor has to spend hours editing your article, he's just going to return it to you. Yeah, I know. An editor's job is to edit, right? But he shouldn't have to rewrite your article.
You've got to have above-average photography skills, and you've got to know which angles and which views to take of a knife or gun. It's not as easy as you might think. You've also got to have something of a command of the English language. If you can't convey to the readers what you want them to know, you've failed miserably.
In the beginning, you'll probably have to pay for the knives you review. Once you've gained a following and begun to generate some contacts in the industry, you will be able to get samples either as loaners, at a discount, or free of charge.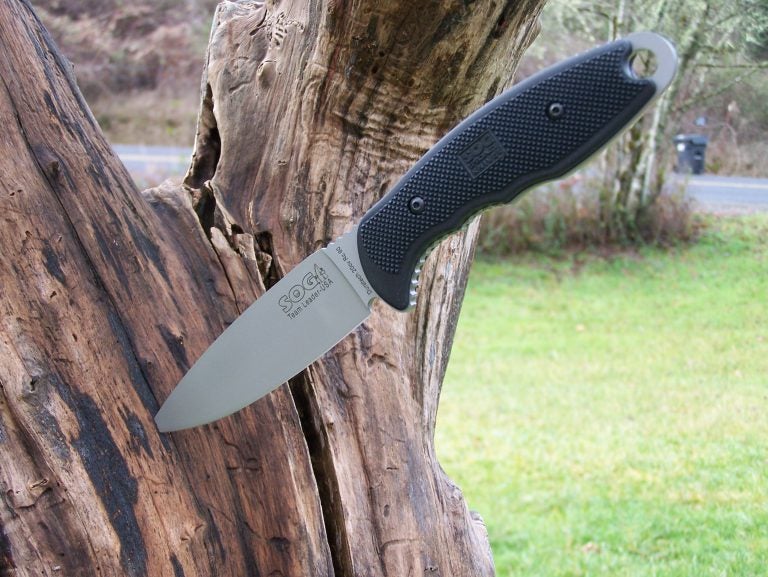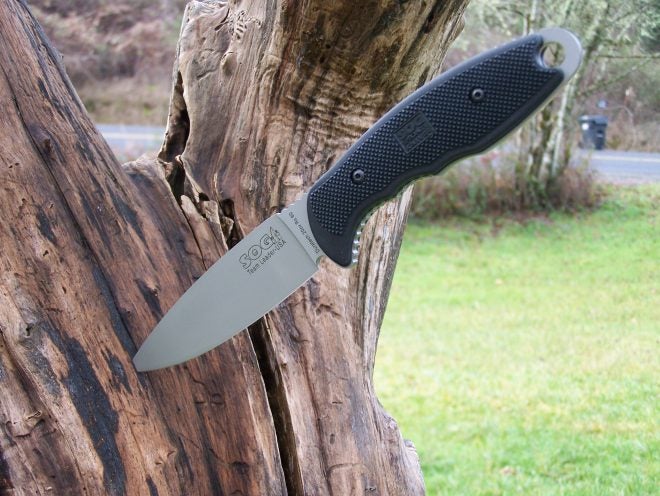 Especially when you're paying for the knives, you need to be selective about which ones you review. I look for something a bit different in each knife I write about. For example, the SOG Team Leader Survivor is an outstanding fixed blade knife. I like its flowing lines; it can be used for camping, close combat, and everyday chores around the homestead; and it's priced right, too.
I'm always on the lookout for something really unique in a knife design. While touring the Kershaw Knives plant some time ago, I was privy to a new blade design. It's actually a melding of two different blade materials. The blade edge on the Junk Yard Dog (composite) is made of D2 tool steel while the balance of the blade is Sandvik 13C26 stainless. Look for something unique and unusual.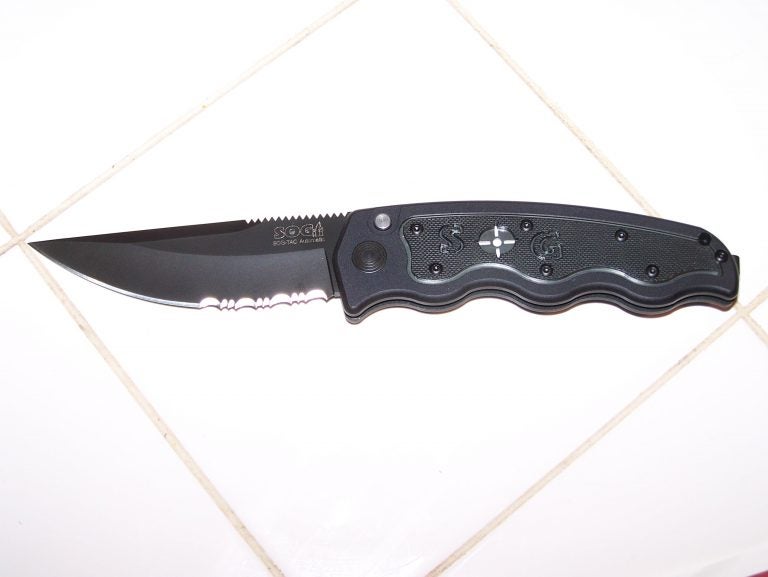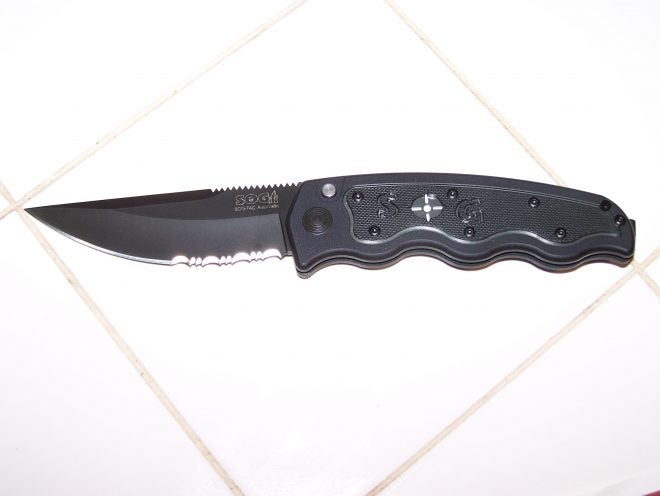 I'm a sucker for a good, automatic folder, and I live in a state that allows them. SOG came out with a dandy automatic called the SOG-TAC, and at around $130.00, the price sets it apart.
Whenever I'm looking for a new knife design, I also look to new knife companies. This can be a good opportunity to help a company tell its story while presenting new and unique products to your readers.
I recently received the Blackhawk Crucible II folder for testing. What sets this apart? Well, it's a less-expensive version of their Crucible I folder. At about half the price of the original, it's a dandy for CBQ work if you ask me.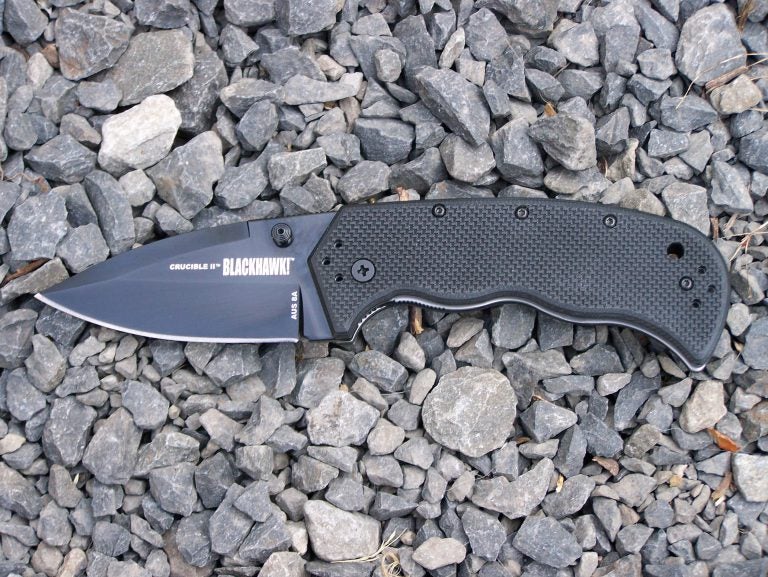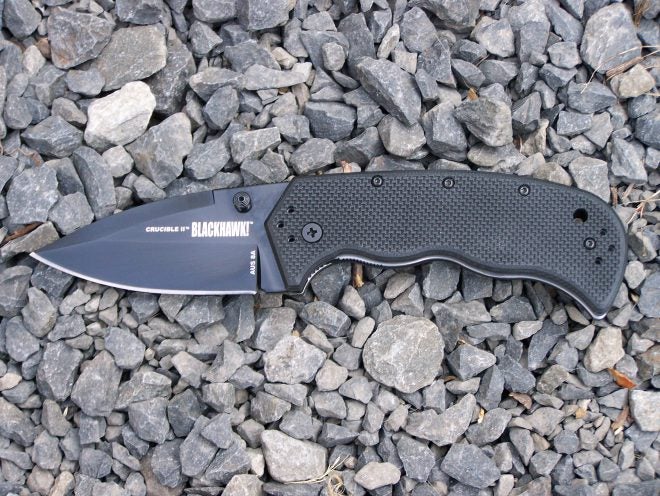 Mick Strider is a very talented knife designer and maker, but many of his knives are a bit spendy. So Strider joined forces with Kershaw Knives for a few collaborations. The Model 0121 mini-fixed blade knife is one hot seller in the Kershaw "Zero Tolerance" line-up.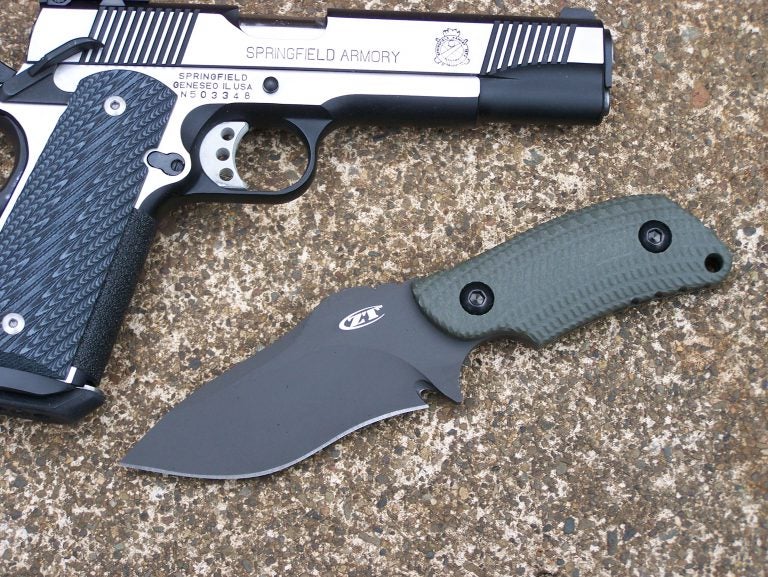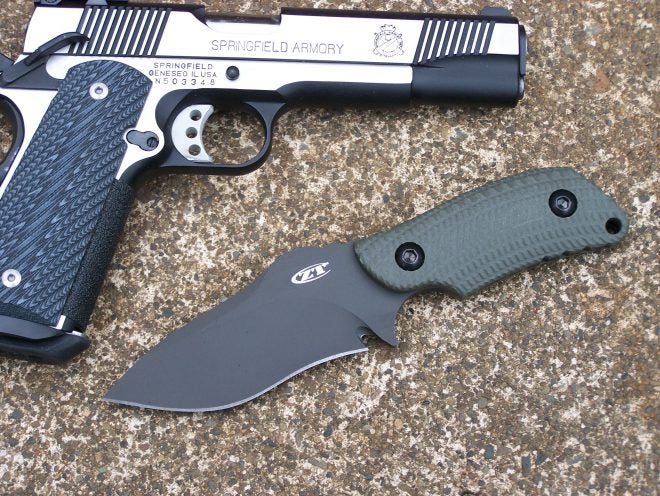 As already mentioned, I'm a sucker for a good quality knife at a good price. So, it should come as no surprise that the Fusion line by SOG caught my attention. They are producing some dandy fixed blades and folders and other specialty knives in this affordable lineup.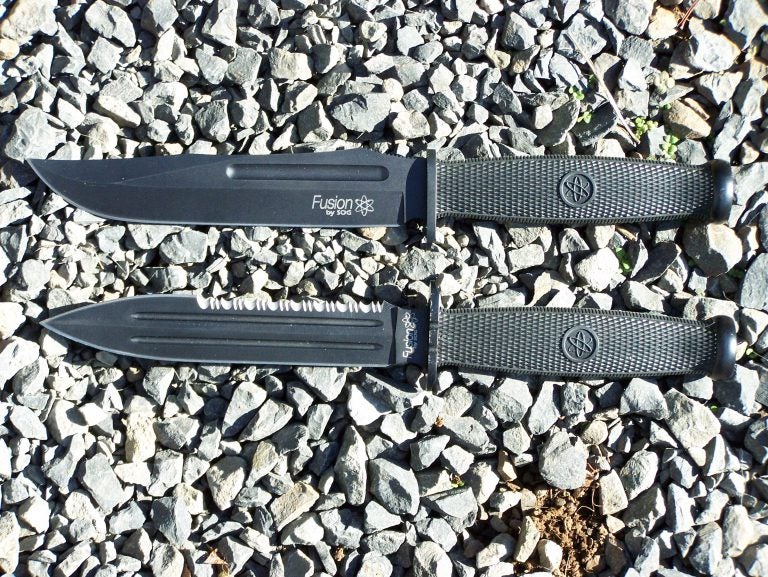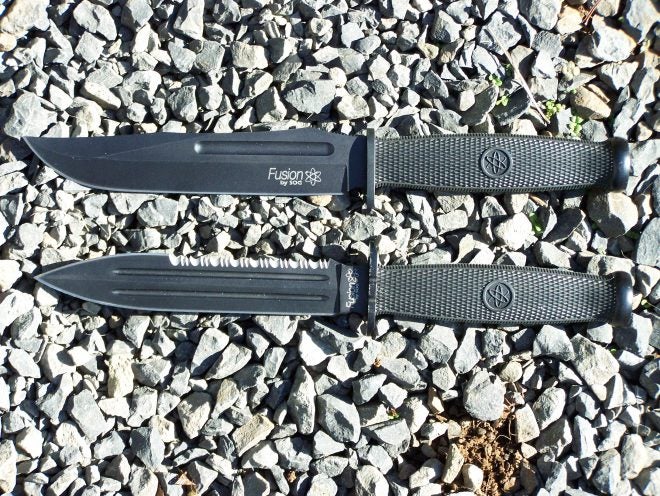 I already mentioned that I like automatic knives, and the Benchmade Infidel is no exception. It appears to be a folder at first glance, but the blade actually comes straight out of the end of the handle. Not something you see every day.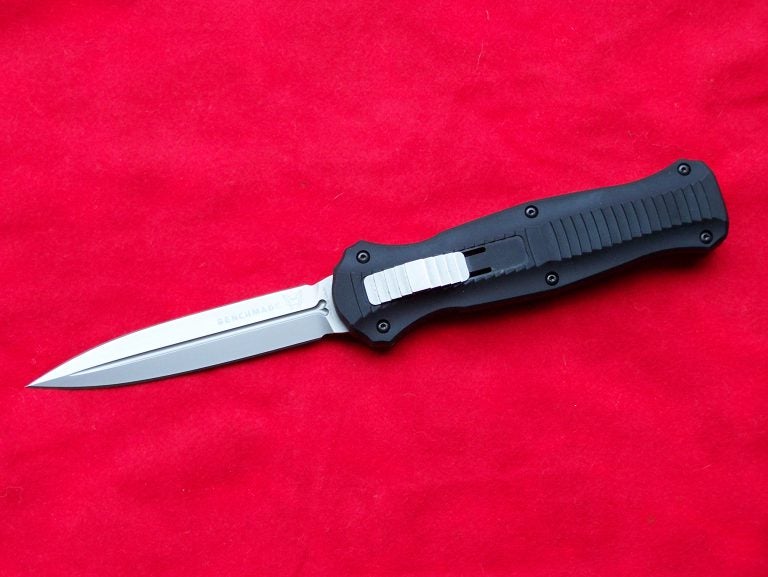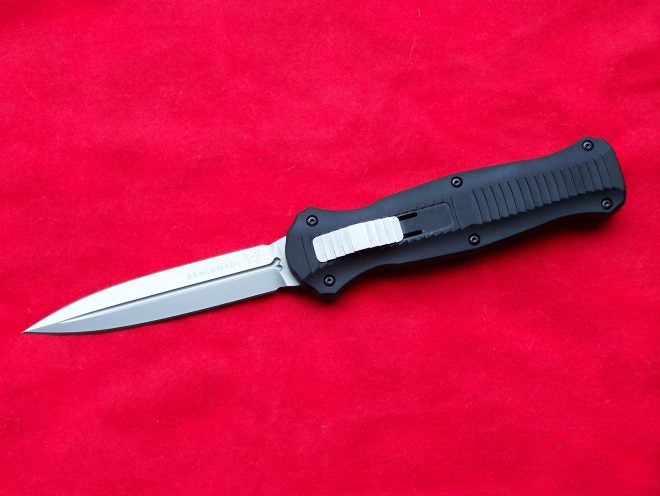 I hope this gives you an idea as to what I look for in a knife to write about.
I make every attempt to tell it like it is and to give readers the best description possible. I also take pride in my photography. If a reader orders a knife and it doesn't look like my photos, then I've failed.
It's always best to query an editor before you send him an article. A lot of magazine editors simply won't accept a "cold" article (one sent without first asking if the editor would be interested in publishing it).
Before writing any magazine article, it's a good idea to get the magazine's writer guidelines. Most 'zines are pretty similar in this respect, but it's a good idea to know what an editor expects. Even after all my years of writing, I'll still get scolded once in a while by an editor because I didn't follow his instructions or guidelines.
Be prepared to have your articles returned to you. It happens to all of us. Sometimes an editor is going with a certain theme and your article just doesn't fit into that theme. Make sure you edit, edit, edit your article BEFORE sending it to an editor. If an editor has to spend hours correcting your grammar and technical mistakes, he'll reject your manuscript.
If you're still interested in writing knife (or gun) articles, I hope this advice helps, and I look forward to seeing your byline.