Great Fishing Locations: Tarpon — Florida Keys
Bob McNally 06.02.16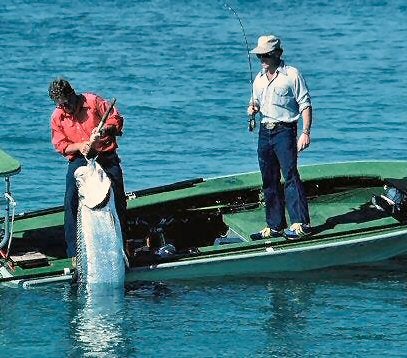 Catching a 100-pound class tarpon in three feet of water may be the ultimate fun in fishing, especially when a fly rod is used. "Sight-fishing" is exciting for all species of fish. But casting a 3-inch streamer fly to a pod of 50 tarpon as long as the angler is tall is enough to give the clammy-hand willies to anyone. You don't have to fly fish because spinning tackle and plug gear catch plenty of tarpon every year and bait fishermen score, too. But if you like to fly fish, pack the long rod and plenty of shock leader material.
Good sight-fishing for tarpon can be found virtually anywhere in the Keys during the height of the tarpon run in May and June, but the hubs of flats fishing tarpon activity are Islamorada, Marathon, and Key West.  Good fishing for tarpon out of those island communities also can be had through summer into early fall.
This is small boat fishing, and it's specialized sport. You can do it on your own in a small skiff or bass boat, but learn the ropes first from a good guide. Many great ones are headquartered in the area, but most are booked solid. The  is a good place to find a guide that's available. For accommodation information plus fishing info, contact the Florida Keys & Key West folks, 800-352-5397.