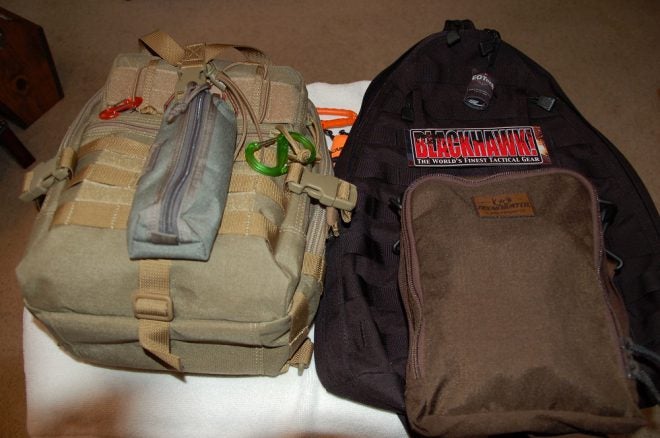 Concealed carry on the person is not always a viable choice. There are situations dictated by daily routines, work environments, dress requirements, legal considerations, and many other factors that may not allow a person to carry a CCW gun on their body. So what are the alternatives?
There are a number of good choices to have a firearm close at hand without it hanging on the belt or in a pocket. However, going the off-body route does require some extra considerations and certainly some awareness that some training will also be needed to safely access a weapon that is secured inside an external bag.
The biggest consideration, though, is to provide for the security of the bag. Those stories about a toddler finding a gun in mom's purse are the main reason that many folks think off-body carry is always a no-no. It's definitely better to carry on your person, but if you have to go off-body, then you have to secure and maintain control of the bag at all times.
There are custom-made bags of all types that have secure pockets to hold a weapon that can be carried in various ways. These can be brief cases, backpacks, sling packs, purses, fanny packs (which I am told are now a fashion no-no), and other smaller clutches or grab bags. Most offer zippered or Velcro® closures that have to be manipulated to gain access to the weapon.
First if you want to carry an off-body bag, then decide how you most comfortably want to carry it. For men, it is easy to pick a backpack or sling pack orientation. It seems overall that the sling pack might be a better choice simply because the bag could be easier to remove over the head or slide it around to the front of the body to reach the concealment pocket. Each to his own in this regard. Just pick one that works for you and practice with it.
Women like purses, and there a plenty of models available with secure pistol pockets built into the center seam of the bag or that offer an external pocket to hold a weapon. Again though, decide if the purse will be carried by the handle or slung over the shoulder. Either manner will require some training and practice to quickly retrieve the gun from the bag.
Next is the security of the bag itself. It has to be protected when carried in a vehicle, as in hidden from open view, and as you carry it or stow it at work. Ladies have to use care in putting the off body gun tote up on a counter or elsewhere. At work the bag should be under a desk or out of sight, but still accessible. If you do it right and take extra precautions, you can have concealment without wearing concealed.