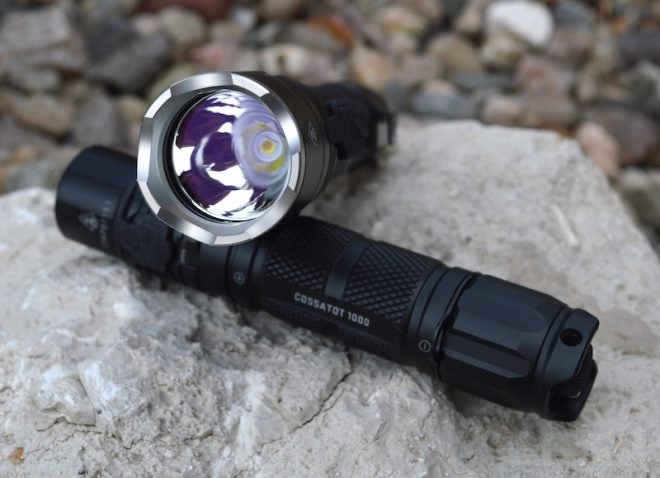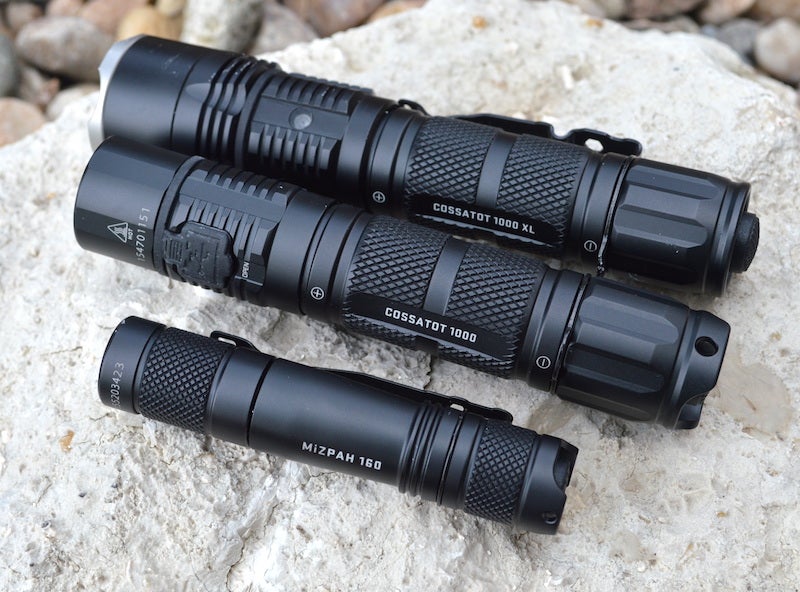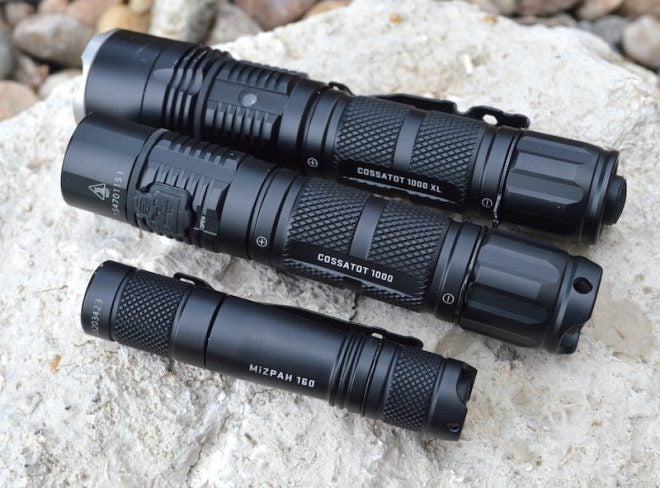 Every year I see many tactical flashlight companies introduce yet another "new" light, usually an underwhelming re-warmed product such as last year's new light but with some extra lumens. And many new tactical light companies enter the market with non-competitive features at an above-average price wrapped in great marketing.
But this year I was pretty excited to find Factor Equipment's CASSATOT line of tactical flashlights. These lights offer something a bit different and practical at a good price. No marketing hype, just good, affordable, tactical lights.
My interest was split between the small (and unusually powerful) sub-$30 AA and AAA MiZPAH 130 lumen and 160 lumen models and the sub-$85 USB rechargeable 1000+ lumen models. Yes, USB rechargeable with CREE LED lamps for less than $100.

Fit, Finish, Feel, Features, and Functions
All Factor Equipment lights feature high-quality components, including premium CREE XP-L/XP-G2 LEDs with a life of 50,000 hours, real glass lens with double-sided anti-reflective coating, Type III hard anodized aluminum alloy body, and removable coated steel pocket clip. They're all waterproof submersion rated to IPX-8 standard (2 meters for 30 minutes) and feature digitally regulated output to maintain constant brightness.  
All models feature a "blast mode," which maxes out power to the LED for the highest possible light output. This mode is intended more for temporary use because when you use it, battery life is greatly reduced.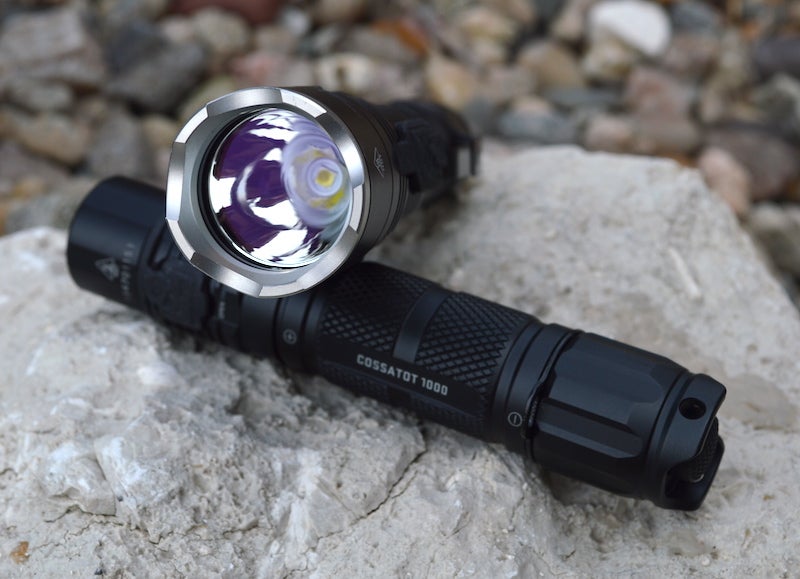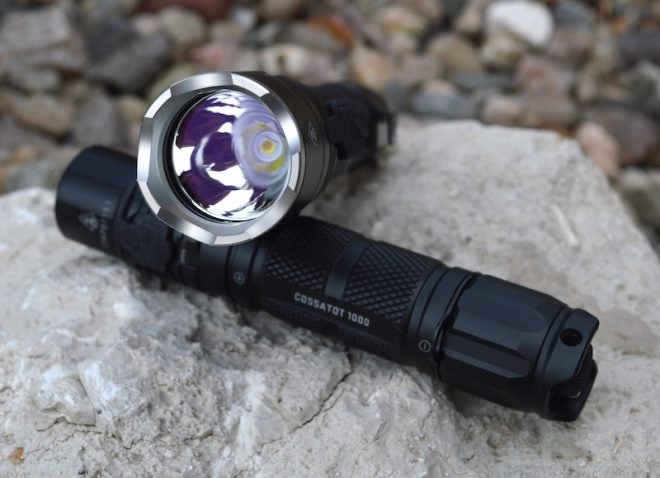 Operation across the models is done with clicky tailcap operation. Use the button to cycle through the modes, momentary half-switch positions, and on/off operation. The COSSATOT 1000 and smaller lights will default to whatever mode was used last.
The two larger models include nylon holsters, and all models include spare o-rings and a replacement rubber tailcap, which are nice touches that make Factor Equipment lights stand out in a sea of competitors.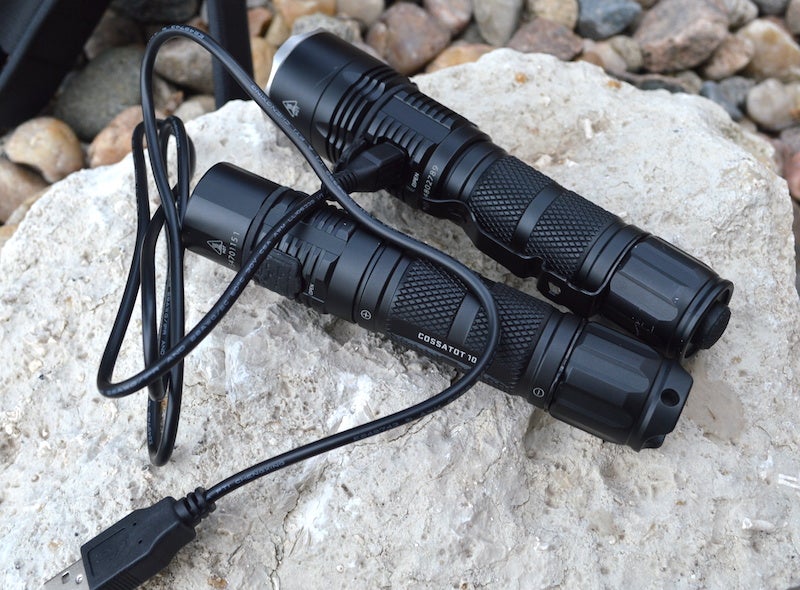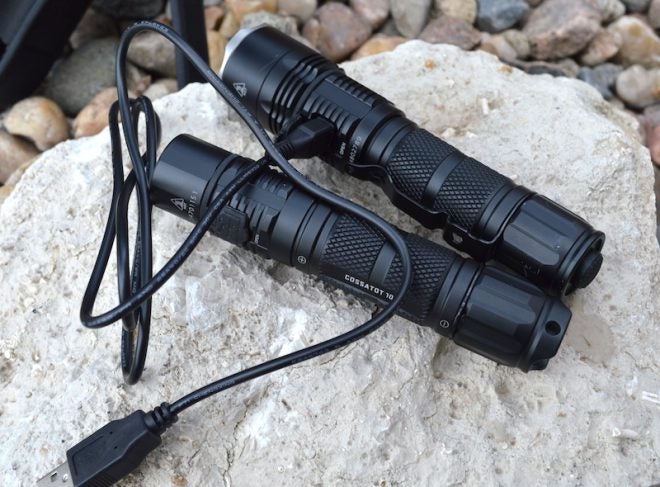 Overall, the light output of these lights compared to competitors is in the top tier. The light-output-to-price ratio makes them a bargain. Prices for most 500+ lumen lights jump above $150 pretty quickly, so Factor is delivering a heck of a light for the price. Also, all COSSATOT models include micro-USB rechargeable lithium-ion batteries and USB cables (while still allowing 2xCR123 use for backup).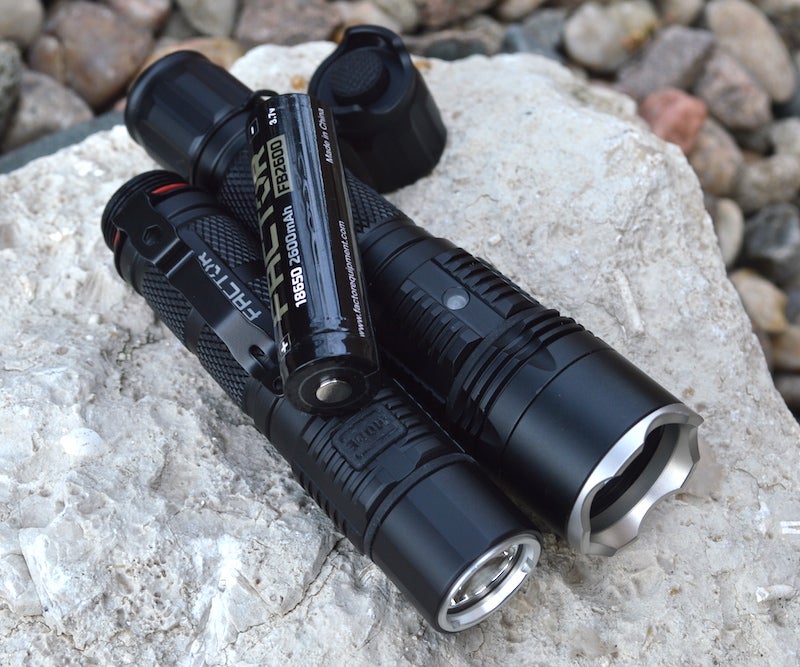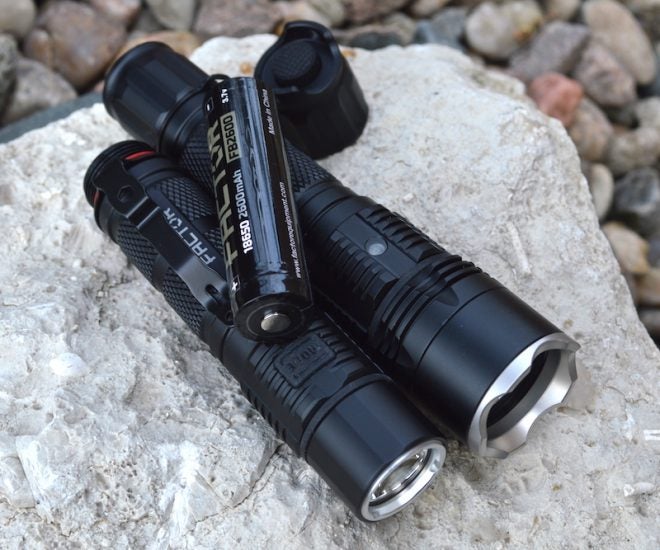 Factor Equipment COSSATOT 1000 XL
The COSSATOT 1000XL is the company's flagship USB-rechargeable light, rated at a blinding 1000 lumens. This light is designed as a shock-and-awe tactical light, and always turns on at the 1000-lumen "blast mode." This is insanely bright, but the 1000XL's 6-, 80-, and 253-lumen Low, Medium, and High modes produce good usable light with just a click or two. Strobe Mode is REALLY bright and seems to be using the 1000-lumen output.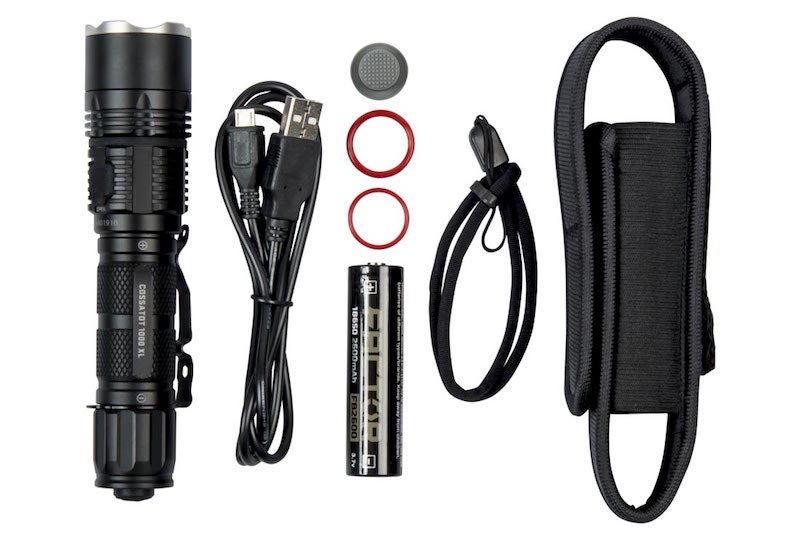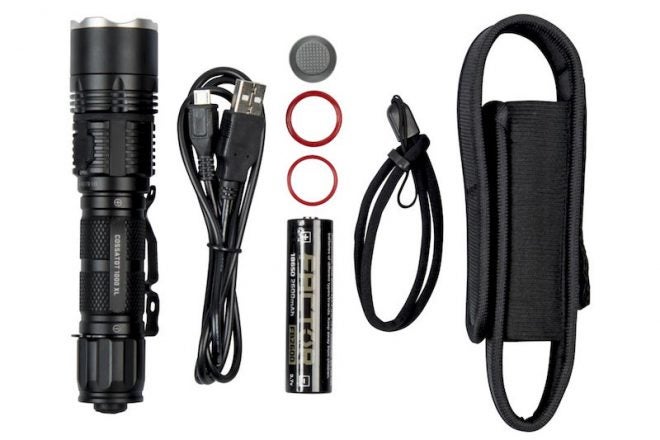 The full sized COSSATOT line of tactical lights run on either the supplied Li-Ion rechargeable battery pack or two CR123s, so if you do not have a USB charger handy, you can still get back up and running.
There's no need to remove the batteries to charge the 1000 or 1000XL. Charging is as easy as flipping up a waterproof rubber micro USB cover on the side of the flashlight and plugging it into any powered USB outlet. This recharging feature is exceptional. A small blue indicator light on the side of the flashlight will turn off when the light is charged.
As someone who travels extensively each year, it's important to have a flashlight that can be easily charged via USB, and those who use their tactical light at work will find that rechargeable models can quickly pay for themselves in battery savings.
Another unique feature is the blue battery level indicator light within the body of the COSSATOT flashlight. When remaining power is more than 50%, the indicator will remain off. When the remaining power is less than 50%, it will slowly flash. When power is below 10%, the indicator will flash rapidly. The flash is not very bright, which would be my preference anyway for a tactical flashlight.
The 1000 XL is pretty much a standard-sized 1" tactical light profile with a 1.34" head and overall length of 5.93".  The light output is no joke with a clear daylight output with a strong penetrating center dot with a softer flood extending out to around the 30-degree range.
Factor Equipment COSSATOT 1000
The Factor COSSATOT 1000 shares all the features of the 1000XL, including the rechargeable battery and charger and integrated battery level indicator light. The light output is similar to the 1000XL with clear daylight output that has a strong penetrating center dot with a softer flood extending out to around the 30-degree range.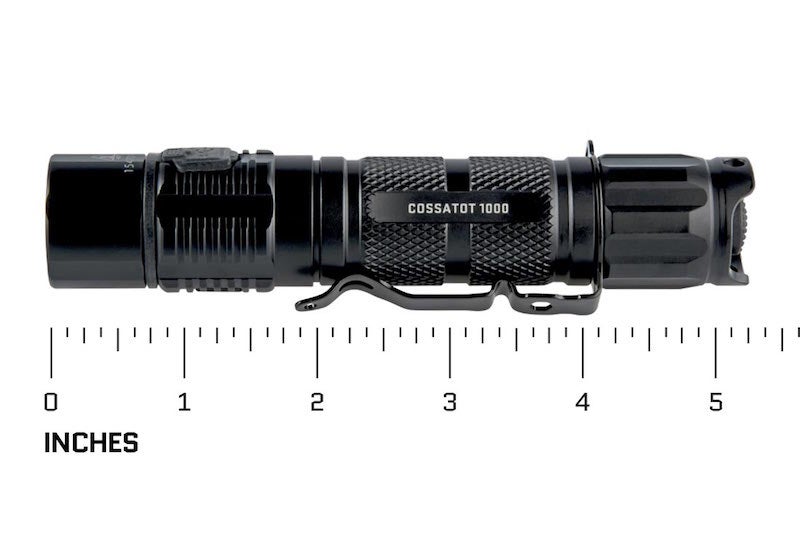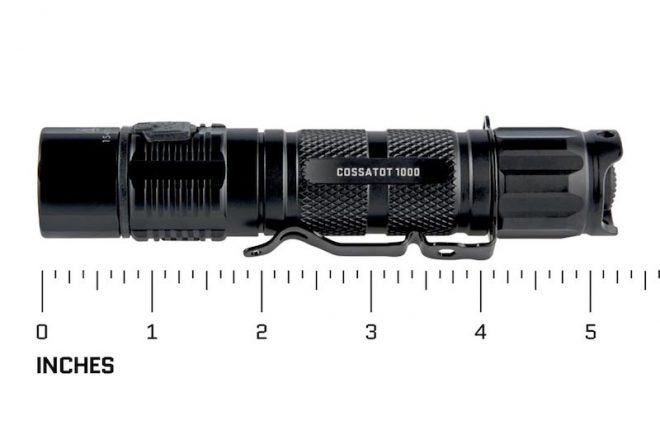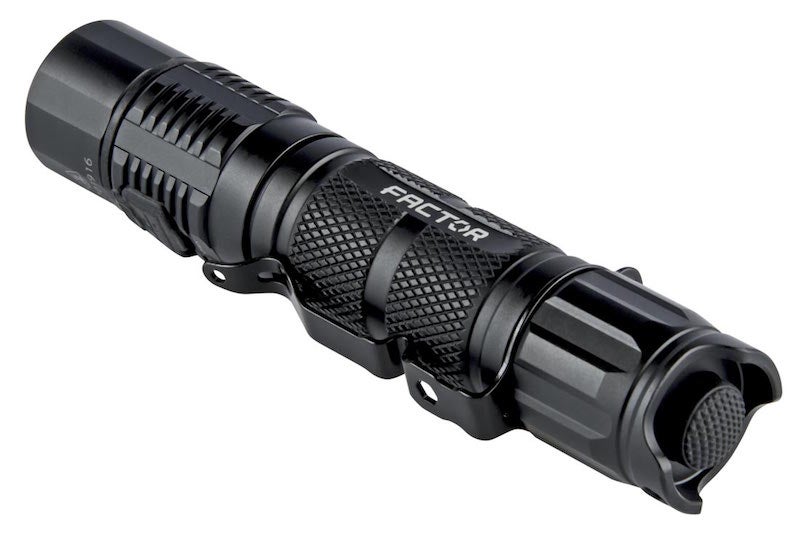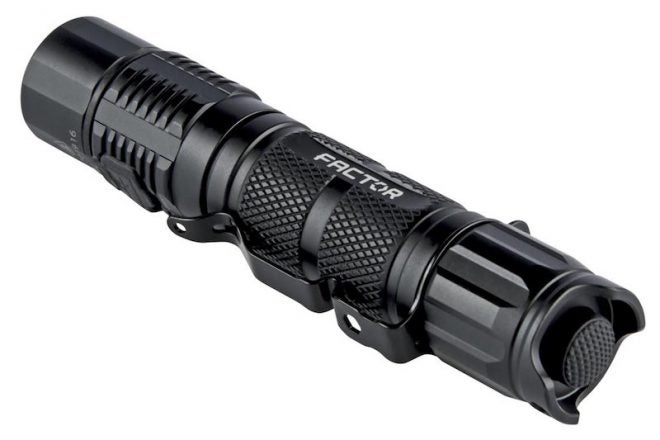 The 1000 is designed more as a general purpose tactical light than the 1000XL. Where the 1000XL comes on at the highest blast setting each time, the COSSATOT 1000 has a memory recall function that turns the light on to the last mode used. This is a handy feature that can greatly increase runtime while making for a better utility light that can be "staged" to a particular mode.
If you want to "stage" the light for strobe or a less-bright working light mode, simply select the mode, turn off the light, wait a few seconds, and turn it back on. The 1000 should then be in the mode you selected last. This operational recall mode continues until you either remove the batteries or change modes.
The CASSATOT 1000 is still a 1" tactical light, but it is a bit trimmer and easier to carry, having an overall straight profile versus having an enlarged reflector head.  
Factor has tuned the COSSATOT 1000 light modes differently than the 1000XL, with overall higher output low, medium, and high modes. The 1000 also adds SOS and Rescue Beacon modes, which could be handy in a survival situation. At an MSRP of $79, the 1000 is an outstanding practical light for the everyday user who is not looking for "just" a dedicated tactical light. Sure it can serve that purpose, but I think with the extra features such as last mode recall and more-useful everyday lighting output modes, it is perfect for dedicated EDC task and tactical lighting.
Factor Equipment MIZPAH 160
The MIZPAH 160 is not rechargeable, but it is powered by just one AA battery. At only $29, this light is unbelievably bright and would easily challenge the majority of CR123 powered lights on the market. Though I carry a Streamlight AAA Microstream every day (so much that the anodizing is worn off), I swapped it in a heartbeat for the Factor MiZPAH 160. The two lights are almost the same size but the MIZPA offers higher output, mode based selectable lighting, and a high output strobe mode.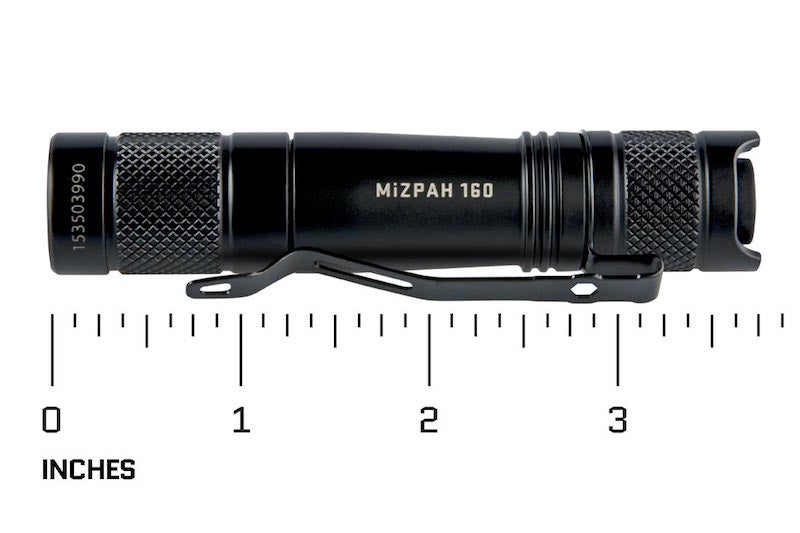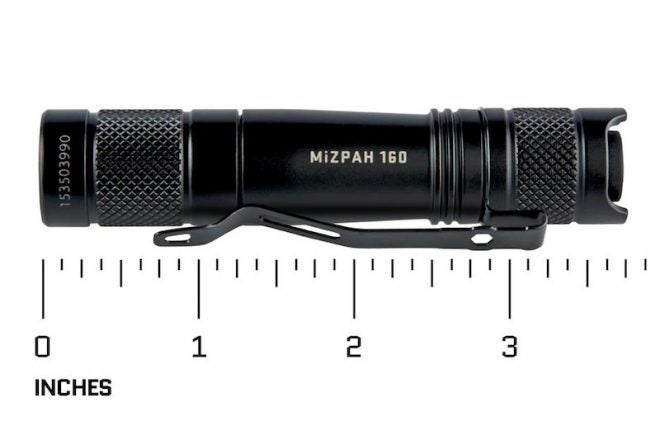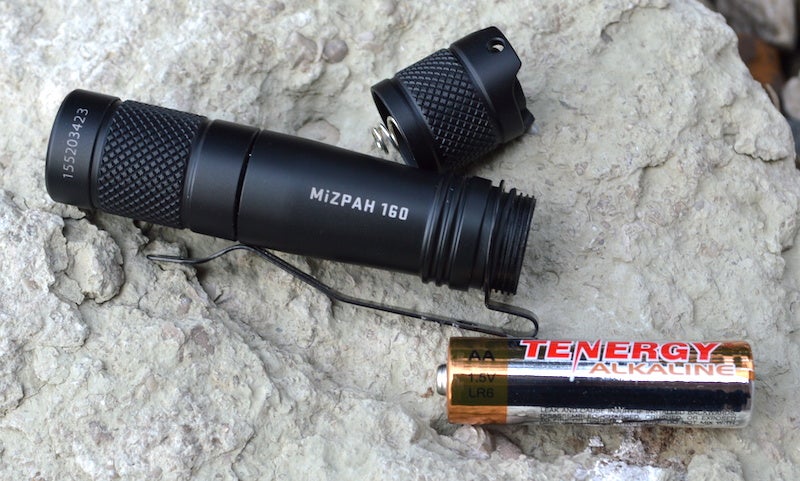 The 3.73" x 0.75" Factor MiZPAH 160 offers 6-, 50-, and 160-lumen modes, plus a 500-lumen blast mode. Runtimes vary from 30 minutes to 80 hours. The light recalls the last setting used, same as the COSSATOT 1000.
A rechargeable 14500 Li-Ion battery can be used in place of the AA alkaline, but this is likely nothing I will ever do. For $29, it is a steal and if you want something even smaller without giving up much light, the single-AAA MiZPAH 130 drops the overall width down to around a half-inch.
Final Thoughts
My overall recommendation on any of these Factor Equipment lights is to Buy One. Through my testing, I have been extremely impressed with them. They have good usable features without going nuts cycling through twenty modes and needing a manual every time you want to click into low power mode. Operation is so simple you do not need the manual.
The price should really grab people's attention, as it's extremely competitive across all models.
Manufacturer Specs
Shared Features
Utilizes high performance CREE XP-L/XP-G2 LED with a life of 50,000 hours

Glass Lens with double-sided anti-reflective coating

Body is corrosion resistant, CNC machined, Type III hard anodized aluminum alloy

Removable coated steel pocket clip

Waterproof to IPX-8 standard, 2 meters for 30 minutes


Rubber tail-switch operation; turns light on/off and switches modes




Digitally regulated output maintains constant brightness
COSSATOT 1000 XL
LUMENS

6-Low

80-Med

253-High

1000-Blast


RUNTIME

130h-Low

16h 30min-Med

4h 12min

50min-High


DISTANCE

748ft. (228m)


INTENSITY

6580cd (Max)


IMPACT

1m


WATERPROOF

IPX-8, underwater 2m

MSRP $84.95

Flashlight's blast operation ensures that light turns on highest 1000 mode output every start to support tactical operations


Four modes plus Strobe

Size: Length: 5.93" Head: 1.34" Diameter: 1"

Weight: 4.7 oz. (134g) excluding batteries

Battery: One 18650 Rechargeable Li-ion battery (included)


Includes: Cossatot 1000 XL flashlight, 18650 Li-Ion rechargeable battery, USB charging cable, holster, user manual, coated steel pocket clip, two spare o-rings, and replacement rubber tail cap
COSSATOT 1000
LUMENS

10-Low

107-Med

417-High

1000-Blast


RUNTIME

100h-Low

15h-Med

2h 45min-High

50min-Blast


DISTANCE

551ft. (168m)


INTENSITY

5350cd (Max)


IMPACT

1m


WATERPROOF

IPX-8, underwater 2m

MSRP $79.95

USB Rechargeable

Dual switch operation; tactical tail switch provides momentary activation and turns light on/off; side switch changes modes

Recall memory function allows the light to turn on in the last mode used

Four modes plus Strobe, SOS and Rescue Beacon.

Size: Length: 5.32" Head: 1.1" Diameter: 1"

Weight: 3.4 oz. (97.2g) excluding batteries

Battery: One 18650 Rechargeable Li-ion battery (included)


Includes: 18650 Li-ion rechargeable battery, USB charging cable, holster, two spare o-rings, and replacement rubber tail cap
MIZPAH 160
LUMENS

6-Low

50-Med

160-High

500-Blast


RUNTIME

80h-Low

12h-MEd

1h-High

30min-Blast


DISTANCE

148ft. (45m)


INTENSITY

500cd (max)


IMPACT

1m


WATERPROOF

IPX-8, underwater 2m

MSRP $27.95

Recall memory function allows the light to turn on in the last mode used

Three modes plus Strobe

Size: Length: 3.73"  Diameter: 0.75"

Weight: 1.1 oz. (32.2g) excluding batteries

Battery: One AA battery (Alkaline, Ni-MH, or Lithium) or one 14500 battery (rechargeable Li-Ion battery)


Includes: one AA battery, user manual, two spare o-rings, and replacement rubber tail cap