D3-9SD "Ultimate Urban Carbine" Preview
Kevin Crank 06.06.16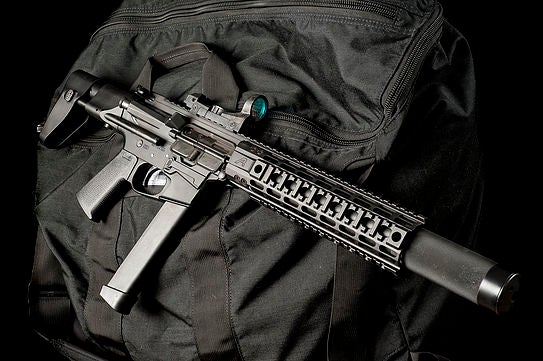 Desert Design & Development LLC (D3LLC) recently invited me to an event called the Mr. Silencer Shoot. They were very eager for me to try out their new integrally suppressed pistol caliber carbine, and I was eager to try it is as that was to be my first experience behind a suppressor. I gotta say, I loved it! Here's description from their website.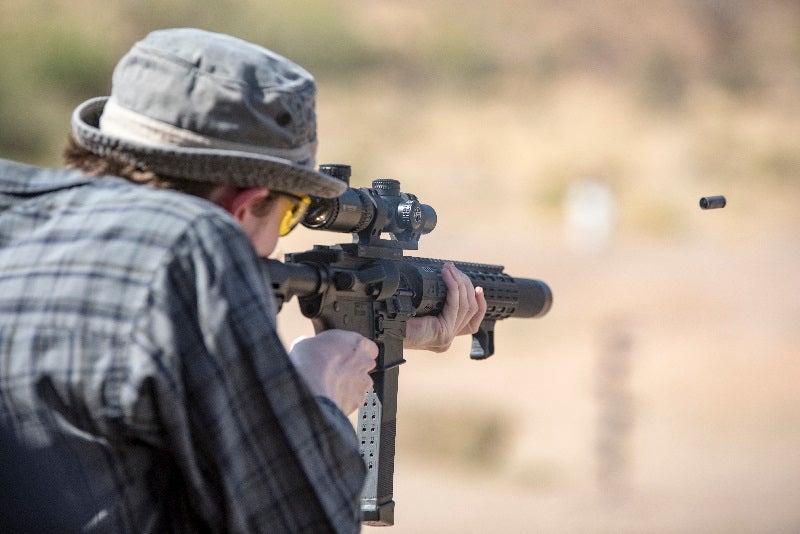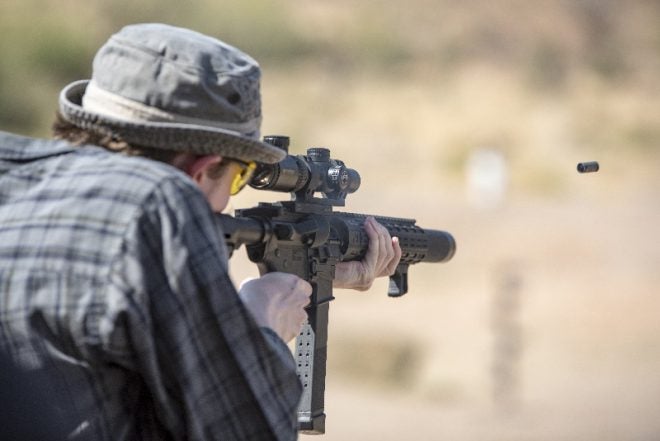 The D3-9SD, also known as the, "Ultimate Urban Carbine", maintains the familiarity of the AR platform, the stealth of the H&K MP5-SD style suppressor, and utilizes the popular Glock 17/19/18 double stack pistol magazines.
Ultimate is a fairly apt description of this gun. It met my expectations and then exceeded them in its execution.
David Ybarra–a friend and volunteer for D3LLC–offered to pit his personal 9mm AR against the D3-9SD. It was night and day in terms of sound suppression. David's carbine was in many respects the same gun. The major point that made all the difference was the design of each barrel. David's gun had a suppressor attached to the end of a 7″ barrel (all carbine models offered are short barreled rifles, and they offer pistol versions, as well) and all required subsonic ammunition to be truly suppressed. The majority of 9mm ammunition we had on hand was supersonic. That confused me until I shot the D3 and David's gun side by side.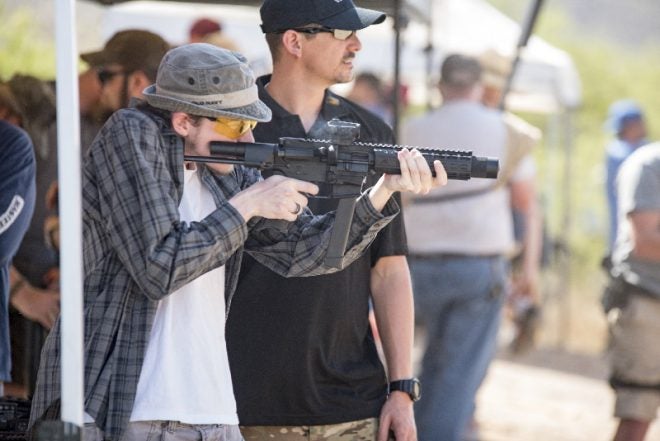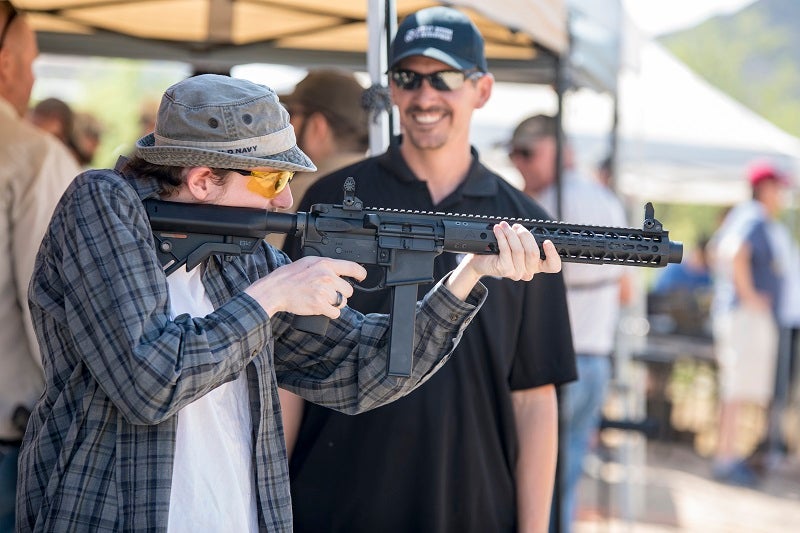 As I said before, it was night and day. When I shot David's gun it produced a supersonic snap. But with the D3-9SD? The springs and internal moving parts were all I could hear. It was beautiful.
"But you said it was supersonic ammo. What happened to the snap?" That my friends is the beauty of the DEFCON 4SD 9MM Suppressed Barrel System.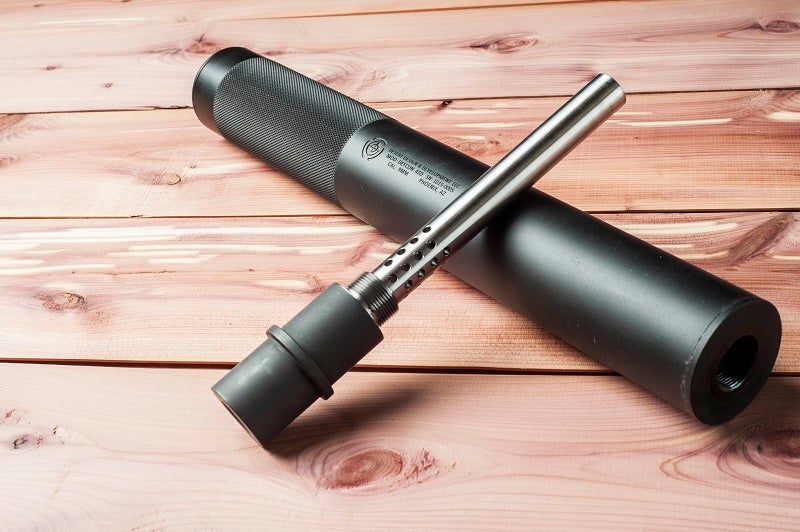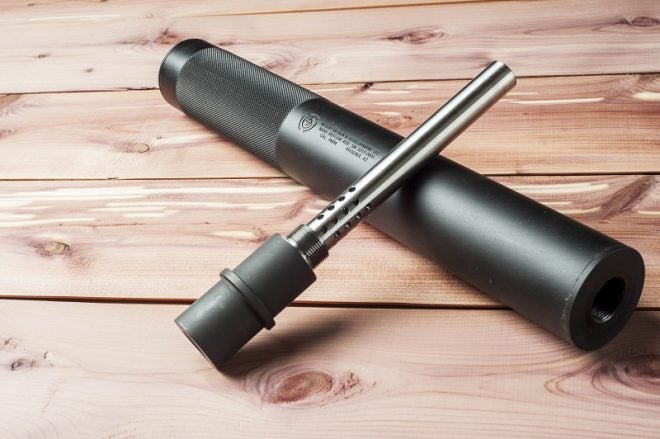 There are ports in the barrel within the suppressor shroud that bleed off gasses and lower the pressure behind the bullet. "What does that do?" Well it means that you can shoot almost any ammunition from it–115 grains and up–and the bullet will be subsonic by the time it leaves the barrel. This eliminates the supersonic snap and lets you use most commercial ammunition you have on hand to defend your home, your land, or even your livestock. All without losing your hearing.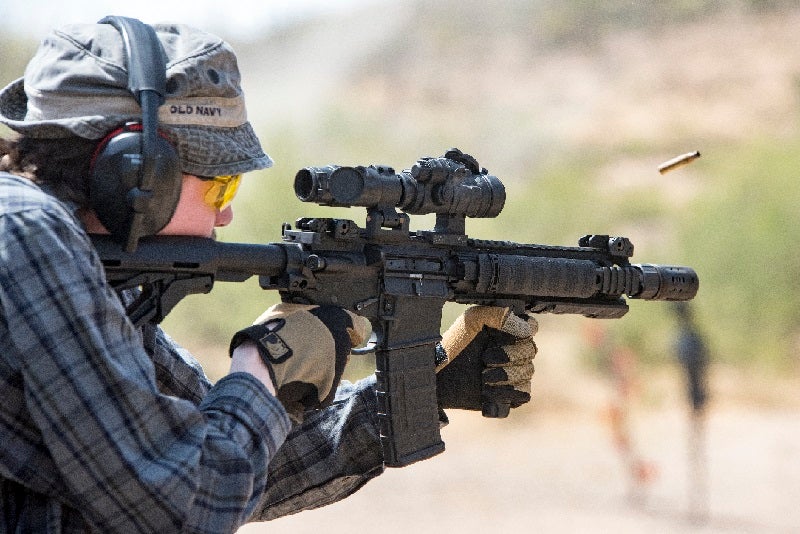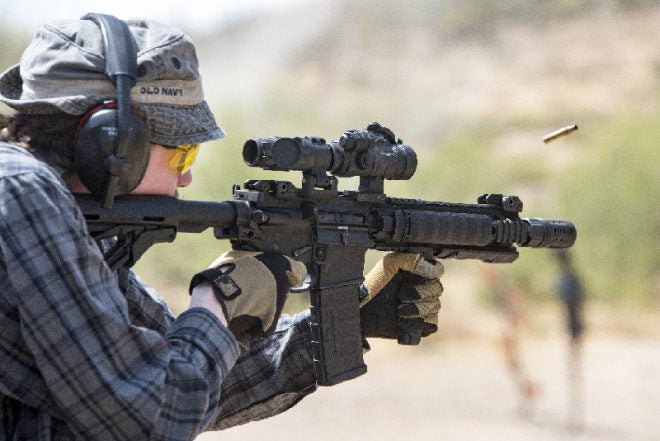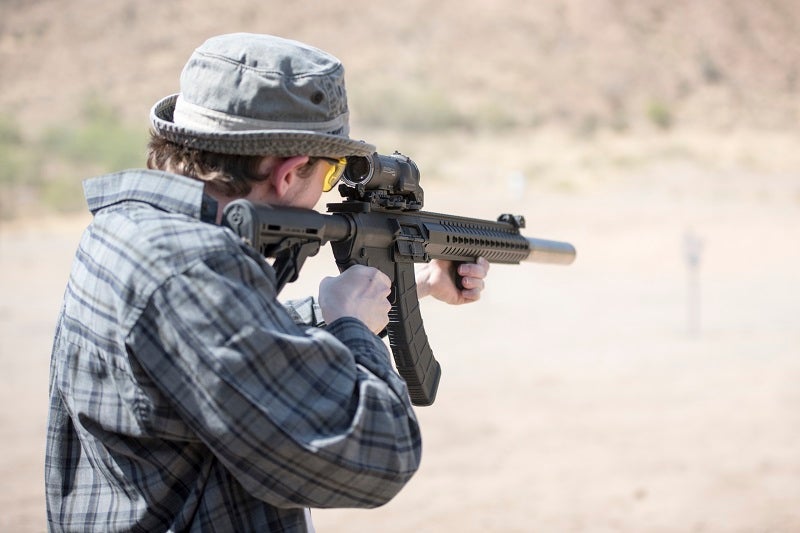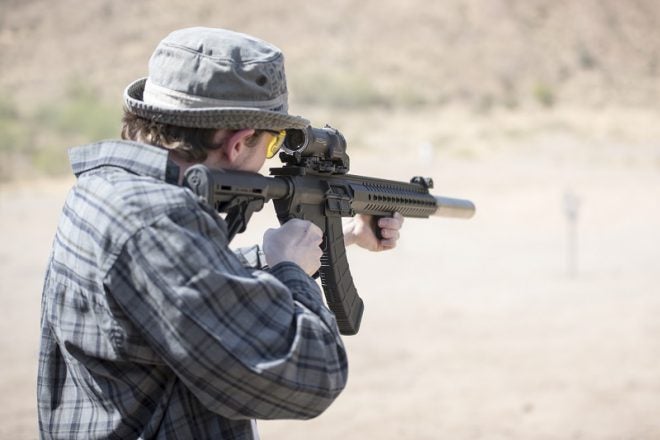 The rifles shown above were demonstrations of interesting/new products. On the right, one of their customers and friends brought his CMMG Mutant with D3LLC's new DEFCON 2 Titanium/Stainless 7.62MM suppressor. When the customer was presented his new suppressor, he asked if he should bring it to the shoot. They approved but wanted to do the black finish before the event. The customer refused, claiming he wanted it just the way it was. I don't blame him. The oil/abalone coloration is beautiful.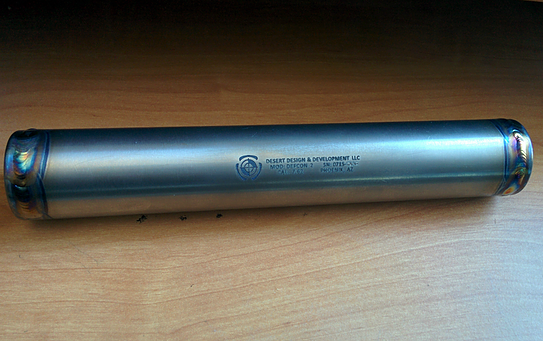 On the left is the Dead Air Pyro Enhanced Muzzle Brake. I'd call this thing a loudener but that title is taken. It houses a blast chamber in front of the gun that catches the gasses then projects them in every direction for softer/flatter recoil. The feeling behind this beast during fully automatic fire–that was amazingly controllable I'd like to add–was like a 50 BMG without the recoil. Your skin shifts, your sinuses shake, and your eyes rattle in your skull but you've never had more fun, trust me.
As a final note, I had a blast–sometimes literally–at this event and I look forward to more in the future. As for the firearms I tried out, I have to say the D3-9SD really caught my interest. The moment I heard–or didn't hear–the first shot and was told the ammo was supersonic, I was sold. I'll definitely be saving up for one of my own. I'd like to thank D3LLC for inviting me for a wonderful demonstration, AJ from Pinnacle Photo Art for his fantastic photography, and Mr. Silencer for hosting the event.
D3-9SD Specifications
Overall Length: 23-29″ depending on stock
Barrel/Suppressor Length: 14″ installed
Serviceable Suppressor: not recommended
Enhanced bolt carrier
Standard charging handle
9mm Deflector and short dust cover
9″ Forend: choice of KeyMod or Quad-rail
Magpul K2 Grip
Magpul MOE stock
One 30+ rnd magazine
Optics Ready
Semi-auto fire group
Full auto available with LE/Gov't letter
Base Weight: 7.5 lbs
NFA Rules Apply
MSRP: Starting at $2,699
Available: July 2015
40S&W, 45ACP and "K" short 9mm version
Available starting around March 2016
Pistol versions are also available
MSRP: Starting at $2.599
Available: July 2015
Note: It should go without saying, but do NOT shoot this barrel without having the suppressor properly seated and installed. The escaping gasses from the ports can burn you.