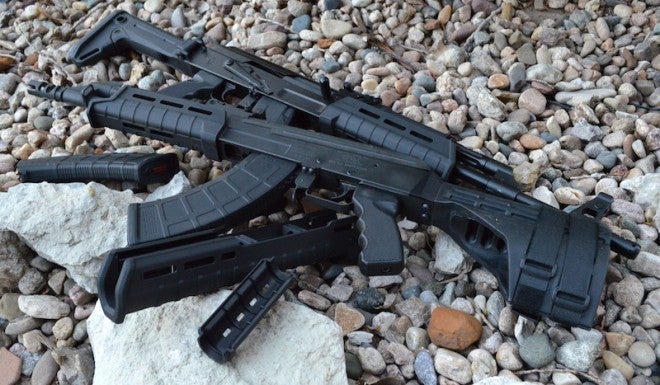 If you are an AK-47 or AK-74 fan, you will probably be interested in Magpul's AK accessories. Aside from their initial AK offerings (including an awesome pistol grip and 30-round AK-47 7.62×39 magazines), they now offer butt stocks and forends in both their MOE and premium ZHUKOV brands.
Although AK-47 specs vary greatly, Magpul has made an effort to offer a set of products that deliver the most fitment flexibility with the least amount of "hand fitting" on most AK-47/AK-74 format rifles, but be aware that with any AK-47 part, some AKs may require fitting.
Magpul has their standard MOE line and the premium ZHUKOV line, which is appropriately named after General Georgy Zhukov (the most-celebrated Russian General of WWII). You might remember that Russia was on our side back then.
Magpul AK Stocks
Magpul has made an effort to avoid making the AK into an AR, which is something we see from most AK furniture manufacturers. Instead, Magpul has attempted to stay true to the AK minimalist style. Whether shooters choose the MOE or ZHUKOV-S stock, the mounting is similar.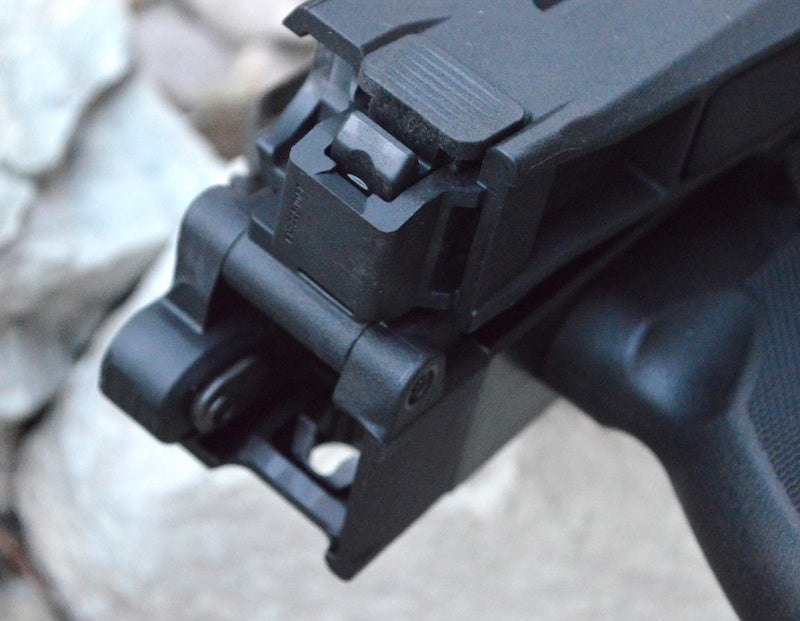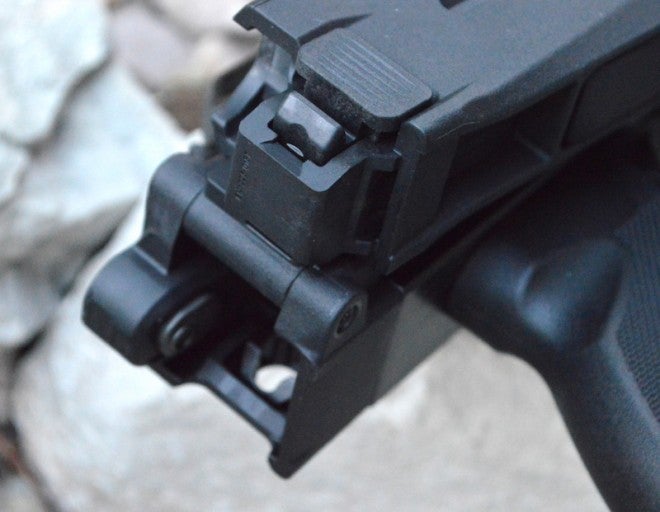 The MOE trunnion and stock are all polymer, but the ZHUKOV stock uses a melonited steel trunnion. Both stocks use a tightening wedge system to make the stock-receiver connection rock solid, even on looser-spec AKs.
The installation process is simple. Remove the existing stock and tap in the Magpul stock. I will say that mounting the ZHUKOV-S stock (MAG585) required a few taps with the rubber hammer to get it seated into position on my Century International Arms C39V2 Billet Receiver AK-47. Since the Century Arms C39V2 is designed to be backward compatible with stamped receiver AK furniture, the process is the same should you have a stamped AK firearm. Secure the stock with the included hardware, and you are off to the range.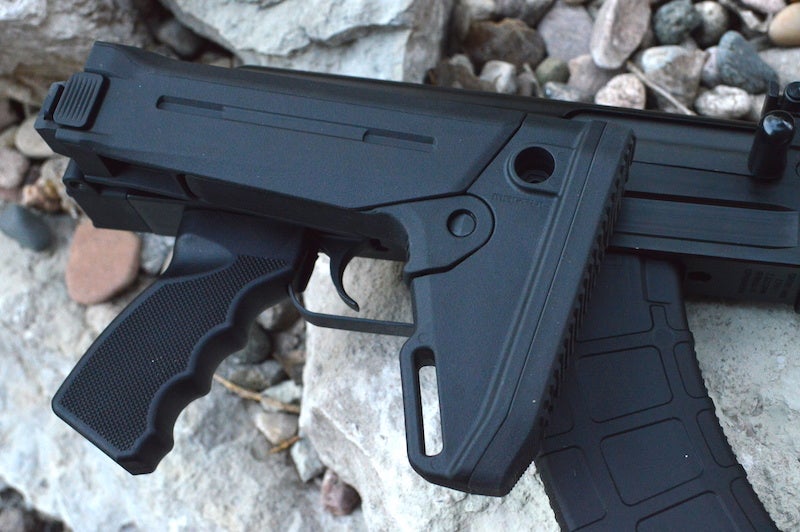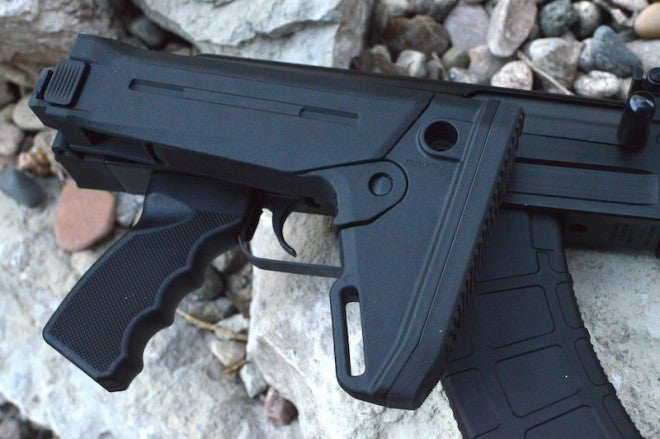 This stock is rather beautifully executed. The ZHUKOV-S stock is a side-folder with QD mounts and multi-position length adjustment in an efficient design with minimal bulk. The single side folding function latch button is located on the left side and is easily reached. Press the button and the stock folds and then is held in place with a simple detent.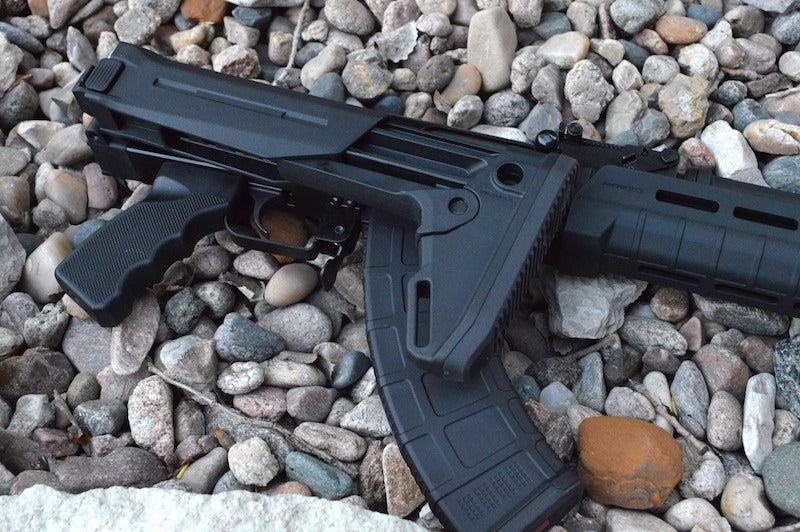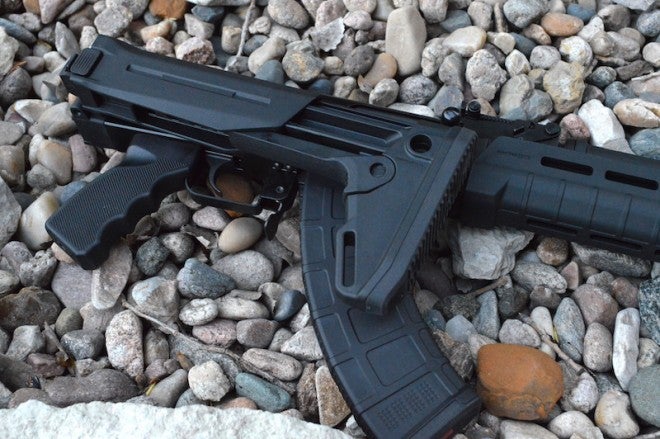 Unfolding the stock is easy: just unfold the stock. It will click securely in place once it's in position.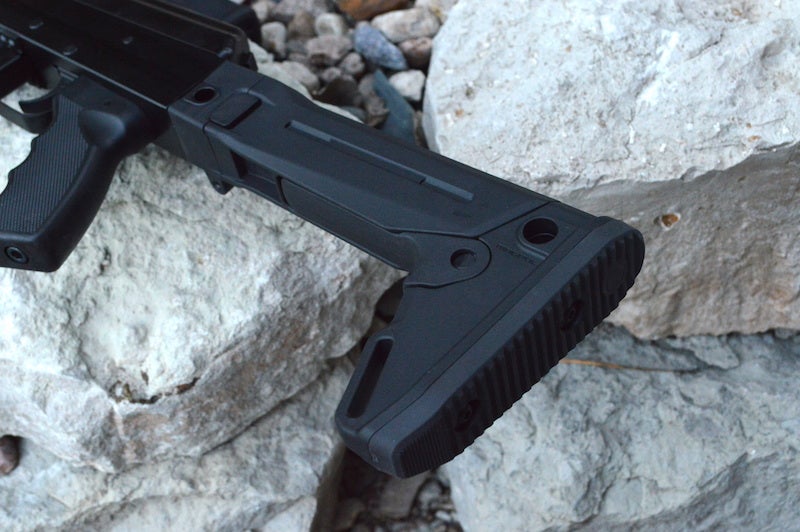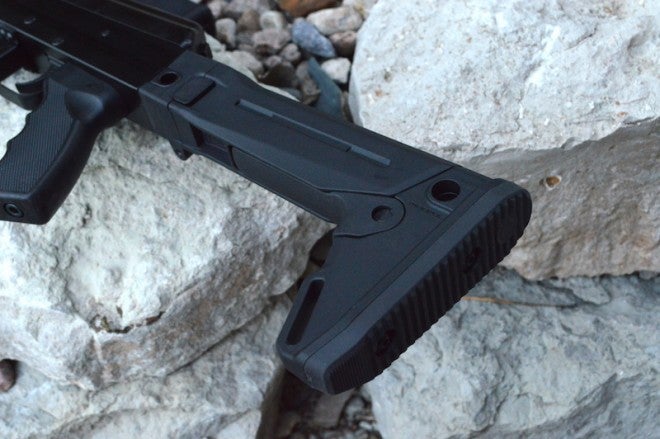 Having it fold on the right helps make storage easier, provides a more maneuverable CQB weapon option, and does not interfere with left side mounted optics. With the stock folded, the shooter can still operate the bolt, but access to the safety is a bit obstructed.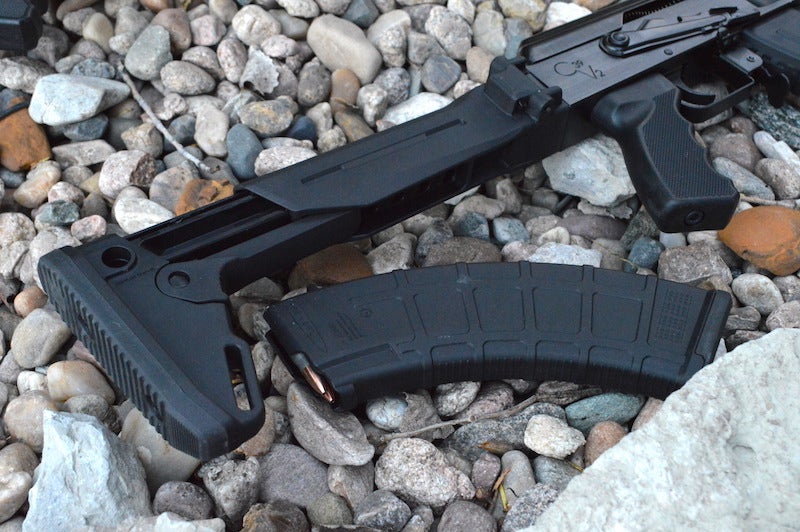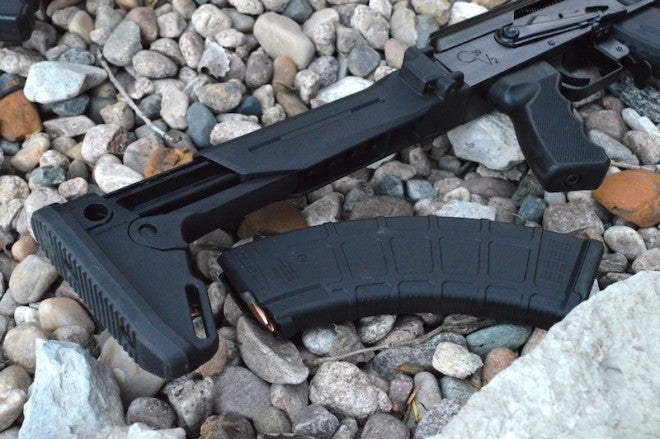 Length of pull adjustment is also familiar similar to AR15 stocks: with a simple lift of the latch, you can slide the stock in or out.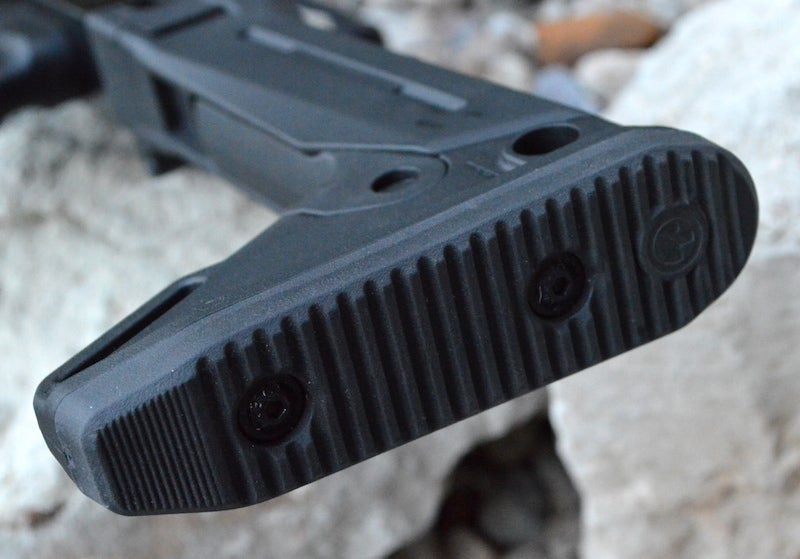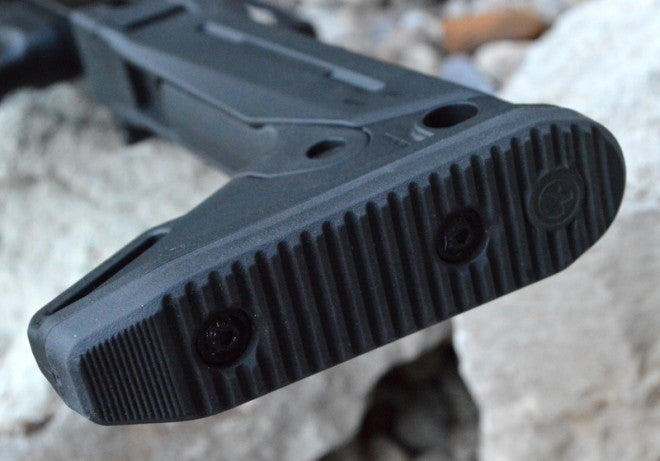 The ZHUKOV AK stock is a 10-minute upgrade that delivers good fit and wonderful ergonomics. AK furniture is usually utilitarian, which does not equate to comfortable, but Magpul offers AK shooters the option to customize fit with optional .25″, .50″, and .75″ cheek risers, which are cross-compatible with the MOE AK stock.
Magpul's MOE AK Stock (MAG616) is a simple and inexpensive upgrade for $59 which offers lighter weight, open skeleton design, integrated QD mounts, and improved ergonomics. The MOE version is compatible with optional .25″, .50″, and .75″ cheek risers to improve fit with optics. I was impressed with it.
Magpul AK Hand Guards
Magpul basically put the same level of design up front at the forend, and they offer three different hand guards for rifles with standard-length gas tubes.
Magpul offers AK MOE Hand Guards in a standard handguard AK version and marginally shorter AKM version. These forends are designed as more-or-less drop-in replacements for stock furniture without any modification to the AK.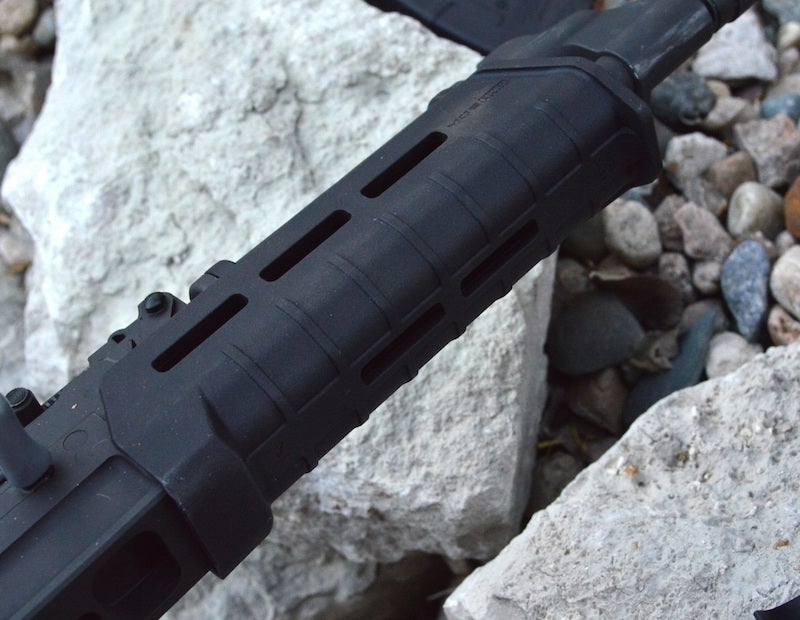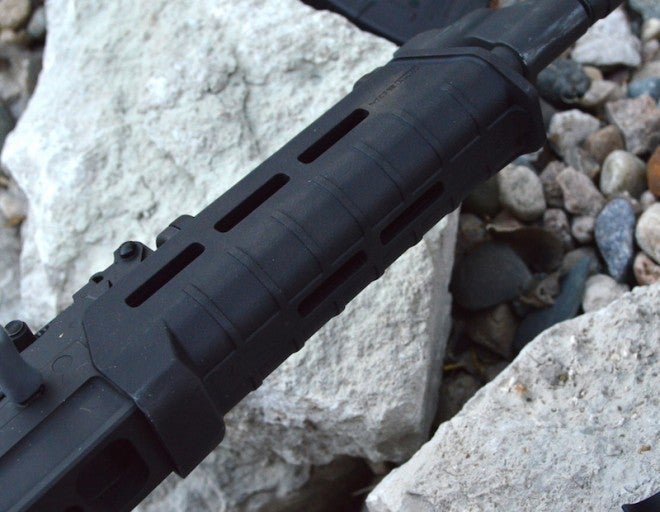 On one of my rather trashy looking stamped Chinese AKs, the stock dropped right in. On my Century Arms C39 billet receiver, it took a few sharp raps from the rubber mallet to seat the lower portion into the billet receiver, but it worked and was crazy solid once attached.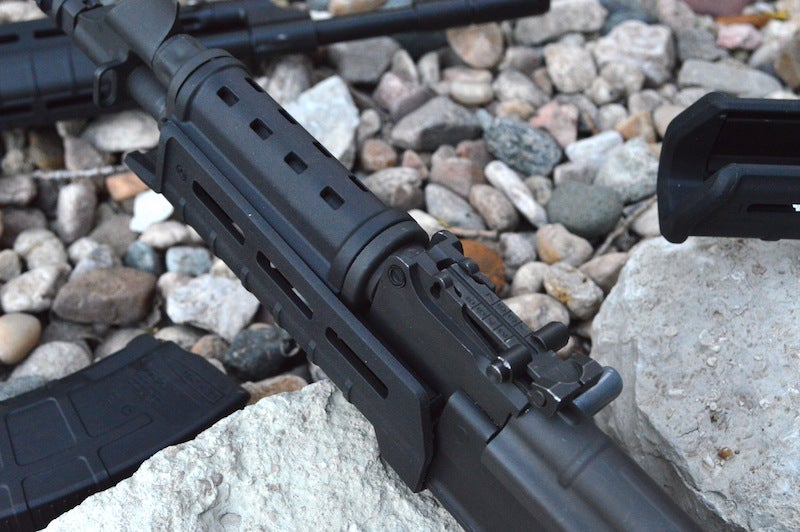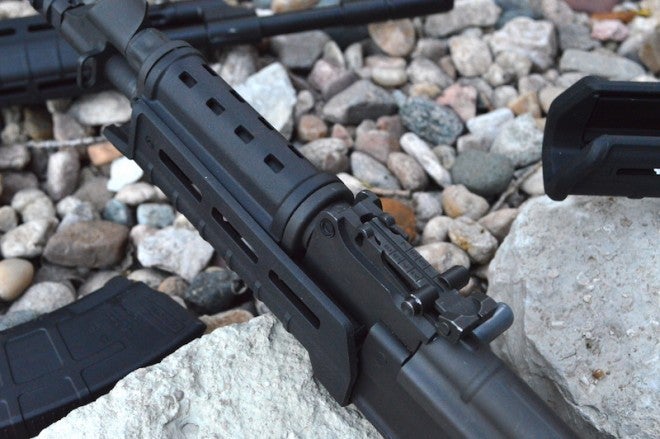 The top portion of the handguard simply turns into place, and it felt so solid that I was a bit shocked that Magpul is not offering a picatinny rail version for mounting red dot sights. Both of the MOE versions have internal heat shields that also serve as spring retainers to significantly increase the rigidity of the hand guard.
These MOE versions will be best for most people because they generally require no fitting, but they can be modified if need be. Although not a job for the amateur gunsmith, I was able to fit the AKM handguard into a Centurion C39 billet receiver, which had a handguard slot about 1/3 smaller than standard.
All of the Magpul MOE and ZHUKOV Handguards are fully M-LOK accessory compatible at 3, 6, and 9 o'clock positions.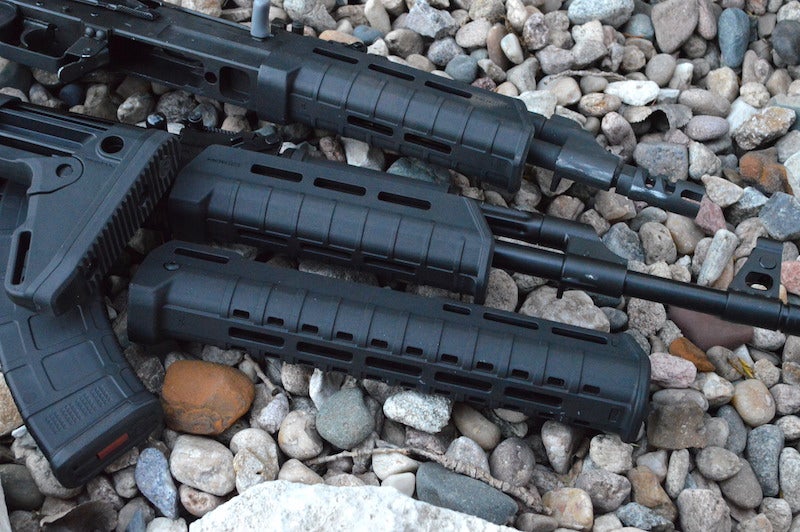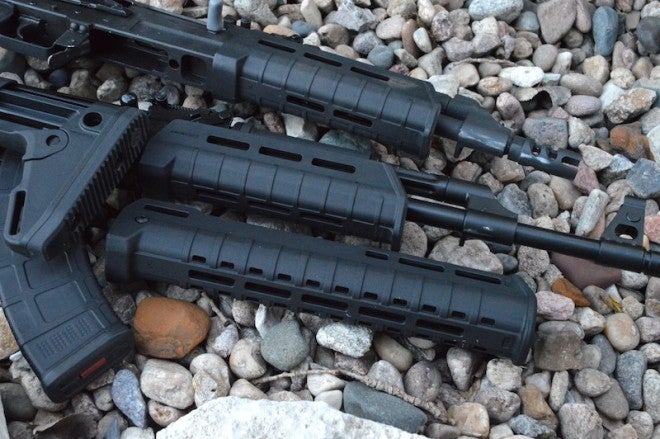 The higher-end $99 ZHUKOV version is a barrel-clamped extended hand guard, which I really like, but it does require some compromises during installation. You'd better really want this handguard because you are going to be stuck with it. You will have to grind the gas block sling mount loop and factory handguard retainer cover off of your rifle!
Again: this means you are not going backward from an upgrade perspective at any point in the future.
This also means the ZHUKOV is not a "drop in upgrade," but it's not hard if you know how to run a hacksaw and file or Dremel well. This hand guard covers the sling mount point, so even if you do a fairly ugly job with the grinder, no one will see it.
Once the sling loop and handguard retainer are removed, the aluminum chassis for the hand guard can be clamped to the barrel. Once that's done, slide the handguard into place. The main advantage of this barrel-clamped configuration is that the handguard will not shift or move.
The ZHUKOV handguard is UltiMAK optic rail compatible, but Magpul provides a gas tube cover if you are not using an UltiMAK optic rail.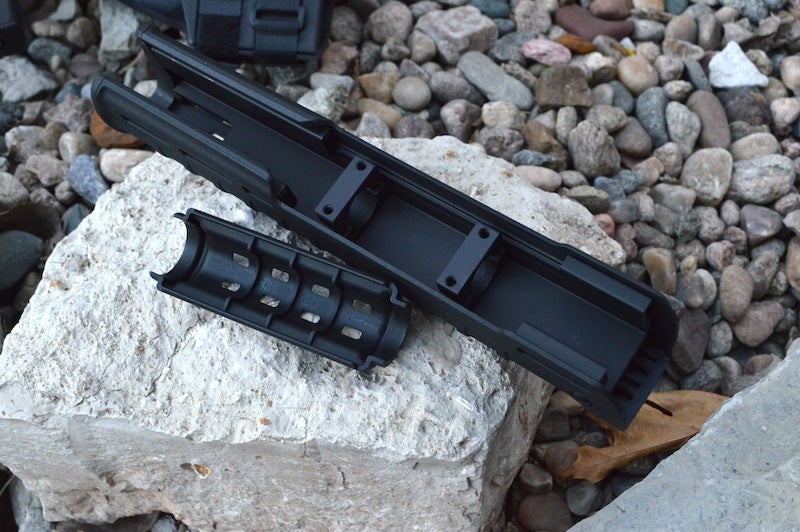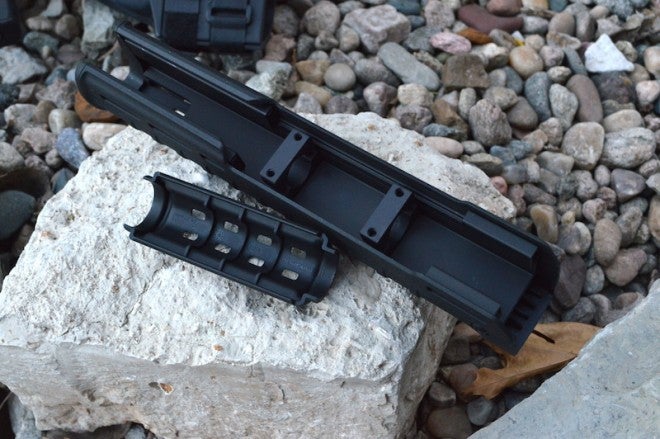 One reason some will opt for the ZHUKOV hand guard over the MOE version is that it's designed to be "more" compatible with various milled receivers because the hand guard is not reliant on slots in the receiver and handguard retainer, and is instead just clamped to the barrel.
Final Thoughts
Like all Magpul products, these stocks and hand guards are well designed and well thought out. I was a little confused that Magpul did not provide an optic mount as an option, but they did specifically recommend and build in compatibility for UltiMAK optic mounts.
All these Magpul upgrades were tight fitting on Century milled AKs and are definitely not the loose fitting handguards that fall off after you pull the gas block cover off, nor are they things you will likely be pulling on and off during routine cleaning.
I love what Magpul has done to keep the AK current even after all these years.