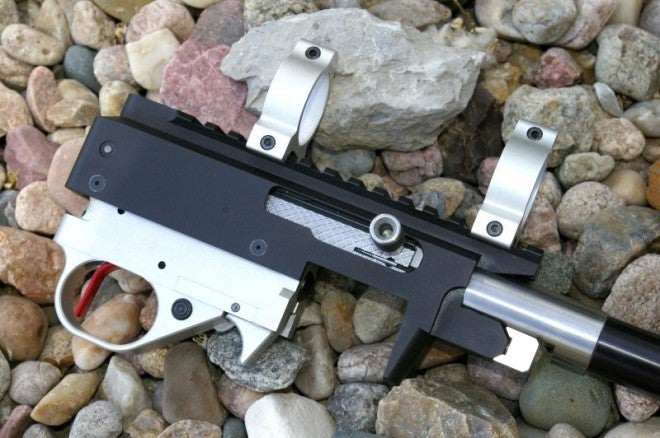 In the world of 10/22s there are several distinct categories, including "stock," "upgraded" (where one or just a few components are replaced), and "custom." On custom 10/22s, few components are left stock, including the receiver, and this is where Kidd rules. Kidd is considered as the top tier of custom 10/22s, and I consider the company founders to be gun industry rock stars for their contribution to and advancement of the 10/22 platform.
About Kidd
Kidd Innovative Design is located in McQuenney, TX and is run by Mary and Tony Kidd. In August of 2000, Kidd launched their website CoolGuyGuns.com with the now-famous Kidd 10/22 trigger. The Kidd trigger remains the most advanced and tunable 10/22 trigger available anywhere.
Besides that, Kidd produces the highest quality, most tastefully designed and finished 10/22 parts available, which consistently outshoot others in the market. Kidd's understated design screams classy while delivering tiny little groups downrange that the guys with fancy purple barrels will drool over. Set a Kidd component next to any other manufacturer's component and you will see a level of refinement that can only come from the years of experience. Every little detail is perfect and optimized for accuracy.
The Custom Kidd 10/22 Build
I used four vendors for this $1372 custom Kidd tack-driving rifle build:
Kidd barrel, bolt, charging handle, receiver pins, v-block, and trigger group.
Tactical Machining TM-10/22 billet receiver
Boyd Tacticool Stock
Leupold VX-2 3-9x33mm Rimfire Scope with Adjustable Objective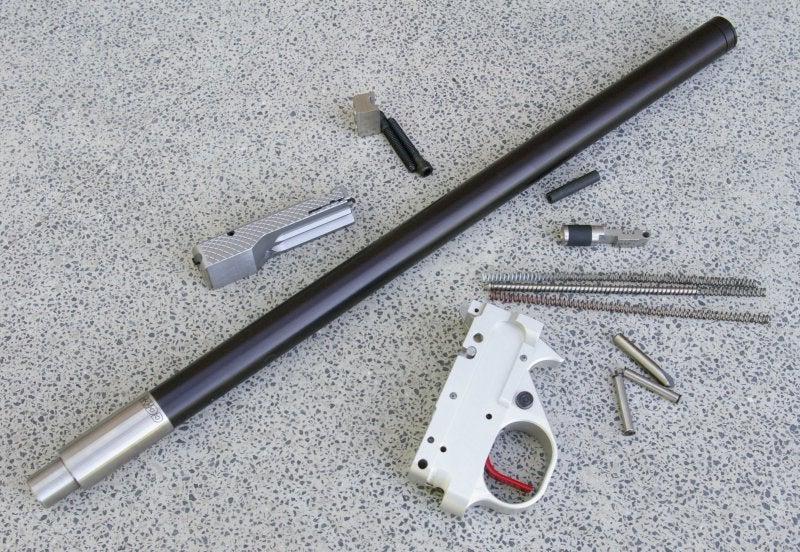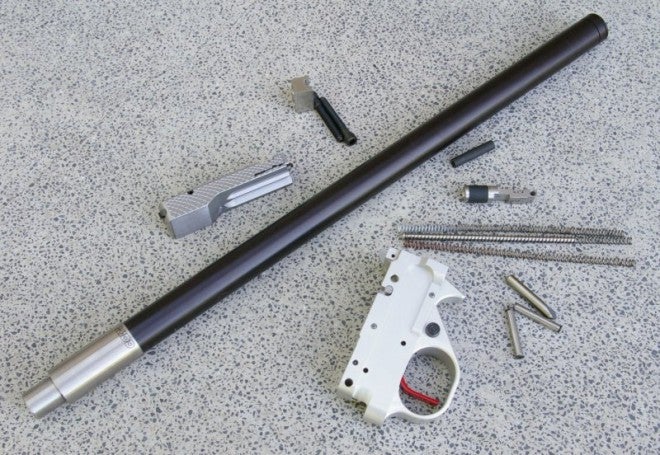 Kidd makes a fine receiver, but I already had a beautiful Tactical Machining billet 10/22 receiver ($129.99), which was begging for a project, so I used that as the base of the build. This 7075 T6 billet receiver is precision milled from billet stock with an integrated extended picatinny rail and cleaning rod guide at the rear of the receiver.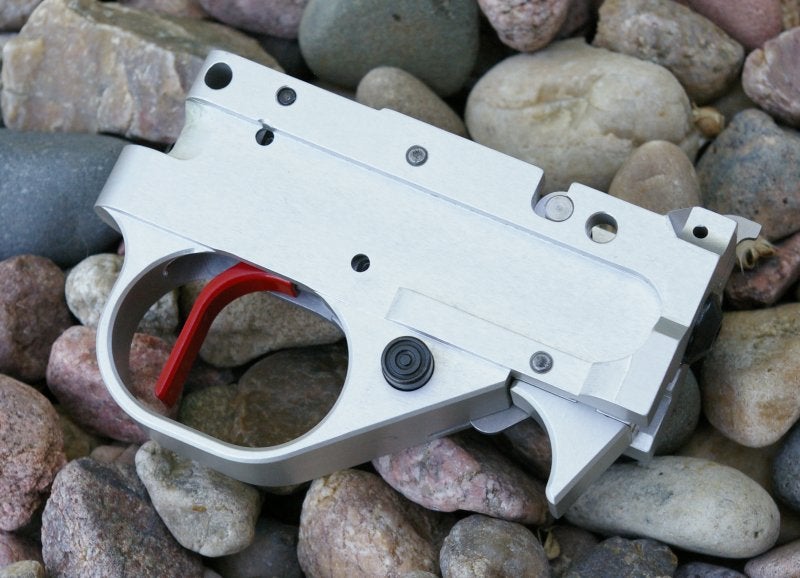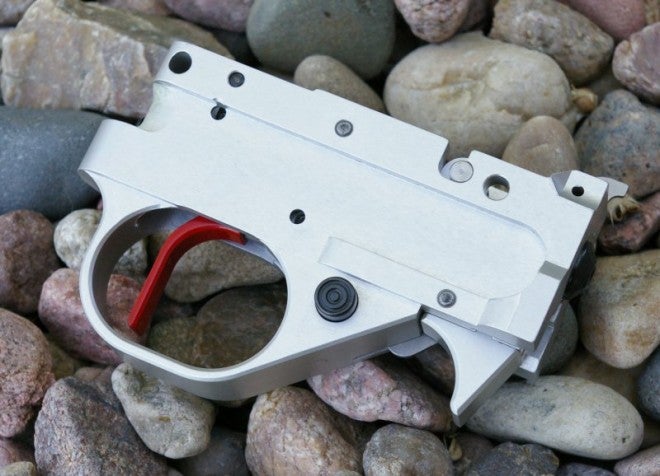 Kidd Two Stage Trigger Assembly, 8oz/8oz, Red Flat Trigger ($306.90) — This is a complete drop-in pre-tuned trigger group with an auto bolt release. Options include pull weight, trigger blade style and color, magazine release style, and housing color (black or silver). Honestly, I think it is the best-feeling trigger I have ever used on any firearm, and it certainly contributed to making it easy to punch little groups.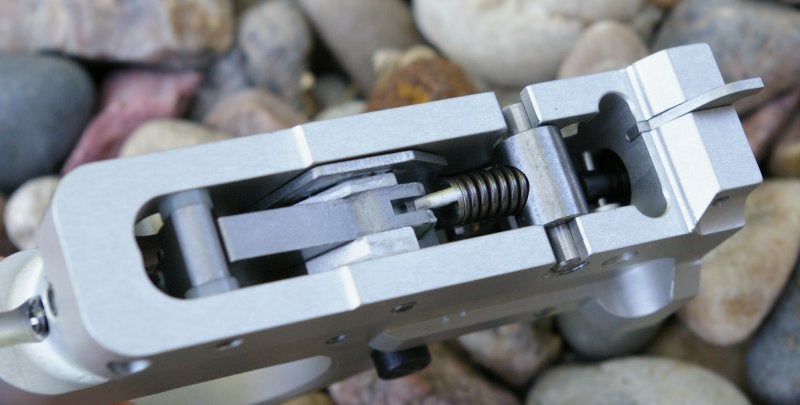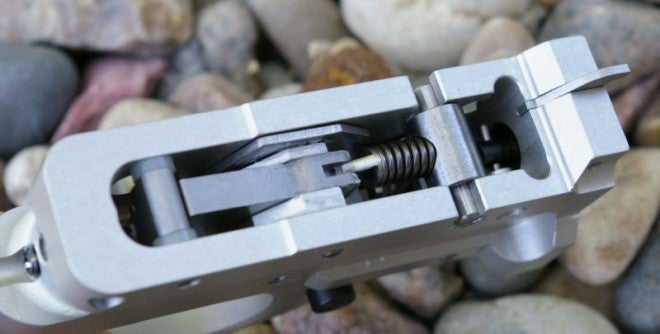 Kidd 18" Lightweight Barrel ($245) — Kidd has a variety of barrel profiles, but the 18" Lightweight Barrel intrigued me. The barrel is designed to offer all the advantages of a bull barrel at a reduced weight. The bull diameter of the stainless steel barrel extends for the first two inches, then steps down a little to .870" until the muzzle. An aluminum sleeve on the smaller-diameter portion of the barrel gives it the diameter of a bull barrel while weighing one pound less.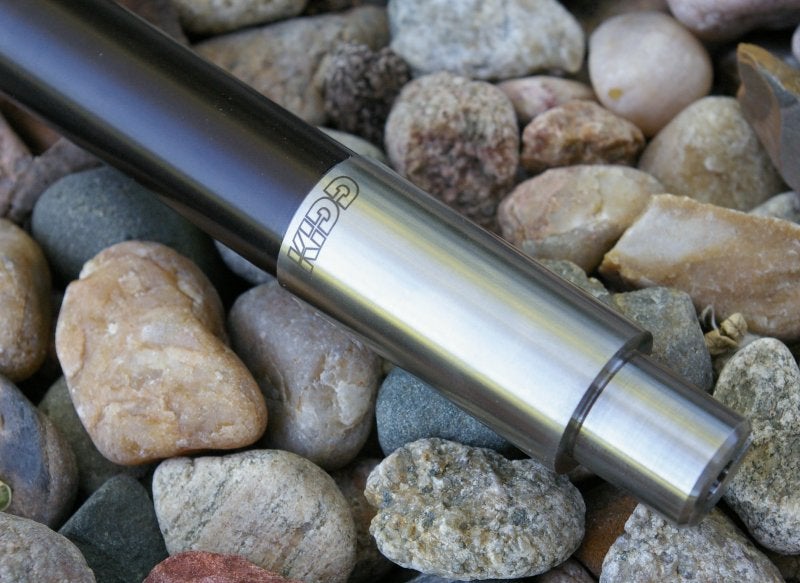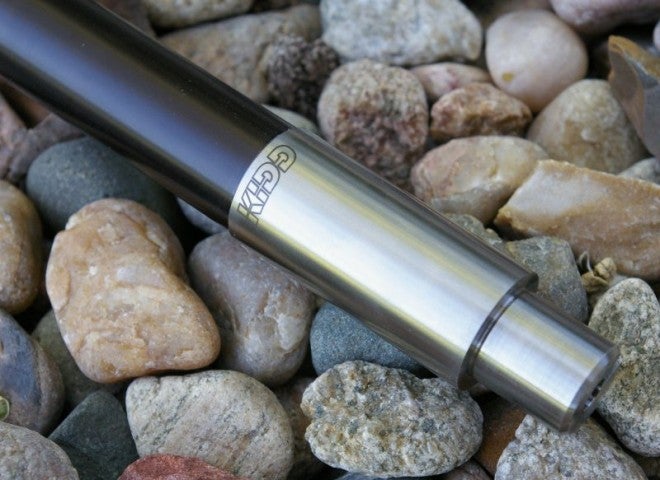 Although lighter than many bull barrels, it's still large enough to retain the stiffness for which bull barrels are preferred.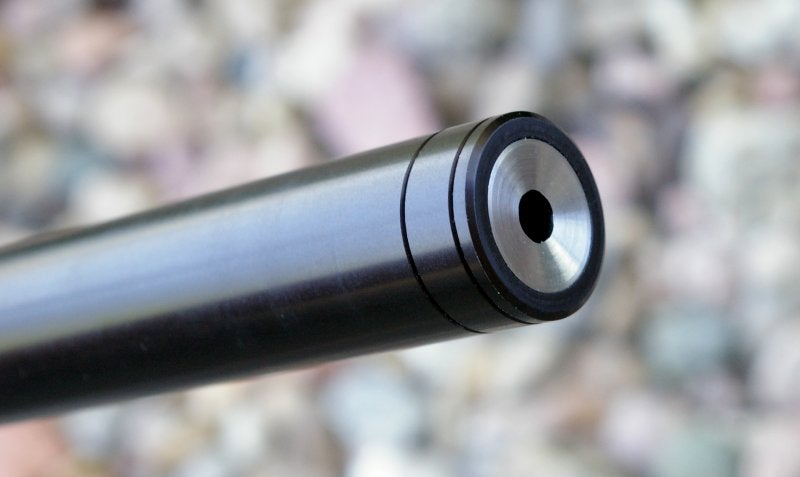 The Kidd Lightweight barrel is available in black or silver, threaded or unthreaded muzzle, 16.5 and 18 inches long, and for another $33 you can get it with a muzzle brake. The barrels weigh 1 pound 14 ounces and 2 pounds respectively. I chose the 18" version for this build.
Kidd CNC 22 LR Bolt Assembly, Scalloped (apparently discontinued) — This is a precision CNC machined bolt made of 4140 tool steel and precision-tuned with a .0425″ headspace, .035″ firing pin protrusion hardened to 48c Rockwell for durability, and pinned firing pin for consistent ignition.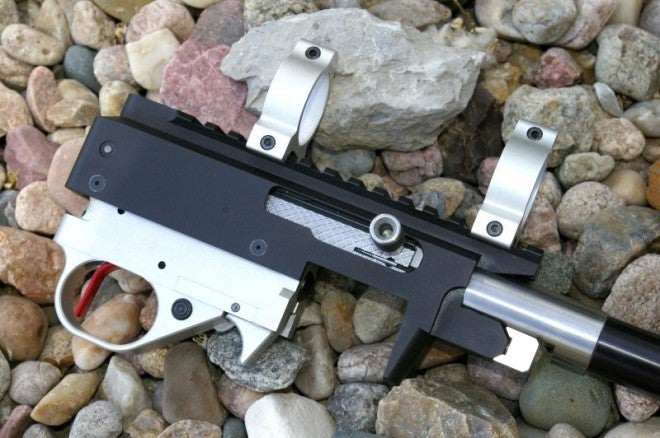 This bolt assembly has a radiused and polished bolt end for improved cycling and a tuned firing pin and extractor to improve ignition and extraction. I sprung for the scalloped bolt, which does nothing for accuracy but tastefully adds a little style to the build.
Kidd Threaded Receiver Pin Kit ($21.99) and V-Block ($22) — Kidd's V-block is such a gorgeous part in and of itself that you hate to cover it up with the stock. Interestingly, Kidd recommends only a nominal 10 foot-pounds of torque on the barrel retainer bolts, as they believe anything more affects accuracy.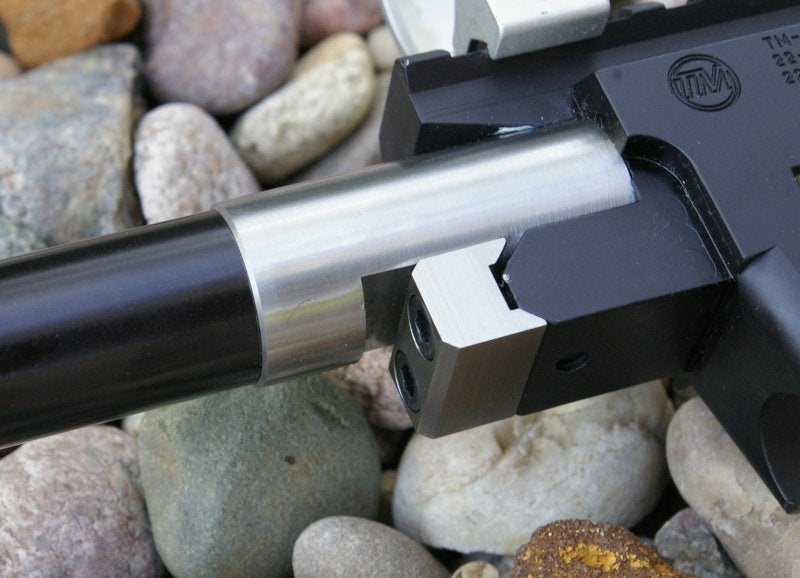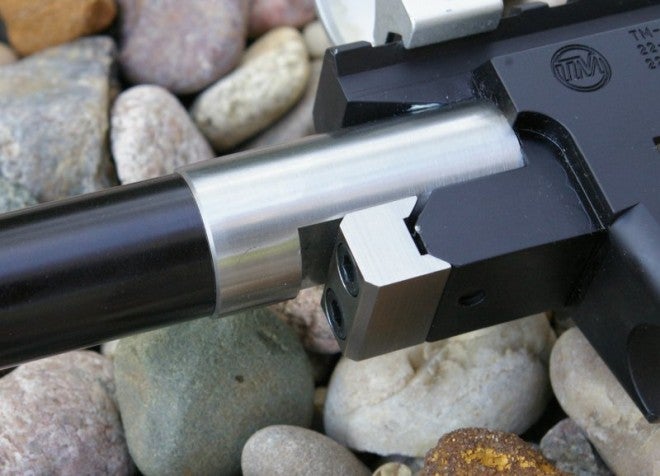 KIDD Bolt Handle Charging Assembly With Guide Rod & Springs ($29.95) — The stock 10/22 compatible KIDD Cocking Assembly is available in either black or silver and is partially wrapped with a Viton cushion for improved comfort during rapid charging. If you don't want the Viton, other finishes are available.
The included guide rod is precision ground and made from hardened tool steel which is held to 2/10,000″ tolerance throughout its length. The guide rod is then nitride treated, which gives its surface a 70C Rockwell (harder than a file) surface hardness for very smooth cycling.
The assembly also includes three springs in varying tensions for standard, subsonic ammo, or 17HM2 ammo. In order to ensure cycling with Wolf standard velocity ammo, I installed the subsonic spring. If you are having cycling issues with your custom build, this is the cocking assembly to get.
Boyd Tacticool Stock ($92) — Following the black tie theme, I decided on the Boyd Tacticool stock. Although it looks like a synthetic stock, it's actually laminated hardwood with black textured paint.
Leupold VX-2 3-9X33mm Rimfire Ultralight Scope with Adjustable Objective ($399.99) — The Leupold Ultralight VX-2 line is specifically designed for use with rimfire cartridges and features multi-coated super clear optics, blackened lens edges to reduce glare, fast focus eyepiece, and most importantly an adjustable objective. To maximize accuracy, a scope with an adjustable objective is critical to tune parallax and the features of this Leupold scope fit the bill perfectly for even 10 yard shooting.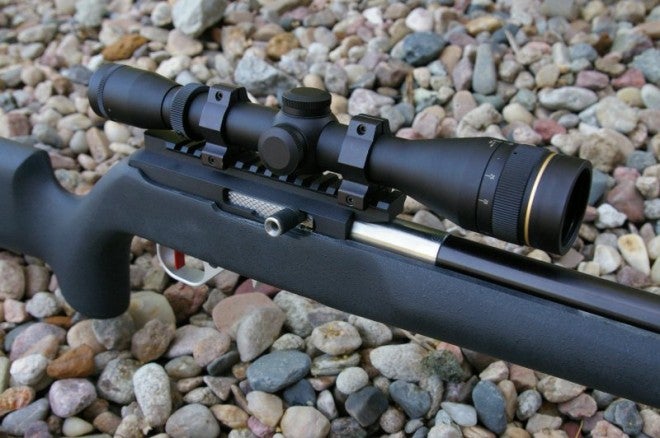 Kidd 10/22 Barrel and Trigger Fit, Feel, Finish, and Features
The Kidd two stage trigger allows almost every aspect of the trigger to be controlled and tuned, and the two-stage operation means that the pull weight is evenly spread out over each stage of the pull. Unlike stock polymer trigger housings, Kidd precision-machines each trigger housing from 6061 T6 aluminum. All internal components are wire EDM cut. The triggers are finished with Kidd's signature red powder coating, but are also available in black as well.
Honestly, unless you are building a dedicated 100 yard benchrest gun, I would go no lighter than the one I have, as this 1-pound (8oz+8oz) pull is a mighty light trigger and it's about 1 to 2 pounds lighter than any other trigger group I have tested.
Kidd barrels are machined from barrel blanks that are bored and rifled by Lothar Walther in Germany, then sleeved with a permanently-attached anodized aluminum tube and hand-lapped. This creates an extremely rigid and durable barrel while maintaining unparalleled accuracy for a barrel in this weight class.
An important note is that Kidd barrels are chambered to accept .22 LR ammo. They're not long enough for CCI Stingers, and they have a 1:16 twist. The unique convex extractor slot eliminates extraction problems by ensuring the extractor is always in perfect alignment with the case rim and Kidd is the only manufacturer that takes the expense and time to do this operation. Each barrel receives a beautiful 11 degree crown and the double ring logo at the muzzle, which does nothing for accuracy, but it does look cool.
Functioning Expectations of a Premium Match Chamber
Break-in is required. I had some functioning issues through the first 1000 rounds of ammo, but beyond that break in, I rarely have malfunctions.
Accuracy
The beauty of Kidd components is they allow you to shoot like a superhero without breaking a sweat. Obviously you need to master the fundamentals of shooting first, but if you do, these components will deliver tiny groups effortlessly. A buddy of mine is a good shot, though not as experienced as I am, and he was easily drilling sub half-inch groups at fifty yards. It is a rifle that is easy to shoot well.
This is a .25" grouping gun at 50 yards and it does it even with less-expensive quality ammo. During initial accuracy testing, my best group was a stunning .214" group at 50 yards with Wolf ammo and that is hardly expensive ammo. Even my worst group was only .866" and the 50-yard average of all rounds tested was .442". With Lapua Center-X and Exact I was able to get into the .1x" groups.
Final Thoughts
Perhaps so many think highly of Kidd because of the tiny groups they consistently shoot for everyone, not just the great shooters. Whatever the reason, Kidd has flourished and consistently runs into backorders despite having moved and expanded manufacturing to handle the demand.
My Kidd build is an exceptional rifle in quality, accuracy, fit, and finish, and I truly understand why everyone puts Kidd out front of the 10/22 pack.
Specs
$1372 build
Kidd barrel, bolt, charging handle, v-block, and trigger group.
Tactical Machining TM-10/22 billet receiver
Boyd Tacticool Stock
Leupold VX-2 3-9x33mm Rimfire Scope with Adjustable Objective