Watch: Track N Go Turns Trucks Into Snowmobiles
Russ Chastain 06.10.16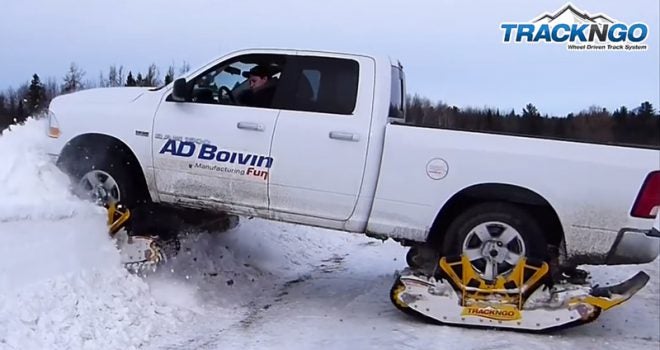 Now this is cool. Track N Go is system of snow tracks for trucks and SUVs that is pretty easy to install and lets trucks run pretty fast. You need to add a few attachments here and there on your vehicle, but no permanent modifications are needed.
The company behind it is impressive as they've developed a number of snow track systems over the years. This one looks pretty good for anyone who needs to drive in snow.
These units look great, and for a reported cost of $25,000 per set, it had better be! Naturally, most customers will be businesses and municipalities that have a real need to drive off-road in the snow.
Track N Go won't work on just any vehicle, though. Here's their list of requirements:
Four wheel drive
Automatic transmission with low range 4L
Automatic differential lock (or limiter slip diff.) on rear axle
Winter tires with regular soft compound (all seasons tires and mud tires works but not recommended)
Important: Use tires without studs
Outside tire diameter required: 31 to 35 inches (780 to 875 mm)
Tire width: up to 13 inches (330 mm)
Remove full length running boards from the vehicle
Engine (full size/large trucks and SUVs): V8, 5L or larger displacement
Engine (mid-size pickups and "off-road SUVs"): V6
They also recommend:
Front differential locker (for optimal performance in deep snow)
Heavy duty cooling system (to reach higher speed in deep snow)
Compatibility with SUVs is limited. You can see a list of compatible SUVs here.
Installation video: