Wheeler Engineering Delta AR Armorer's Ultra Kit
Dr. John Woods 06.14.16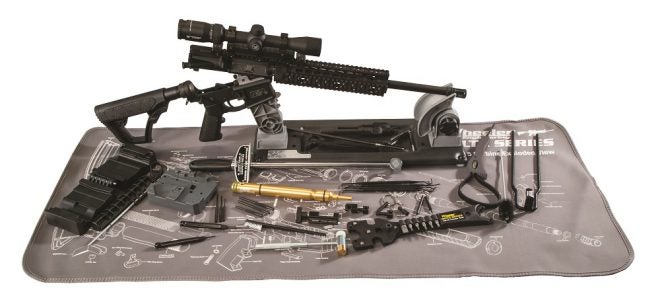 AR mechanics and tinkerers are going to love this. Battenfeld Technologies has brought out a whole new AR armorer's workstation kit. Named the Wheeler Engineering Delta Series AR Armorer's Ultra Kit, this product becomes the next addition to the line of AR tools and accessories offered through Battenfeld.
This "one-stop" AR kit contains all of the most essential gunsmithing tools required to perform over 50 different AR building and regular maintenance tasks. The really cool and handy part is that it all comes self-contained in one custom fitted carrying case. So, now all your must have AR tools and stuff is no longer scattered here and yonder all over the place. It's in one bag.
First up, the Delta Ultra Kit includes a durable armorer's bench block. This supports and holds an AR in a steady position for work to be safely performed. The block is positioned on a maintenance mat that includes an exploded blue print view of the AR-15. How handy is that?
For cleaning jobs the kit includes a selection of cleaning brushes, picks, and tools to facilitate the regular maintenance procedures needed to keep your AR running smoothly. Other tools in the kit are an AR-15 roll pin installation tool kit. If you have ever tried to remove or install a roll pin without the right tools, then you know how important a roll pin tool kit is.
The Delta Armorer's Kit also includes an Upper Vise Block Clamp with a gas tube alignment tool. An AR-15 Combo Tool with torque wrench is also part of the tools in the kit. There is also an AR front site tool as well as a Delta ring tool for removing the locking ring that holds the front forearms in place over the barrel. Also included in the kit tool list is an oil filter type strap wrench and an AR barrel bore guide.
These are basic tools needed to work on any AR rifle. Without them, you simply cannot perform all the tasks that are needed to keep one of these rifles running at peak performance. Whether you are a professional gunsmith, AR rifle owner and shooter, taskmaster cleaning ARs, or installing accessories, this complete armorer's kit from Wheeler Engineering and Battenfeld Technologies is the best way to get started.