Watch: Super-Powerful Mars Pistols From the Early 1900s
Russ Chastain 06.17.16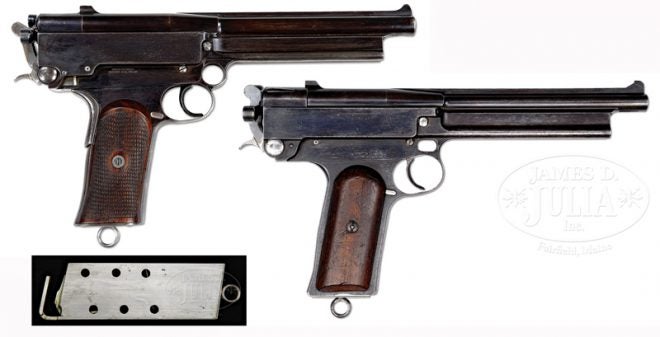 This massive handgun was created by Sir Hugh Gabbett-Fairfax (he was British, in case you couldn't guess) in 1898, and only about 80 of them were ever made. Ian of Forgotten Weapons takes us on a tour of this interesting old pistol, which he calls "a phenomenally powerful and ridiculously complex handgun."
They have a long recoil action and 4-lug rotating bolts, which make them "weird to start with," says Ian.
Mars handguns were chambered for four cartridges–all of them designed by the gun's inventor and quite powerful–8.5 mm, 9 mm, 45 short, and 45 long. Again, these cartridges are NOT the same as those for any other firearm, in spite of their names' similarity with other cartridges.
Flinging a 220 grain bullet at 1200 fps is pretty impressive, and that's exactly what the 45 long version could do. And this was around 1900, so… yeah.
The ammo is fed in an odd way; each round is stripped from the detachable box magazine and pulled to the rear before being lifted up–by the hammer spring!–and then shoved into the chamber. In the photo above, the magazine's rear is towards the top of the pic.
Two Mars pistols are featured in the video: One in 8.5mm Mars and one in 45 Long Mars.
Towards the end of the video, Ian calls them "fantasically complex and very steampunkish pistols."
The crazy complexity and troubles with getting consistent ammo both contributed to its failure to sell; since no known examples have proof marks, it's a virtual certainty that none of these firearms were ever sold commercially.
But that doesn't stop me from loving them.