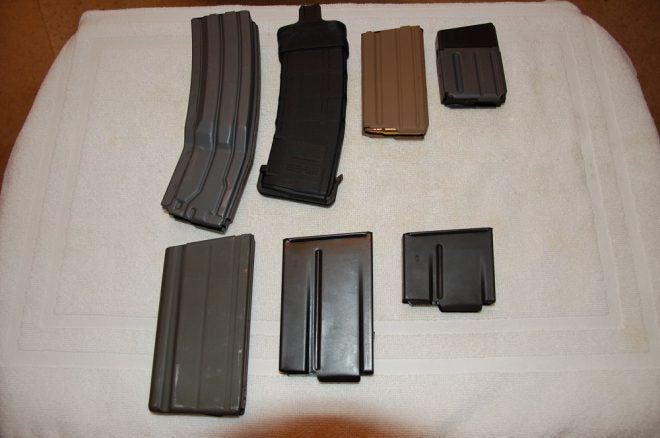 If you own and use a semi-auto rifle such as an AR-15, AK-47, FN-FAL, or similar rifle that uses changeable magazines, then you probably have the option to use variable round magazines. But which ones are best for which applications?
These days there are not only factory magazines, but also many aftermarket magazines options available for just about every weapon offering differing round capacities. These can vary from 5-10-20-30 and even 40 round standard type box magazines. Now, there are several high capacity rotary type drum magazines for some rifle models that can carry 100 rounds or more. Some of the practical utility of such magazines might depend on how much extra weight you want to carry in battery on the rifle.
The question remains, which magazine capacity is best for which types of shooting activities? I use the AR-15 platform quite a bit and have several different magazines for different uses. If I am hunting then I pick a lower round magazine so the rifle is easier to handle, move, and manipulate in an elevated hunting stand. In some states hunting laws, rules and regulations may dictate which capacity you can legally use. I figure if I cannot take down a deer with five rounds, then I need to be doing something else, like going back to the shooting range.
Likewise a long extended magazine can be a bother at the shooting range for sight in work. I use a Caldwell Lead-Sled a lot of the time to assist with target sight in accuracy. These do not easily accommodate a long magazine hanging down below the rifle. A ten round is just about best for this use at the range.
If I am on the ATV on property patrol duty for a bug out prepper training weekend, then I opt for the maximum magazine capacity. I at least carry a 20-round mag in the rifle with extras stowed into a Midway USA magazine shoulder carry bag. Everyone has their own preferences, but I just have never been enamored with a long 30-round magazine. To me they are too unwieldy for everyday use. I have them and use them, but they are just not my favorites.
So when you pick extra magazines for your semi-auto, the best course of action is probably to buy several in different capacities. Then you will have one for every application.