Review: Skinner Sights HTF Tactical Garment Bag Gun Case
Pat Cascio 06.20.16

When transporting firearms, it's nice to be incognito. Like when you stop at a hotel overnight and you don't want to leave your guns in your vehicle–but you don't want people to see you carrying gun cases into your room, either.
Enter the Skinner HTF (Hide Those Firearms?) Tactical Garment Bag. It's a well-made gun case that looks for all the world like a high-quality garment bag. You can use it for that, but inside it's something completely different.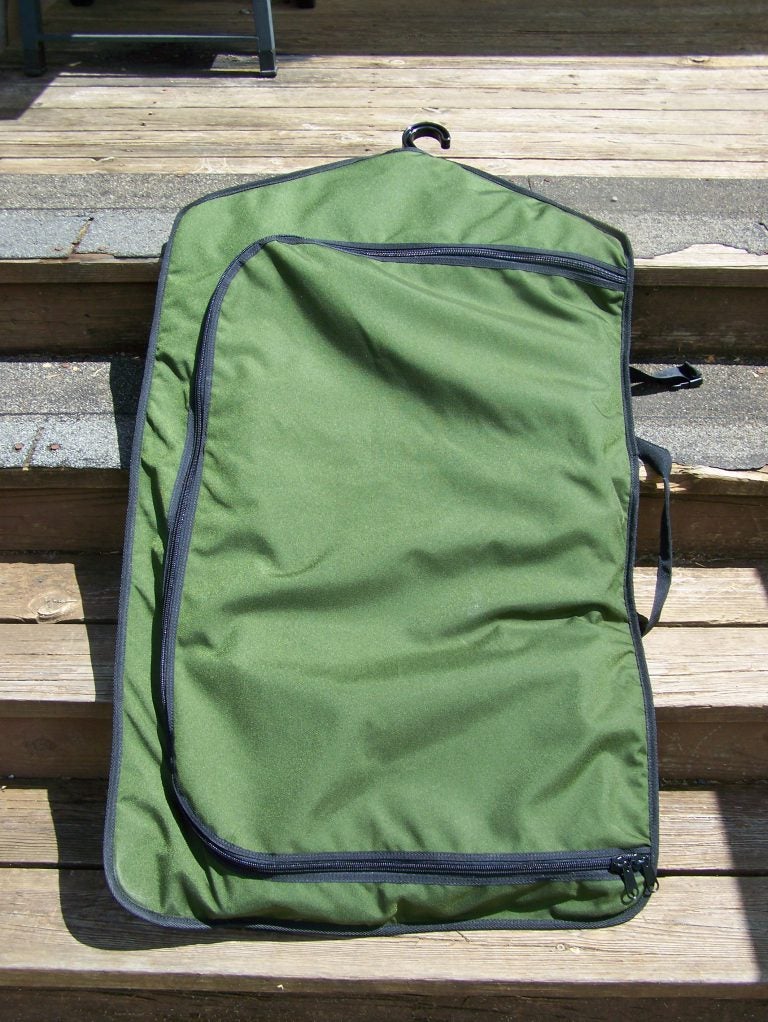 This is probably the best-made garment bag I've ever seen, and it is made in the USA. It's certainly heavy-duty, and the workmanship is excellent. But the best part is inside.
The HTF Tactical Garment Bag can accommodate a full-sized "modern sporting rifle" (think AR or AK), and two handguns in removable holsters, plus it has mag pouches for six pistol magazines and a bunch of other pouches that can store rifle magazines and even ammo.
And once you load it up with guns, you can hang some clothes in it to help camouflage your firepower.
The HTF comes with the heaviest-duty clothes hanger I've ever seen. It would need to be, considering the weight of the firearms, magazines, and ammo that can fit in this bag.
There is a two-way zipper that allows you to completely open the HTF so you can easily place all your goodies in the assigned pockets/spaces.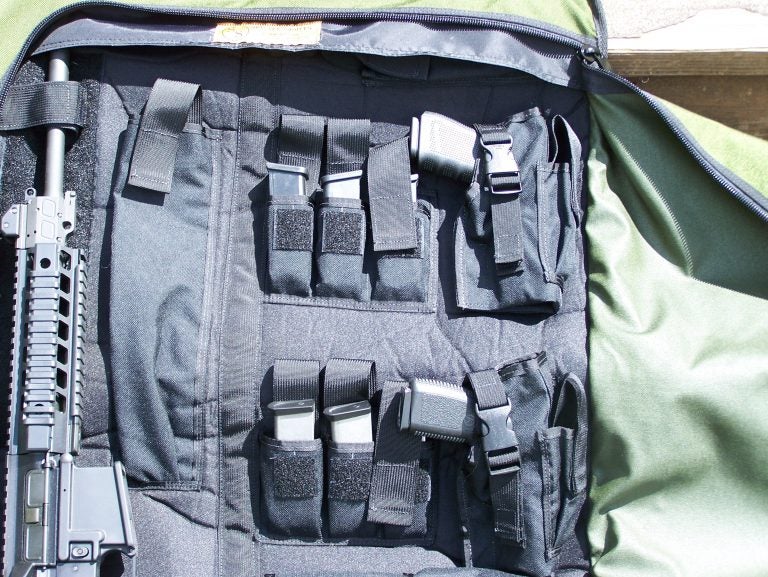 The HTF is manufactured out of heavy-duty Cordura nylon that is also water resistant. The stitching is heavy-duty, too. I honestly can't see where any corners were cut in the making of this bag. You can also secure flashlights with spare batteries in some of the pockets. You could even hang some body armor in this garment bag.
When you pull into your motel for the night, no one will give you a second look when they see you taking this garment bag to your room. And for those who don't own a gun safe but you still want to hide your firearms, the HTF is perfect for this. Simply take the firearms you want to hide, secure them in the HTF, place an old suit or other clothing in front of the firearms, and hang the HTF in your clothes closet. No one is the wiser.
Someone who broke into your house and looked through your clothes closet probably wouldn't give much thought to a garment bag hanging there.
You aren't limited to just hiding guns in the HTF; you might consider jewelry or money. Once again, who breaks into a house to steal clothes? A cursory glance will tell the intruder that you have clothes in the HTF, and they will move on to stealing something else.
I predict that Skinner Sights will sell the HTF faster than they can produce them. Right now, there is a special introductory price on the HTF: $179.00. Yeah, it's a little steep, but we are talking top quality all around. Be sure to check out their website for more information on the HTF.