Review: Meal Kit Supply's 2-Course MRE Six-Pack
Pat Cascio 06.21.16

A lot of people don't especially care for MREs, but I believe they have their place in your survival supplies, bug out bag, or even the emergency box in your car. There are several advantages to having a ready-to-eat meal available in an emergency.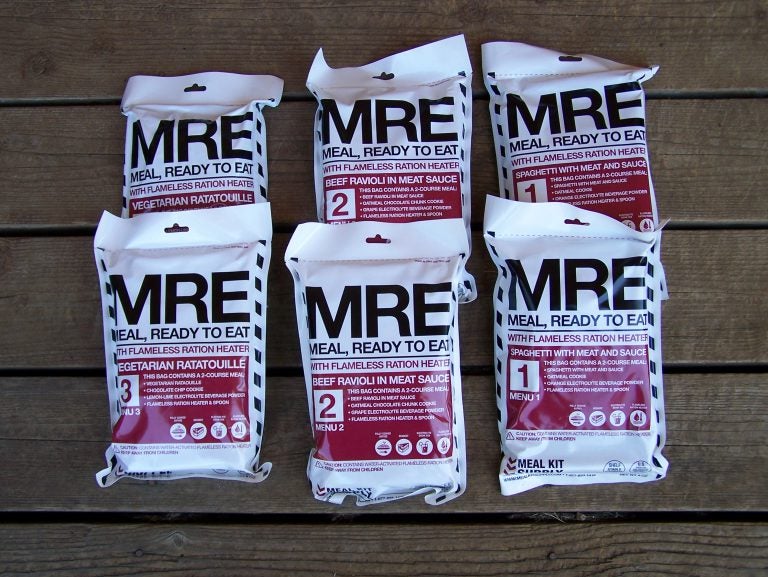 Enter Meal Kit Supply. This company purchases fresh MREs directly from a supplier rather than reselling old surplus MREs or cheap imitation meals. I have reviewed some of their MREs in the past and found them tasty and filling.
A standard MRE can be pretty high in calories, which is appropriate for soldiers who do a lot of physical exertion, but not so much for regular folks just out hiking or trying to stay alive until they can be rescued or make it back home. So Meal Kit Supply offers 2-course MREs, and they even sell them in this six-pack. It's a darn good idea, if you ask me.
Here are the high points of these 2-course MREs:
5 year shelf life
6 individually packaged 2-course MREs
3 different menus per pack
6 lunch/dinner meals
100% Military food components
600+ Calories in each MRE
Ready to eat and fully cooked food
Each MRE contains: entree, dessert, electrolyte beverage powder, spoon, napkin, and flameless ration heater
FEMA uses MREs, or 19FD-01-IRATs (Rations, Initial Deployment) for disaster response
Made in the U.S.A.
Current menu in each six-pack:
Spaghetti with Meat and Sauce, Strawberry Toaster Pastry, and Grape Electrolyte Beverage Powder
Cheese Tortellini, Brown Sugar Toaster Pastry, Lemon-Lime Electrolyte Beverage Powder
Beef Ravioli in Meat Sauce, Chocolate Chip Toaster Pastry, Orange Electrolyte Beverage Powder
(This differs from the six-pack that I tested, which contained Vegetarian Ratatouille instead of Cheese Tortellini. More on that below.)
One good thing about MREs is that you don't have to use extra water to prepare them. you simply eat them directly from the package. Each MRE also comes with a flameless heater that requires only a small amount of water to activate, and in a short time your MRE is warm enough to eat. Each two-course MRE contains: entrée, dessert, electrolyte beverage powder package, spoon, napkin, and of course, the flameless heater.
You will find 6 entrée meals in each 6-pack box, and the menu will be changed from time to time, as to be expected. The menu of my six-pack consists of a spaghetti entrée, beef ravioli, vegetarian ratatouille, a second spaghetti with meat sauce, a second beef ravioli, and a second vegetarian ratatouille, along with the different desserts and other things mentioned above. Not the biggest variety, but as I said, the menu will be changing all the time.
One thing I like about MREs is the 5-year shelf life under ideal storage conditions. High heat shortens the life span (nutritional value) of MREs, and you shouldn't freeze them either. Of course, you can eat MREs that are older. They don't go "bad" on you, they just slowly lose their nutritional value the longer they sit on a shelf.
I keep several cases of MREs around my place, along with other types of long-term survival foods. When the power goes out, which happens several times each winter (sometimes for days at a time), my family will reach for MREs when we get hungry. They're quick, easy, and have plenty of nutrition.
I don't care who you are, you honestly should have some MREs on hand for emergencies. Meal Kit Supply also offers full 3-course MREs in cartons of 12. This is a good start, and you'll be grateful to have a quick and easy meal on hand when the power goes out, if your car breaks down in the middle of nowhere, or if you're out hunting or camping.
Don't be fooled by companies that sell inferior products called "MREs" when they really aren't. Get the real deal from Meal Kit Supply, and take a close look at their new 6-pack of 2-course meals if you want something less filling and lighter in weight to carry in your pack.
Each six-pack costs $44.95 and you get a discount if you buy in bulk. Two cost $42.70 each, and three or more will set you back $40.46 apiece. And yes, that includes shipping to the contiguous United States.