Review: JP Enterprises AR-15 Barrel Kit and Components
Major Pandemic 06.22.16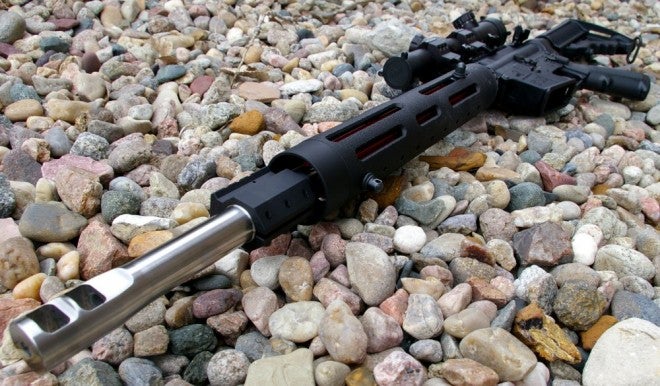 If you ask who makes the most-accurate AR15 barrels, you'll get a lot of opinions, some qualified and some not so much. As I spoke with numerous individuals in the know, one name came up more often than any other (especially from the three-gun and target crowd): JP Enterprises. Further piquing my interest, almost all of my sources said these barrels kits, uppers, and complete rifles commonly produced ½" benchrest 100-yard groups. JP's products are reasonably priced considering their proven pedigree, which is another big plus.
About JP Enterprises
JP products have been tested and proven to be among the best in real competitions and not just in a lab environment. Currently JP barrels and accessories are found on some of the top 3-Gun competitors' rifles, including Daniel Horner. What makes JP Enterprises unique is that they are truly innovating with out-of-the-box thinking.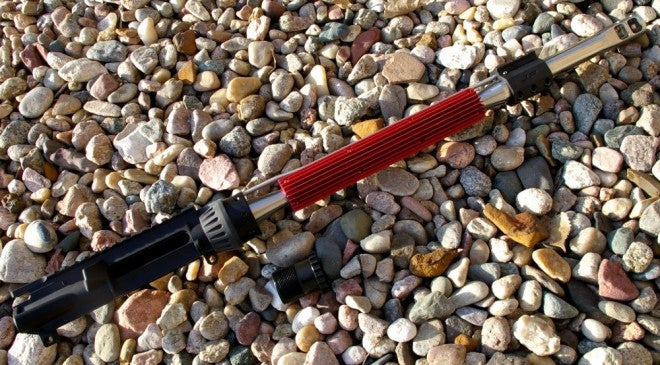 The JP Barrel Build
The foundation of this accuracy machine is a JP Enterprises 18" Medium Contour JP Barrel Kit, which takes a Thermal Dissipator and features an adjustable gas block, cryogenic treatment, matched bolt, and the JP Contoured barrel profile — probably quite a bit different than the stock barrel riding aboard your AR15.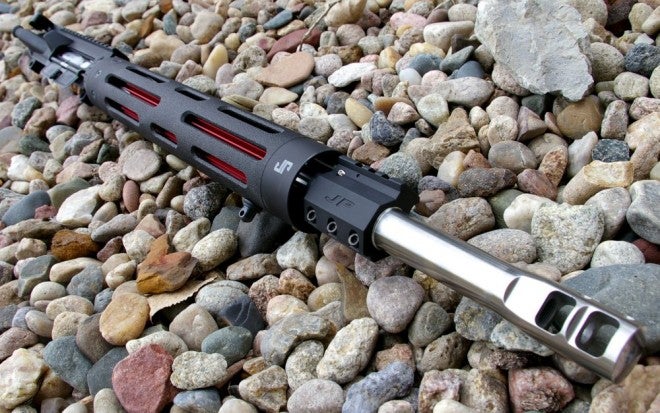 Other build components include:
Aero Precision upper and lower receivers
Squad Designed Marksman focused Geissele SSA-E Super Semi-Automatic Enhanced Trigger
PRI Gasbuster charging handle
Hi-Lux 1x-4x 24 CMR scope
Millet Rings
DPMS parts lower parts kit and re-purposed tube and stock assembly
JP Enterprises Modular Hand Guard to fit over the heat-sinked barrel profile.
Because the JP Barrel Kit includes a matched and headspaced bolt, I plugged the JP Bolt into a YM Chrome Carrier Group.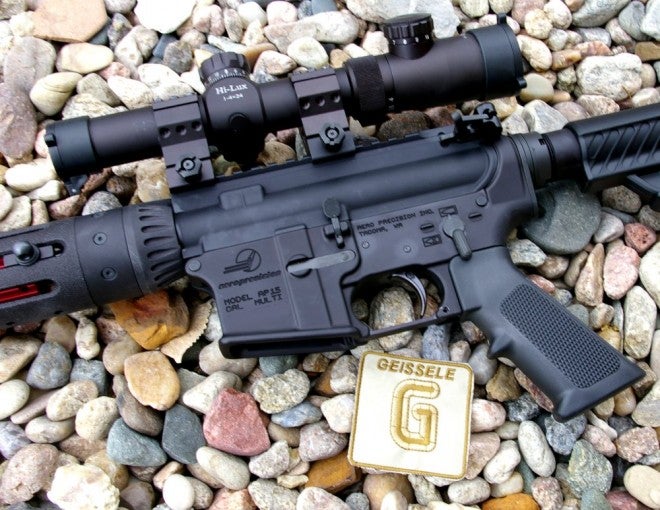 Features
First it should be noted that I am NOT reviewing just a barrel, but a $589 barrel kit composed of JP Enterprises products that provide the builder a special set of tuned components. The kit offers an install-ready complete barrel assembly and can be ordered in your choice of 16", 18", 20", and 22" barrels and includes JP's own headspaced bolt matched to the chamber, adjustable gas system and tube, and tactical compensator or recoil eliminator.
I opted for the tactical compensator and added a $75 JP Thermal Dissipator, which is in essence a large heat sink for the barrel.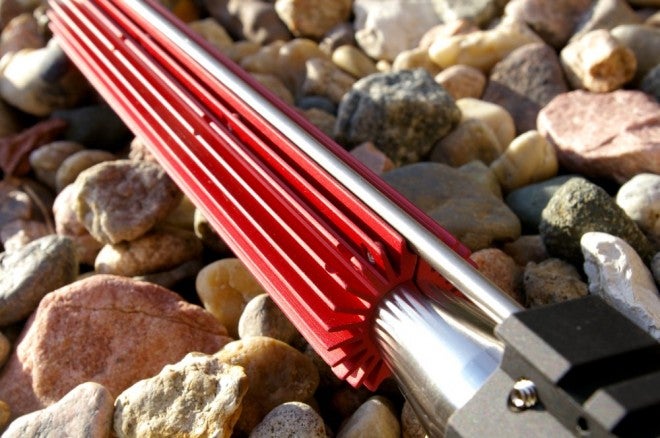 The quality of the gas block is outstanding and it allows you to tune your AR to a smooth and flat-shooting AR that holds the sights from shot to shot. Most shooters will tune the gas block for one specific load. I tuned mine down just enough to lock back the bolt and then opened it ¼ turn to ensure cycling with a large variety of ammo.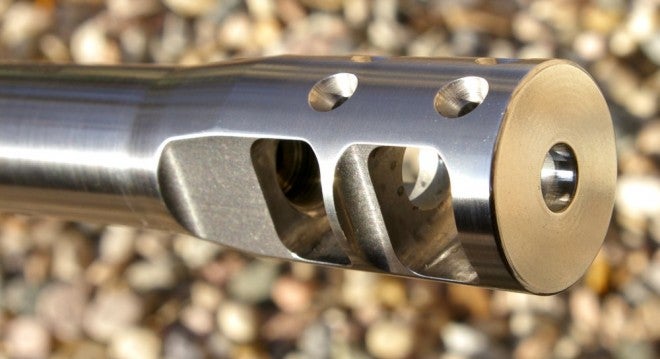 Tipping the barrel, I chose the 3-gun legal Bennie Cooley JP Tactical Compensator. This compensator is designed to be compliant with SOF, WC 3-Gun, and USPSA Limited Class competition rules while maximizing flat-shooting performance.
Compensators are effective at providing a nearly recoil-free rig, but the downside is that they're very loud. Mine worked great, looks awesome, and is a whole bundle of fun when you start shooting fast.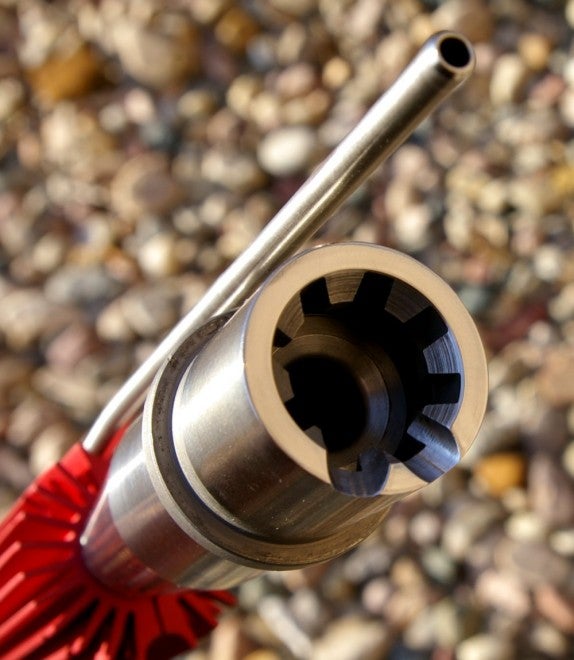 The button rifled barrel itself is made from 416 stainless alloy chambered in 223 Wylde with a 1:8 twist, which is the preferred configuration for precision shooters. The 223 Wylde chamber represents the best compromise between a SAAMI commercial spec 223 chamber and a 5.56 NATO-type chamber and often results in peak accuracy with the widest variety of ammo at safe pressures.
The barrel has a unique best-of-both-worlds profile that promotes cooling at the hottest area (2"-3" in front of the chamber) with a thinner barrel profile, which then transitions to a bull profile after the gas block to ensure precision accuracy.
The barrel is turned on state-of-the-art machines and cryogenically treated for cold bore shot predictability, minimum thermal drift, outstanding accuracy, and extended barrel life. JP is definitely leading barrel technology innovation in the AR market. With the JP profile and 18" length, the barrel feels like a standard heavy AR profile barrel, but it shoots like an 18" bull barrel.
The optional JP Thermal Dissipator attaches to the thinner barrel profile between the gas block and receiver. The Dissipator increases barrel stiffness and provides 700% more surface cooling vs. a standard barrel profile, increased barrel life and accuracy, and offers improved heat management for more comfortable high-rate shooting.
Because of this heat dissipation, heat distortion is limited and barrel temperatures are controlled even during sustained firing. The dissipator is available for .650" and .750" barrel profiles in black, red, blue, and white anodized finish and will fit other barrels with those profiles. The red looks sharp peeking through the handguard. Seems like someone should have taken this queue from the electronic industry and installed heat sinks long ago.
The last part of the kit is a JP Enhanced Bolt, which accepts standard non-proprietary firing pins and extractors. The JP bolt is made from SAE 9310 high-grade steel and headspace matched to the barrel you buy. The primary advantage is a sizable upgrade from typical 8620 steel, which has been shown to only last around 6000 rounds and sometimes shows stress fractures in as few as 3000 rounds. SAE 9310 steel is shown to last easily twice as long.
Fit and Feel
When JP notes that their barrels are made to exacting specifications, they are not kidding. This is by far the most gorgeous barrel finish I have seen. Even the transition to the JP Tactical Compensator is so flawless it looks like a perfectly turned and milled extension of the barrel. The chambers and feed ramps are polished, the target crown is perfect, and the fit into my Aero Precision upper receiver was nice and tight. JP is obviously picky about quality as every component in the barrel kit is of outstanding custom grade quality.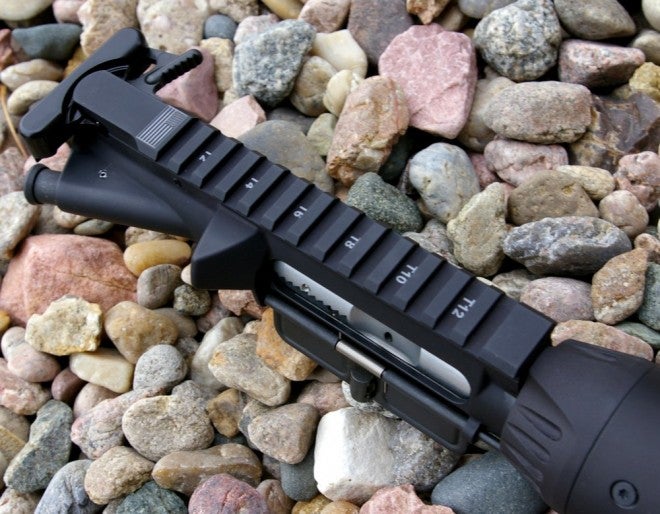 Functioning and Accuracy
Once everything was mounted up it was time for the recommended JP Enterprises barrel break-in procedure. Reliability has been excellent and seems to be getting smoother.
Moving through the recommended break-in procedure with inexpensive steel-cased ammo still netted a few .75" groups, and I was more and more impressed with each shot. With Hornady 75 Grain TAP ammo, groups started at solid .75" groups at 100 yards and reduced through the 100 round range to .6", and by the 300 round count I managed several .5" groups and one .4" group.
Perhaps I just became a little more comfortable behind the 6x-24x Simmons Predator Quest scope, but whatever the cause, I was quite happy with the results. I used the 6x-24x scope for accuracy shooting, but the 1x-4x Hi-Lux CMR scope is simply more practical for 3-Gun and tactical shooting, and it still delivered .75" or better groups at 100 yards. This sight provides a MIL and MOA combo illuminated circle dot and bullet drop and wind drift reticle for fast and easy Kentucky windage adjustments.
Most impressive to me was that I was able to hold very close to these groups from the first to the last shot during higher rates of benchrest paced fire. Apparently JP's barrel profile, cryo treating, and heat sink all contribute to that first-to-last-shot consistency.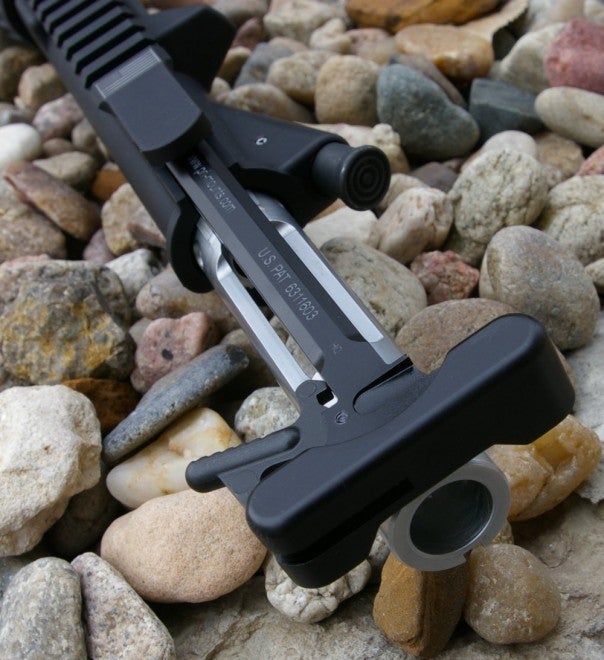 What does this mean for the average shooter, tactical operator, or 3-gun competitor? Well, if your AR's best day produces 2" groups at 100 yards, then the JP Enterprises accuracy solution may give you a 400% improvement and consequently 400% higher hit probability, 400% more potential that the bad guy (or 300 yard 3-gun steel) goes down — or simply more probability that you will outshoot your buddy at the range.
Final Thoughts
JP Enterprises has a well-earned reputation as one of the finest barrel and AR15 accessory innovators and manufacturers, and my experience has proven that reputation again. I like the fact that they use all 100% US made parts, the warranty and commitment of JP to assuring quality and customer service.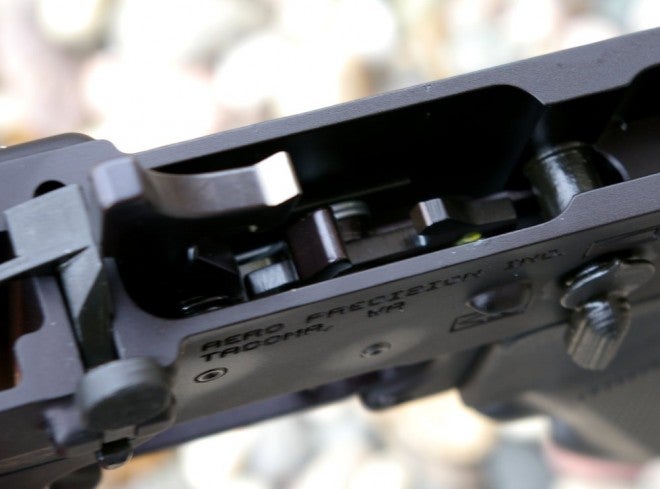 There is no doubt that this is not a budget build, but tipping just over $2000 is a bargain for a proven ½" tack driver any way you slice it. I understand the science behind cryo-treatment, the barrel profile, and accessories like the thermal dissipator, but some will say they are just voodoo. If I thought having each of my rifles hand rubbed with old Bennie Cooley practice targets, blessed, dipped in garlic-infused holy water followed by a live sacrifice of cooked carrots while citing Hamlet, I would — but luckily the JP kit easily delivered sub-MOA accuracy without all that.
There are certainly a sea of premium target barrels on the market, but based on my experience JP Enterprises has gained this accuracy nut as a fan.
Build Specs
JP Enterprises Barrel Kit $589 (Barrel, Gas Block & Tube, Bolt, and Tactical Compensator)
JP Thermal Dissipator $75
Aero Precision Upper $59.99
Aero Precision Lower $139.99
Model 1 Carrier $195
Geissele SSA-E Super Semi-Automatic Enhanced Trigger $200
PRI Gasbuster charging handle with Tactical Latch $85
Hi-Lux 1-4X-24 CMR scope $359
Millet Tactical 30mm Rings $50
DPMS parts lower parts kit $58.99
Re-purposed stock $0
JP Enterprises' own Modular Hand Guard $189.99
Build Total: $2001.96