Review: X Products High Capacity AR15 and AR10 Drum Magazines
Major Pandemic 06.22.16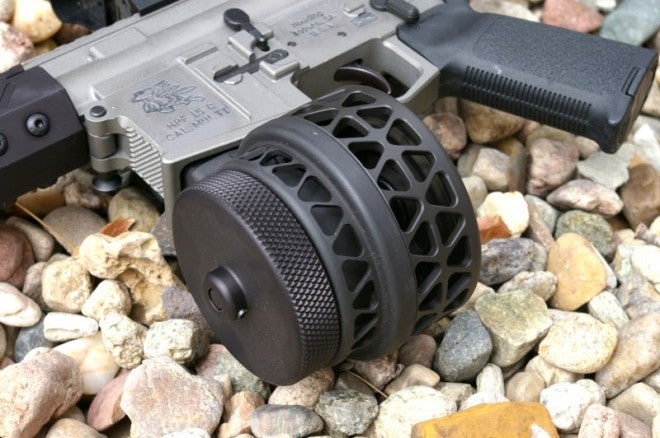 When X Products introduced their drum magazines in late 2012, they asked the market "Who wants a robust 50-round drum magazine for their AR15 and AR10 platform rifles?" "Uhhh, yeah" said many AR15/AR10 owners, and just like that X Products had a 12- to 14-month backlog of orders.
That's why this article has been so long in the making. Way back at the 2013 SHOT show, the X Products booth was so swamped that I could not fight my way in to even discuss their products. The crowd at the 2014 SHOT show was only a bit smaller, but I did get a chance to chat with them about their magazines. I was impressed, placed an order, and then waited patiently through their backorder process until my X-25 for DPMS format 308 rifles and X-15, and X-15 skeletonized magazines for AR15 rifle arrived at my doorstep. As I opened the packages, I felt like a spy with a new gadget. They are that cool.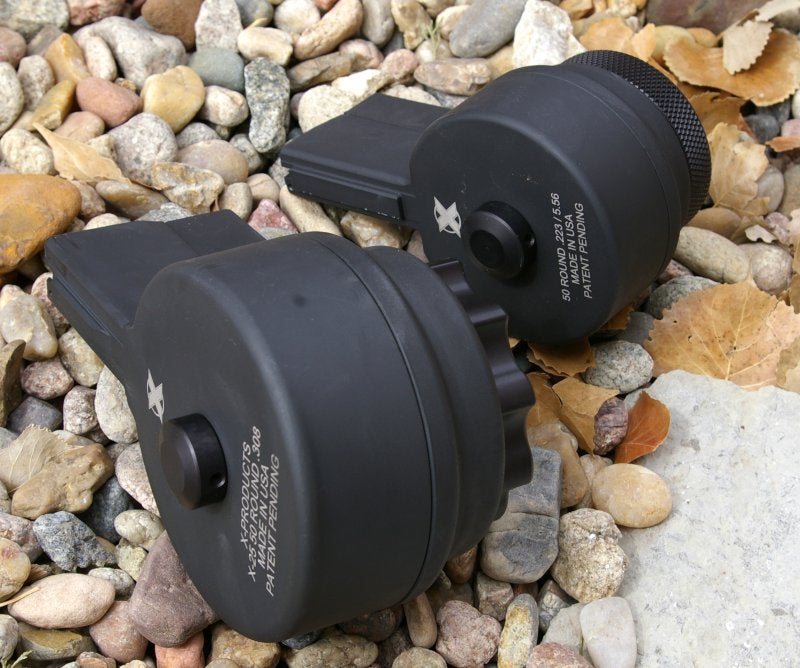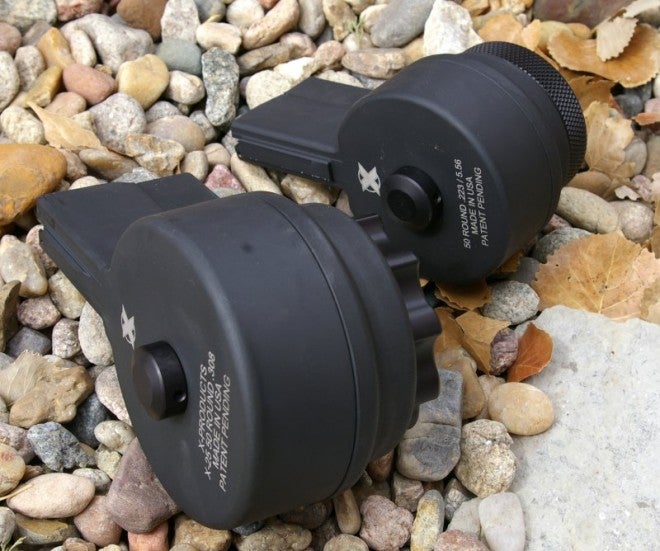 About X Products
X Products was formed by a bunch of college-educated gun nuts with one simple dream: to produce the firearm equivalent of a compact coil drum magazine, an idea first created for nail guns. To quote the "About Us" section on the X Products site, "We are a diverse group of innovative gun enthusiasts who designed and developed industry leading drum magazine technology and continue to bring awesome products to the firearm industry."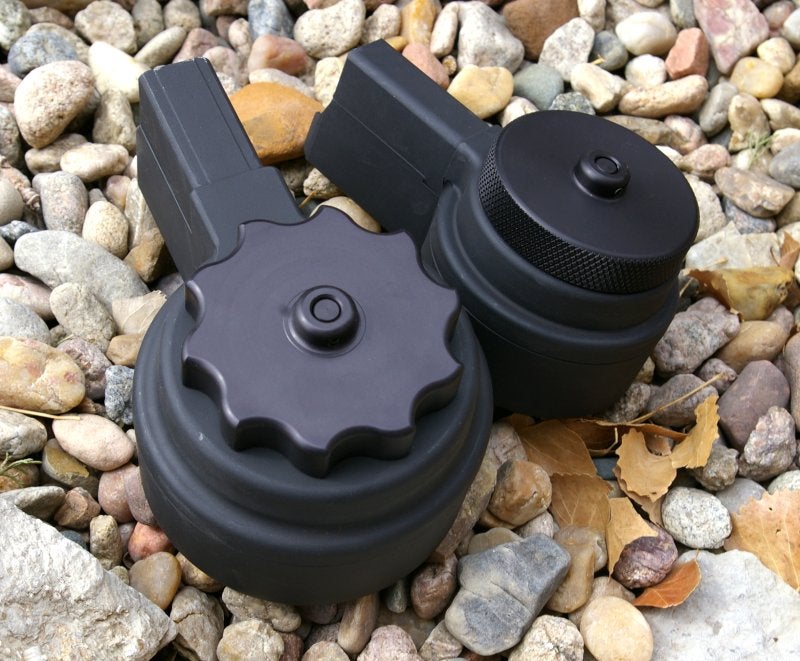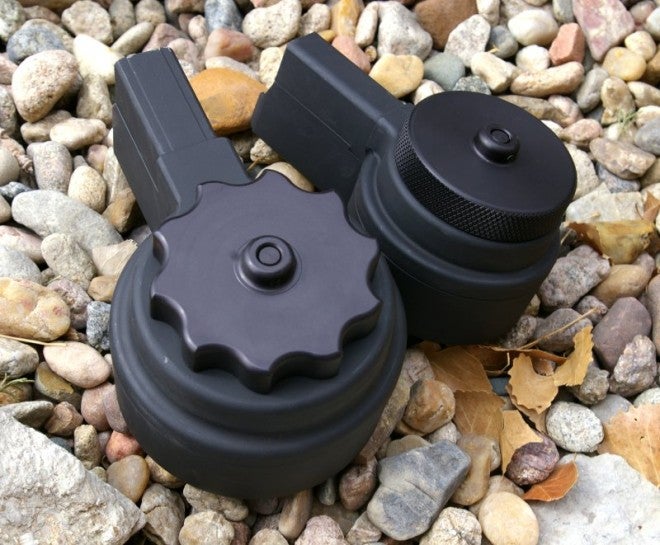 After reading that and seeing their drum magazine, it should be clear that the founders are creative thinkers who are not afraid to take a risk. The risk plus a few patents has paid off and I would bet all four of the original founders could walk out the door with fistfuls of cash and retire very well in Belize.
These guys have been swamped since they introduced their first high capacity magazine, but they now have many new offerings–even including an AR15 9mm Colt magazine version.
What is an X Product Drum Magazine?
Traditionally, high capacity coil drum magazines are quite large and have a internal ammo separation/movement "star." If you think of your typical round Thompson submachine gun magazine, they are huge dinner plate sized magazines that have ammo separators to help move the ammo along.
The problem is that these separators historically cause a ton of jams. Old fashioned drum mags also limited the rates of fire due to reliability issues. One solution has been to maintain a single stack, but just increase the radius of the drum.
All these work-arounds result in bigger and significantly heavier magazines. The guys at X Products saw compact drum magazines for pneumatic nail guns and decided to try to do that for the AR15 platform.
In essence X Products figured out a way to have 50 rounds of 5.56 ammo coiled up in a very small little space and still feed quickly and reliably. In fact the X-15 magazine can deliver up to 1100 rounds a minute, which is approximately 30%-40% faster than the M16 cycles even when suppressed.
Fit, Finish, Feel, and Features
The X Products X-25, X-15, and X-15 skeletonized mags I tested are just a sample of their line up. Not only do they have a huge variety of configurations and a few color options of AR15 and DPMS format 308 magazines, but they also have models for other guns, including the FAL, SCAR, 9mm AR15 Colt magazines, and many others. They are even working on a version for an AK-47. (Yeah!)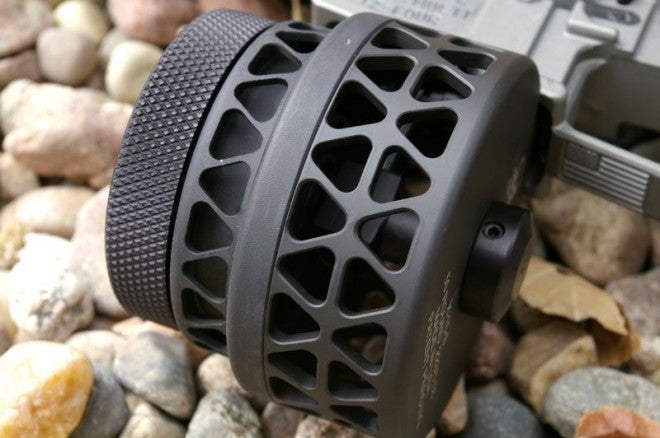 As you can imagine, X Products has a number of patents on its design. Originally the X15 magazines were four-axis-machined from billet aluminum, but that took an insane amount of time. Not a great thing considering they needed to catch up from the backlog of orders.
The smart guys at X Products began using a High Pressure Die Cast (HPD) aluminum forming process to form the bodies. This offered many benefits, including a higher-quality product with smoother operation, higher reliability, lighter weight, fewer sharp edges, and higher production capabilities to catch up on orders.
X Products also began using Crimson Trace to produce the glass filled nylon followers, which further increased reliability and production. Manufacture of the remaining steel and billet aluminum magazine parts was kept in house.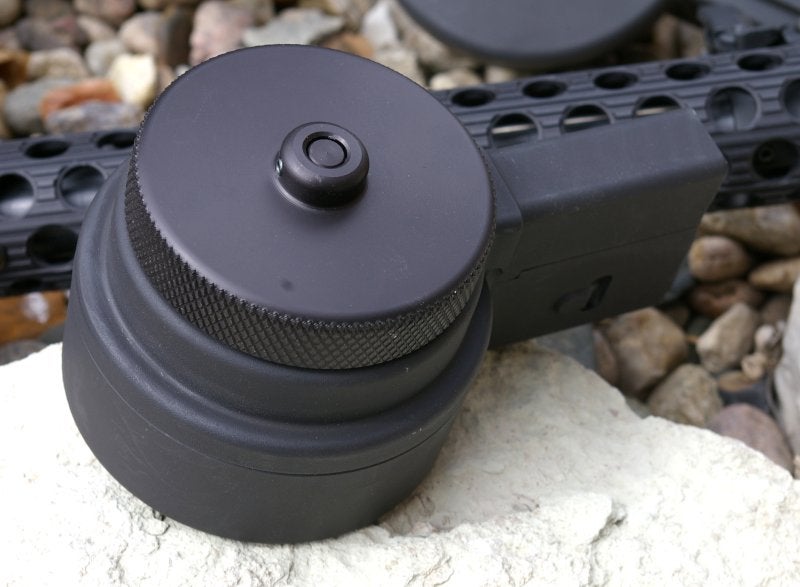 These mags weigh a lot, mostly because of the heavy-duty coil spring that powers the X Products mags. The original X-15 empty weighs in at just under 2 pounds and the skeletonized version around 1.6 pounds. Add in ammo and you have a full mag that weighs around 3 pounds. Certainly not light, but there are some advantages that can outweigh (pun intended) the added mass.
For example, the X-15 is actually a bit shorter than your standard 30-round magazine, which means that if you are snuggled up in position of cover or on the bench rest, you will have just a bit more wiggle room than dealing with a long magazine sticking out of your mag well.
The X-15 mag is also compatible with almost all AR15 mag pouches, both the polymer 3-gun style and the velcro MOLLE style. It will look a little weird, but it will work.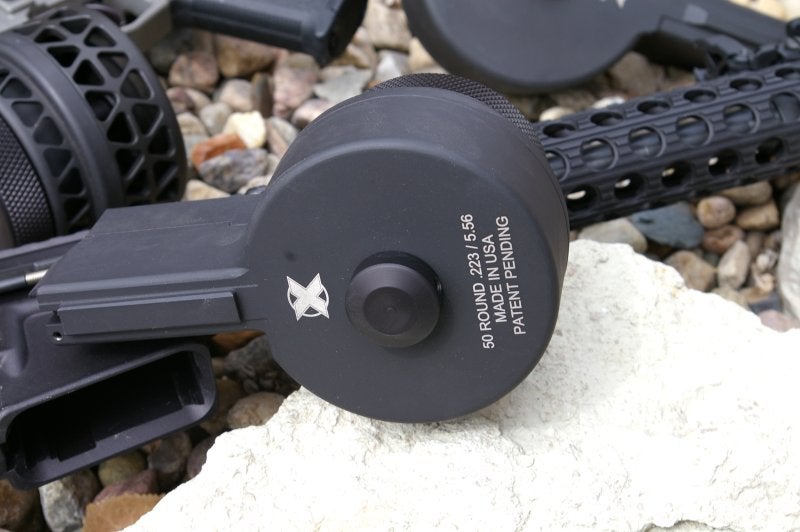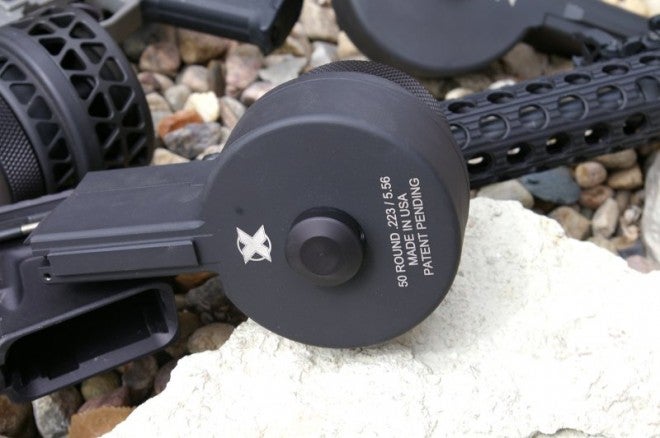 Having the capacity of roughly two magazines on tap without having to stop to reload can be a huge deal. If you don't believe me, ask the buttload of 3-Gun shooters who are now running X-Product mags. Even if you are superhumanly fast, magazine changes still take time and also allow an excellent opportunity for us humans to screw up the reload.
X Products mags have also passed the typical Milspec magazine torture tests and performed as well as any other accepted mag. Interestingly, the skeletonized version was shunned a bit by the forum commandos because it allowed dirt to get inside. "Oh no, my gun is dirty," said the guy who has never gotten his gun dirty.
Okay, admittedly the skeletonized versions are more for the 3-Gun crowd, but not one skeletonized version has ever been returned for repair or warranty according to X Products. At least from my little dirt experiments, any dirt that entered through the holes in the magazine also fell out through the holes in the magazine without impeding function.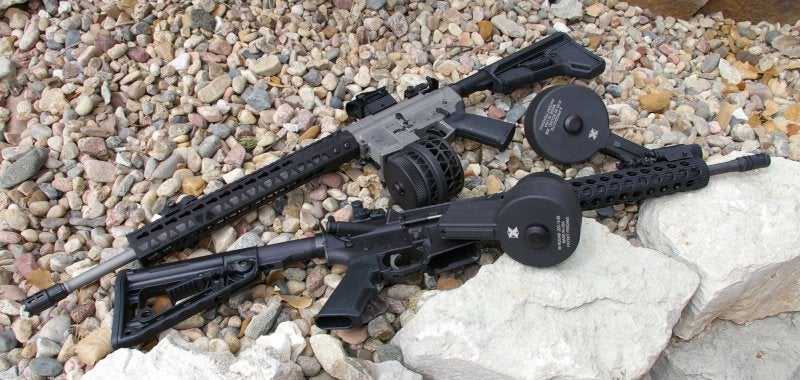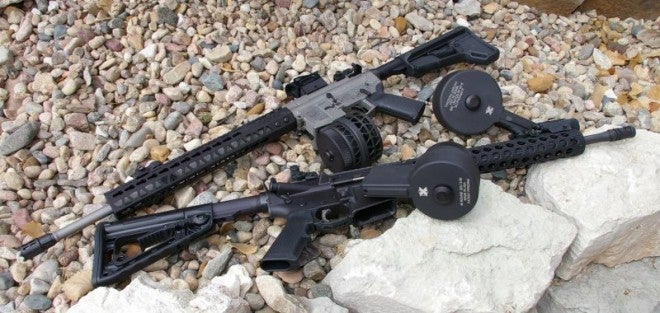 Admittedly the weight of three Mil-Spec mags is less than one X Products magazine, but if you need a more-compact high-capacity magazine that is still reliable to drive your semi or full auto AR rifles, X Products mags are the only choice around. Some will ask "what about Surefire high cap mags?" Simply put, some steel cased ammo does not feed well in the Surefire mags, but the slicked up Ceramic internal coating on the X15 and X25 mags had no issues at all with any steel cased ammo I tested.
Functionality
Functionally, I had zero issues with any steel, brass, or nickel plated FMJ or polymer ballistic tip ammo I tested. While loading and hand unloading each of the magazines to get the "feel" of the mags, I thought that I would have some feeding problems with hollow point rounds due to some sluggish feeding/loading rounds, but once in the gun they fed without incident.
Loading is accomplished by cupping the magazine, releasing tension on the feed spring, and loading the rounds. There is a learning curve, but it goes quickly considering it feels like you are loading rounds forever.
Once the magazines are loaded, the fun begins as it is slipped into your firearm. For testing, I used several 5.56 AR15s from Houlding Precision, Mega Arms, Aero Precision, Barnes Precision, and even an IWI Tavor. On the 308 AR format, I tested with my DPMS G1 format, a custom Mega Arms Ma-Ten DPMS format, and a new DPMS GII rifle.
Compatibility
I did have two compatibility issues. If you're planning on using the X15 with the Tavor, either expect very snug magazine seating or plan on whipping out the Dremel tool to take just a hair of polymer off the Tavor around the mag well to make seating the X15 mags a little more reassuring.
The other issue X Products had already updated by the time I called them was the compatibility of the X-25 308 magazine with the DPMS GII format rifle. Technically your old DPMS mags should work perfectly on the new GII format, but the Maxwell is a tad tighter. The end result was that X Products tweaked their X-25 308 mag dimensions to comply with the new DPMS "standard dimension."
Beyond those two issues, the X Products X15, X-15 skeletonized, and X-25 magazines all performed perfectly as advertised.
Final Thoughts
Some will see X Products coil magazines as a luxury AR15 accessory reserved for the 3-gun and zombie hunter crowd. Go ahead and think that, but almost three years after introduction, the company is still in a constant backorder on coil magazines for AR platform rifles.
For me, the X-25 seems to be a great option for a 308 hog hunting gun, and the X15 series are the perfect mags for 3-gunners and that extra defense magazine–you know, in case the zombies show up.
Manufacturer Specs
X-15 AR15 50-Round Drum Magazine $189.95 (Skeletonized Version $309.95)
X-25 – AR 308 High Cap Drum Magazine – $294.95
50 Round Capacity
Cerakote Finish
Aluminum Construction
No Lube Required
Low Profile Design
Lifetime Warranty