Car Dealership Giving Away ARs With Vehicles
Russ Chastain 06.27.16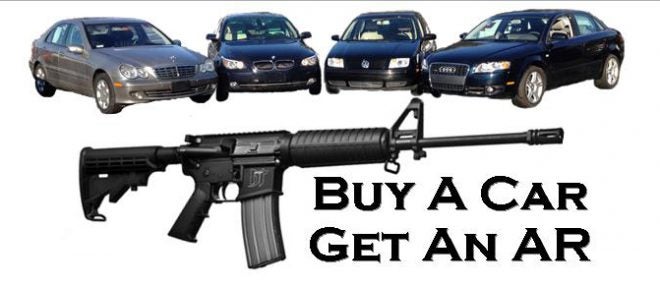 Hagan's Motor Pool, a car dealership in Rochester, New Hampshire, is giving away rifles! It's part of their "Buy a car, get an AR" sale promotion–and I like it.
As specified on their Facebook page, only certain vehicles qualify for the deal:
On our website you will find vehicles with the picture of an AR on it. Those vehicles are ones that qualify for this promotion.
It's not a cheap bid to capitalize on recent events for free advertisement; the promotion began in May, long before American politicians began gloating over Orlando's spilled blood as they renewed their attempts to squash our Constitutional rights.
The owner of the dealership is Mike Hagan, a military vet who served in Afghanistan. And no, he doesn't hand the guns to folks as they drive off in their new vehicle, according to one article.
Hagan is quick to note buyers aren't immediately handed the semi-automatic rifle when they pick up their used car. They still have to go to the gun dealer that Hagan partnered with and pass a federally-mandated background check before claiming their new firearm.
If you don't want an AR, you can choose to receive a pistol instead. At least one person has reportedly chosen that option.
Mr. Hagan clearly has his head on straight about crime and firearms:
Hagan says he's not losing any sleep over concerns a weapon he provide[sic] could be used to slaughter civilians. 'I could worry about the same thing with a car being used to hurt other people. In the end, that kind of heinous crime is in the heart,' he said.
Right on.