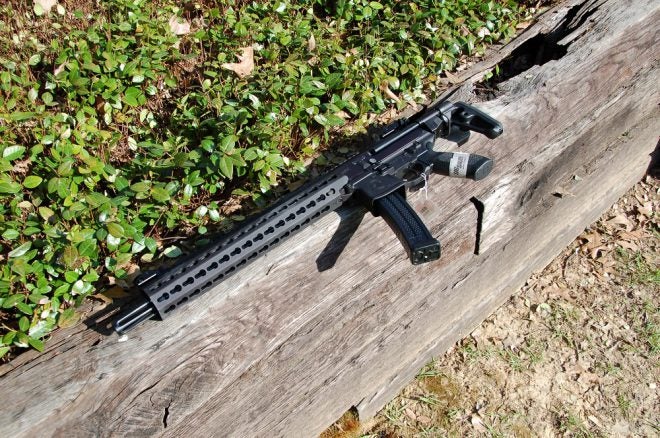 A new "fav" gun on the market that I do not own yet is the SIG MPX Carbine. Well, I almost got my hands on one. He who hesitates is lost, as they say. If you find something you really want in the field of shooting, gear, or hunting, you'd best buy it while you can these days.
Anyway, while visiting my favorite mom and pop gun store here locally, I had to ask the question, "Got anything new?" My friend and counter sales person walked over to the long gun rack and handed me a new SIG MPX. I had seen the pistol version there before but decided it did not fit my needs as a "pistol." The MPX is something else entirely.
So, I loved what I was holding but delayed in buying it one day too long. The MPX is the carbine version with a 16-inch barrel, chambered for the 9mm and supplied with a 30-round magazine. Everything about this SIG is neat. Without having to say it, SIG products are extremely well made, so fit, finish, and controls were impeccable. It was love at first sight, but I guess I was afraid to ask her out. The gun sold later that day to another shooting friend of mine.
The MPX is officially designated as the MPX-C-9-KM-T. You can check the SIG web site, but when I did I could not find anything on this model at the time. It is a semi-auto, closed operating system, fully locked short stroke pushrod gas system. The "T" in the model number is for telescoping stock. With the push of a button on top behind the charging handle, the stock pulls out on two heavy duty rods until it locks into position. I wish the length of pull were a bit longer, but it is what it is.
The forend is an aluminum mono rail with KeyMod slots on the sides to attach accessories as desired. Up top is a standard Picatinny rail for optics mounting. The carbine comes with flip up iron sights, aka AR-15. There is one sling loop installed under the stock housing.
So, what is such a weapon for? If you can live with the limitations of the 9mm (ever try current self-defense loads?), then this is one handy carbine for home or vehicle defense deployment. With the stock pushed in, it becomes a handy bit of firepower. With a good red dot on top and the stock extended, it would serve well for preppers and survivalists.
Justin, who bought the MPX, reported back to me that his first range experience went flawlessly for plinking type shooting. He had no targets. The MPX chewed up everything he fed it, and all the controls were user friendly. Like me, he wished for more stock length when using the open sights. Check it out if you can find one. Retail is from $1500-2200.