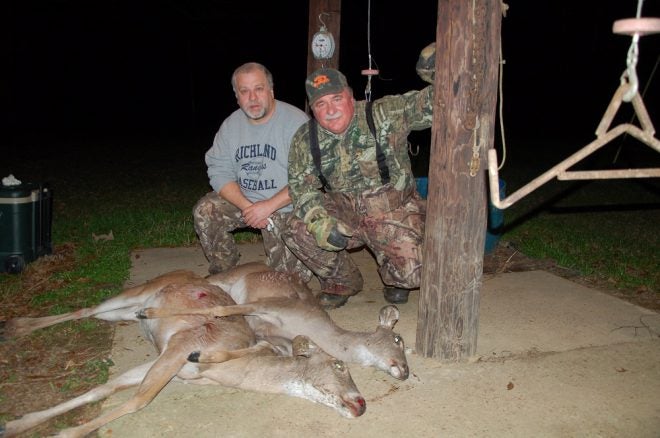 What exactly do you expect a hunting rifle bullet to do? The truth is actual bullet performance on live game is often a mystery in the real-world. This was confirmed this month while deer hunting at our camp. First of all, the conditions were pretty unusual for Mississippi. During the afternoon hunt it snowed for two hours with a blustery wind approaching 20-30 miles per hour. The snow blew horizontal.
That night the temperature got down to 26 degrees as the wind continued to blow. I was back in the hunting stand by 8:30 because historically deer have not been moving before about 9am. By 8:45 I was tracking the blood trail of a big doe I had shot from the stand at 150 yards.
The doe did not fall at the shot. She bolted back into the woods in such a manner that I initially thought I missed the shot altogether. I was shooting a new rifle set up and this was the first live shot at game. I sat there for a few minutes pondering my shot.
I was hunting with a new Remington 700 Tactical chambered in .308 Winchester. I mounted an excellent Leupold VX-2, 3x9x50 riflescope. It was targeted at the range at 3-inches high at 100 yards. The rubberized Hogue stock allowed a firm grip and a comfortable recoil. I anticipated this set up would make a great deer rifle.
The ammunition was nothing special, just a standard Remington yellow-green box of .308. The bullet used in this ammo was a 150-grain, pointed soft point. It was not a super, duper bullet, but one that has been proven for decades as an accurate, game getting round. It was designed to be ideal for deer hunting.
After sitting for a few minutes, I got down to check the spot where the deer stood. I immediately found spots of blood, so I began tracking. The blood trail was good and I found the deer not fifty yards from the trail.
At the skinning rack, I could see the evidence of the bullet performance. I shot the doe square front on in the chest. The bullet entered, then took a left hand turn and took out the entire shoulder, ruining all the meat on that side. The bullet did its job too well I guess. I am not complaining really, just passing on an observation. When a bullet hits real flesh, blood, and bone, there is no guarantee what it will really do, except its job.