Review: Benchmade Model 484 Folding Knife
Pat Cascio 07.07.16

I received a Benchmade Model 484, and the best way I can describe is as a "gentleman's tactical folder." Anyone who has followed my knife articles over the years will know that I believe a tactical folding knife should have a blade length between 3.5 and 4 inches, and for my taste, a folder with a 3.75″ blade fills my needs perfectly. So when I learned about the 484, I knew I wanted to try it out.
The Model 484 is a smallish (at least to my way of thinking) tactical folding knife. The M390 Super Stainless Steel blade is only 3.08 inches long, has a drop point shape, a satin finish, and a plain non-serrated edge. Rockwell hardness is up there at 60-62, but the knife re-sharpened easily enough on a pair of croc sticks when it became a little bit dull after much testing.
The scales are made of tough G10 laminate and are nicely sculpted. The handle is nicely configured so that your fingers fit neatly into grooves–and I mean my meaty fingers fit perfectly into these grooves, almost like they were cut for my hand. Several other people I showed the 484 to said the same thing: that it just "fit perfectly" in their hand.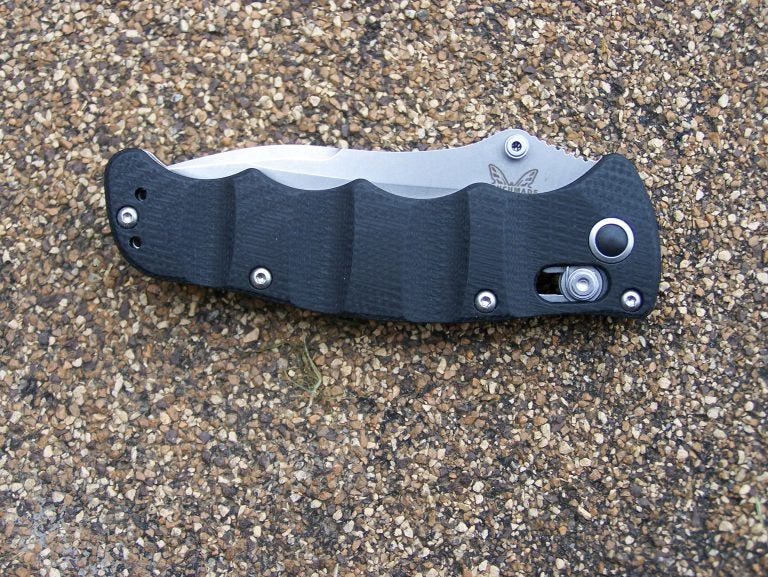 Speaking of showing off, the Model 484 is one of the classiest-looking tactical folders I've seen in quite some time. When you show this knife off to folks (and if you're like me, you are always showing off new knives) everyone will comment about how classy the knife looks as well as noting how "tactical" the knife looks and feels.
Benchmade wisely went with their famous Axis locking mechanism, which I really like. Not only does it lock up tight when the blade is opened, it will self-adjust over the years so the blade stays locked tightly. The Axis lock also allows the blade to open extremely smoothly.
There is also a reversible pocket clip for right- or left-handed tip-up pocket carry. The clip itself is a bit different from other Benchmade clips I've seen; it's silver in color and has a split arrow design. It really looks sharp and classy.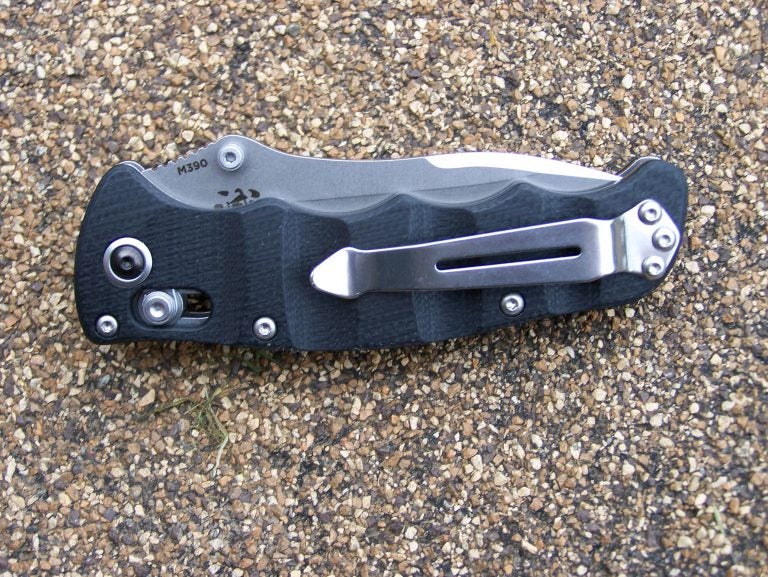 When the 484 is closed it is only 3.95 inches in length, and opened it is 7.03 inches long. An ambidextrous thumb stud on the blade allows quick and easy opening.
I used the Model 484 for several weeks around the kitchen and for all manner of cutting chores. The 484 comes up a little bit "short" for some kitchen work, but it is a dandy knife to have around when UPS or FedEx brings a package that needs to have straps cut off and the sealing tape cut open.
The 484 came hair-popping sharp right out of the box, as to be expected with any Benchmade blade.
I didn't abuse the Benchmade 484 in my testing. It was too handsome of a folder for that, but I did put it to the cutting tests. It easily shaves newsprint and cuts into cardboard, which is really tough on a knife's edge. I only had to touch up the edge after two weeks of hard use. I honestly could have gotten away without it, but I wanted to see how easily I could sharpen the blade. It wasn't a problem.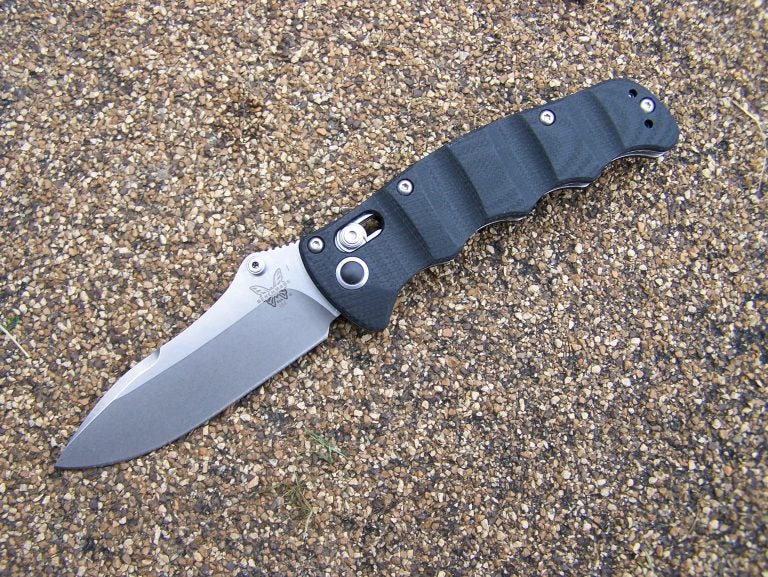 Where does the 484 fit in? Well, as already mentioned, it's a dandy gent's folder and will serve you well around the office or warehouse–or just to clean your fingernails as gents are prone to do. It's also a nice tactical folder that could be used to defend yourself from an attacker.
I can also see it being used to dress out game after a hunt, too. The little 3″ blade can do a lot of things if you give it a chance. Now my wish is for Benchmade to make a big brother to this 484–let's say something with a 3 3/4 inch blade?
Benchmade did a great job on this hybrid folder, combining the best of both worlds into a single design. Full retail on the Model 484 is $225.00 and I predict this will be a hot seller for Benchmade!