Review: Cold Steel Pendleton Custom Classic Hunting Knife
Pat Cascio 07.11.16

I've been testing Cold Steel products for articles for at least 20 years, maybe longer. I know I've used Cold Steel products ever since they first came on the scene, and I've yet to be let down by any of their products. I've also said in numerous articles over the years that I believe Cold Steel's owner, Lynn C. Thompson, set the gold standard for sharp knives. However, I might have to rethink that statement. I received the Cold Steel Pendleton fixed blade custom hunting knife for testing. And, without a doubt, this is the sharpest knife I've ever held in my hands. So perhaps Cold Steel has upped the ante a bit, and their knives might be the platinum standard for sharpness.
Any time I go big game hunting, I make sure to have a sharp fixed blade hunting knife on hand. I don't want to have to stop midway through dressing out game to have to sharpen my hunting knife. A sharp knife makes the job so much easier and faster, and I prefer to get done with the shucking so I can pack the meat home.
Let's take a closer look at the Cold Steel Pendleton Custom Classic custom hunting knife. The design came from the mind of Lloyd Pendleton, a long-time custom knife maker, and this might just be his best design ever.
The Pendleton is from the "custom" line from Cold Steel, and they don't produce many custom knives anymore. The custom line is made in Japan, where labor and fine materials come at a cost. But as I've said many times, if you want quality, buy quality (and you won't have to buy again). If you buy cheap, you'll have to replace that cheap product many times over.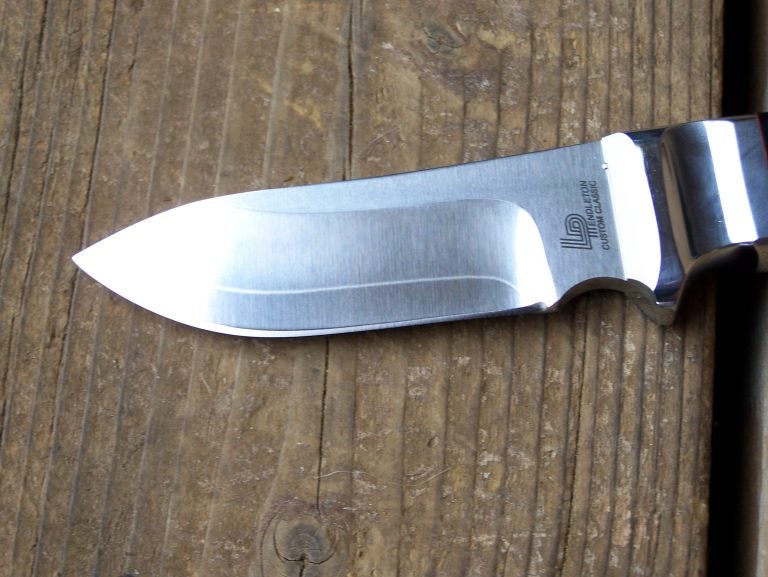 The 3.5-inch drop point blade on the Pendleton Hunter is 5mm thick (about 0.2 inches) and is made of VG-1 San Mai layered stainless steel (some of the best knife blade material in the world, in my humble opinion). If you look closely at the edge of the blade, you can see the thin line where the two types of steel come together to make an incredibly tough blade.
The overall length of the knife is 8.25 inches and Cold Steel says it weighs 7.0 ounces. The handle is 4.75 inches long and is made of polished black linen micarta, pinned to the full tang. A notch in the micarta scales at the butt allows access to the lanyard hole in the tang. Stainless steel and red spacers are perfectly fit, as is the bolster. This knife is honestly a work of art, not just a tool.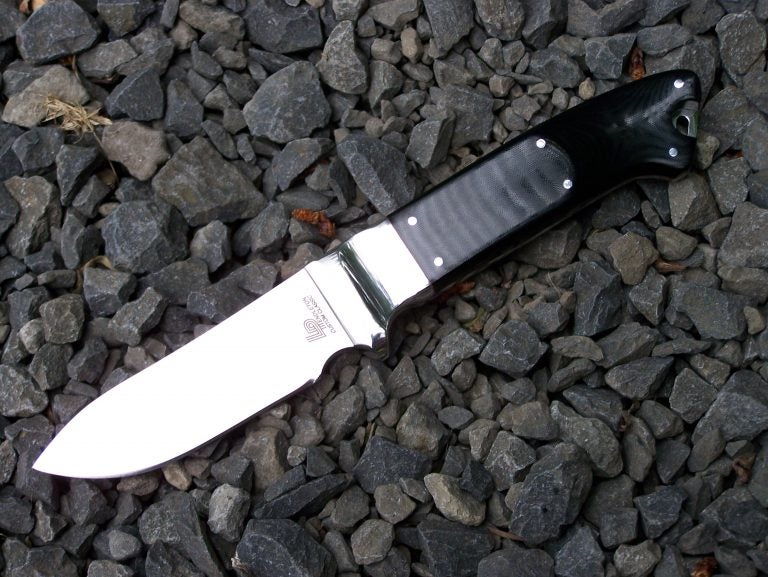 I didn't abuse the Pendleton Custom Classic Hunter in my testing because Cold Steel had already demonstrated how tough the knife is in a short video. I did put it to use around the kitchen cutting up whole chickens, and it easily accomplished that task, even cutting through bones with no problems. I also used the knife at the kitchen table to cut steaks (medium well, thank you).
I looked the Pendleton over very closely under magnification, trying to find some small imperfection. It was a waste of my time. This knife is perfectly made in all respects.
One thing you have to experience before you can believe it for yourself is the sharpness of this knife. Shaving through newsprint and cigarette rolling papers was no problem, and I was totally blown away by how sharp this knife was. I've NEVER had anything come close to being this sharp. I also shaved some cardboard boxes, which was also easy, and the edge remained super-sharp during my testing.
My Pendleton Custom Classic came with a leather pouch sheath, but some Pendletons include a Secure-Ex polymer sheath to better protect the blade and the user. And some leather sheaths attract moisture and hold it, which can ruin a fine blade via rust.
You simply have to take my word on how great this knife feels in the hand. It feels like an extension of my body. I have medium/large hands, and the knife feels like it was made specifically for my hands. I also showed the knife around to friends, and they too said they thought the knife was made for their own hands. Incredible!
In all likelihood, I won't use this knife to dress out any big game. It's just too beautiful for that. Instead, it will be a showpiece in my office. When big game season rolls around, I'll ask Lynn Thompson to send me one of their other Pendleton fixed blade knives for dressing out my game.
So, if you're in the market for what might just be the best fixed blade hunting knife you'll ever run across, take a close look at the Cold Steel Pendleton Custom Classic Hunter. Chances are, you'll believe the knife was made just for your hands–honest!
As I said earlier, quality never comes cheap, and this knife is top-quality in every respect. The Pendleton Custom Classic retails for $499.99, and you'll be hard pressed to find one on the shelf at your local sporting goods or gun shop. It takes time (and a lot of hand work) to produce a knife like this, and it is NOT mass-produced in any way, shape, or form. Each knife is lovingly made for the consumer who appreciates owning the best of the best.