Review: Taurus PT 1911AR Semi-Automatic Pistol
Pat Cascio 07.11.16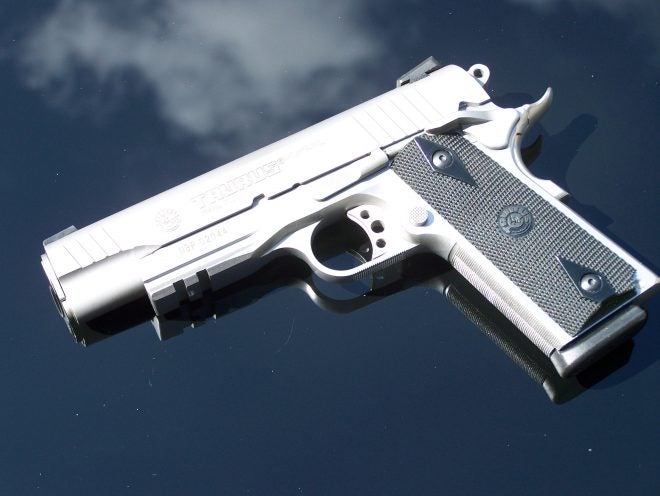 What sets the Taurus PT911 apart from other 1911s? Well, first of all, Taurus came in at a low retail price point, blowing everyone else away in this respect. Secondly, Taurus was producing what they called "custom" 1911s–at least they were producing 1911s with "custom" features many shooters wanted on a 1911. We're talking a match grade barrel, forged slide and frame, genuine Novak 3-dot sights, rowel-type hammer, match trigger, extended beavertail grip safety, checkered mainspring housing, checkered front strap, and even even the front of the trigger guard was checkered. An ambidextrous thumb safety is also there.
The magazine well was slightly beveled for a faster reload, too. The ejection point was flared and lowered for positive ejection of empty brass. And they even included a full-length guide rod. Black hard rubber grips come with every gun. Even models with checkered wood grips include the black rubber grips. (The only change I made to my PT1911AR was to add a set of
Mil-Tac
1911 grips to it.)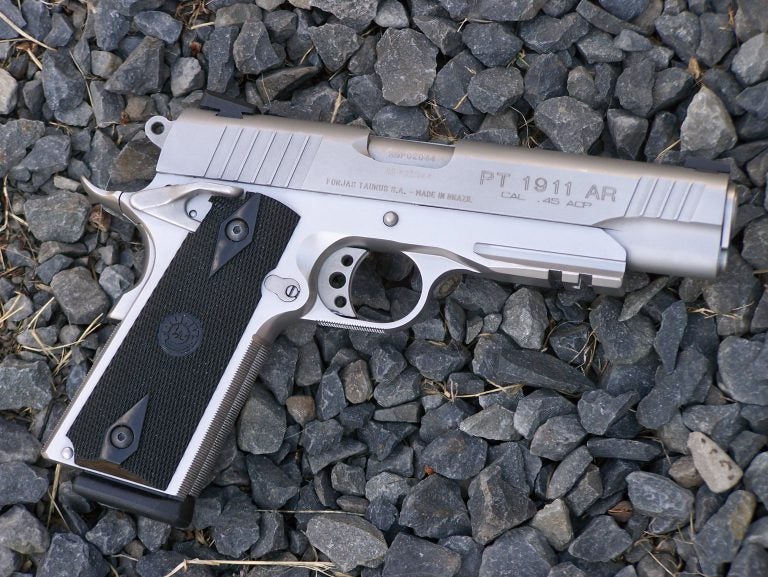 Gun dealers were selling the dickens out of the then-new Taurus PT1911, but in very short order, some problems began to pop up. For one, many of them wouldn't feed–not even FMJ ammo–in spite of the fact that the barrels were throated and barrel and feed ramp were polished. Also, many of the early PT1911s had problems with the ambi thumb safety simply falling off the gun! And, from gun to gun, there was a big difference in trigger pull. Some were were crisp and smooth, while others were very mushy.
One good thing, though, was the frame-to-slide fit. These parts were matched early on in production and stayed together until the guns were completed and shipped.
I waited a good long time to get my hands on the Taurus 1911AR–and we're talking a LONG time. What sets the 1911AR apart from the others is that it comes with an aluminum frame, which has a rail on the dust cover for adding a laser or light on the gun.
All-steel Taurus1911s weigh in at about 38 ounces, but the 1911AR comes in a little lighter at 32 ounces. Fit and finish were second to none on my sample PT1911AR, and the trigger pull was a crisp 4.5 pounds.
I should also mention that the PT1911 series comes with the Taurus Security System (TSS), which allows you to lock the gun so it can't be fired. Some folks don't like this, so they swap out the TSS hammer for a standard hammer. I've done this as an experiment, and didn't really notice much difference in the trigger pull or let-off. To each his own!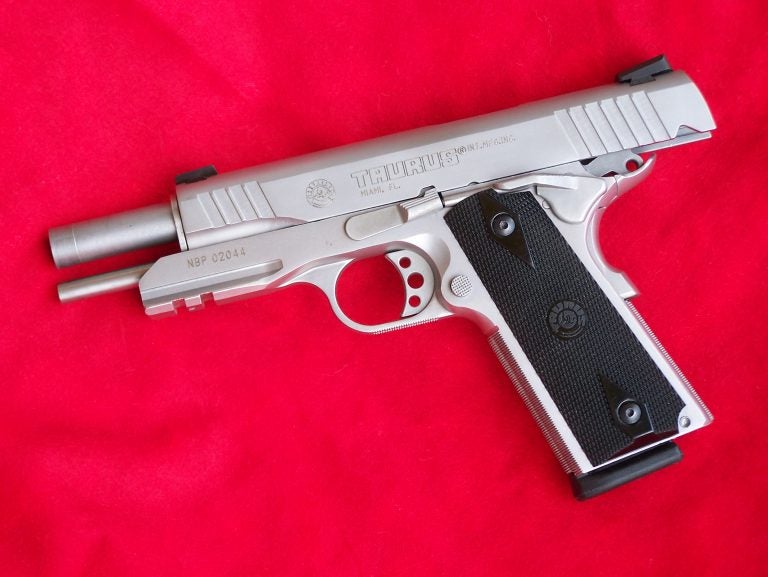 Each Taurus PT1911 comes with two 8-round magazines, which don't seem very durable to me (though I've never had problems with them). The good news is that you can use any standard full-sized 1911 magazine. Each factory magazine has a removable plastic bumper pad on the base to help protect the mags when they are ejected and hit the ground, and to help you quickly and positively seat the magazine when you reload. Nice!
The thumb safety on my PT1911AR snicked on and off with authority and was not mushy in the least. (This was another complaint of the early Taurus 1911s.)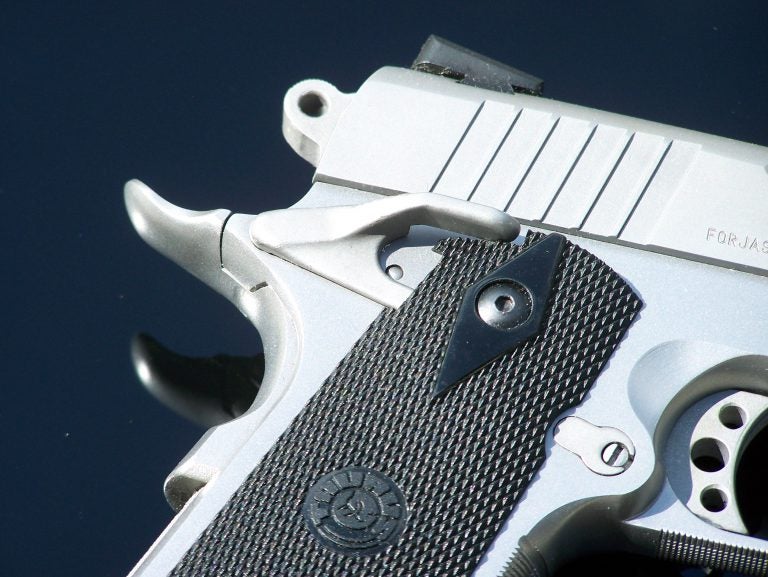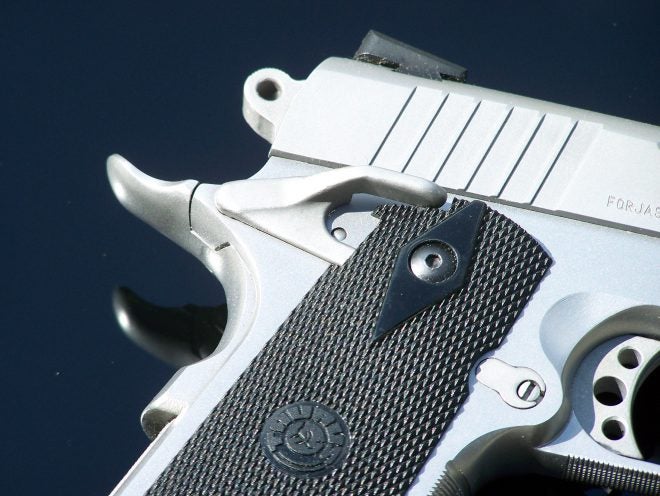 I had the following ammo for testing, from Black Hills Ammunition and Buffalo Bore Ammunition:
Black Hills 185-grain JHP
Black Hills 185-grain copper HP Tac-XP +P
Black Hills 200-grain SWC
Black Hills 230-grain FMJ
Buffalo Bore 160-grain copper HP Tac-XP low recoil
Buffalo Bore 160-grain copper HP Tac-XP +P
Buffalo Bore185-grain FN FMJ low recoil
Buffalo Bore185-grain copper HP Tac-XP +P
Buffalo Bore 200-grain FN FMJ +P
Buffalo Bore 200-grain JHP +P
Buffalo Bore 230-grain FN FMJ +P
I had no problems with any of these loads. I was a bit concerned whether the low recoil loads would work, but there were zero problems. And these loads were a pussycat to shoot in the PT1911AR.
My accuracy testing was done at 25 yards over the hood of my SUV with a rolled-up sleeping bag as a rest for the gun. The clear winner in the accuracy department was the Black Hills 200-grain SWC, which has always been accurate in my testing. With this pistol it would print 2.5-inch groups all day long if I did my part.
Second up for accuracy was the Buffalo Bore 160-grain copper HP Tac-XP low recoil, which grouped right at 3.25 inches.
I ran quite a few Buffalo Bore 230-grain FN FMJ +P rounds through the Taurus, and the gun and shooter both takes a beating with this round.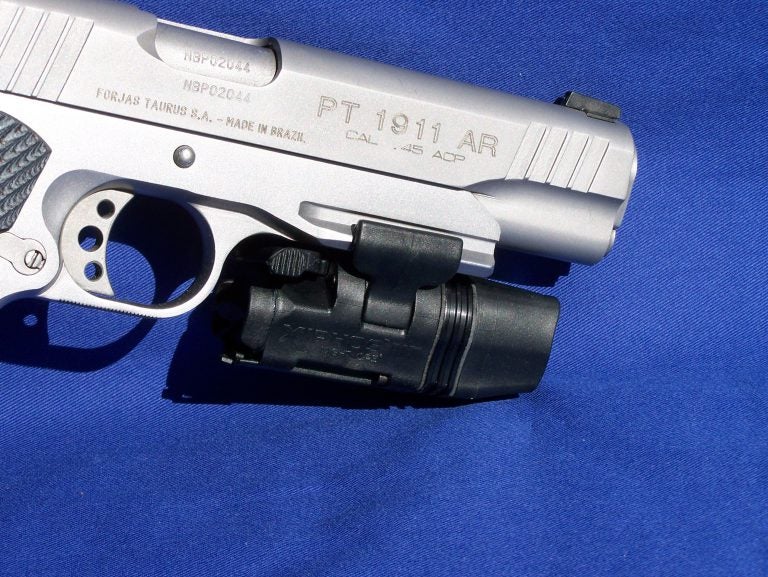 I attached a laser and a light to the gun's frame rail, and they stayed secure during shooting.
I had a
Blackhawk Products Nylon Omega VI universal ambi drop leg holster
, in which the PT 1911 AR fit perfectly with the
light
attached. This would make a dandy tactical setup for law enforcement or military use. One problem with having a 1911 with a rail is that there aren't many holsters out there designed to accommodate a 1911 with an under-frame attachment.
I wish I could find something really negative to say about my sample PT1911AR, but nothing caused me any problems during my testing. Taurus seems to have cured the bugs that plagued their early 1911s, and I think their present 1911s are an excellent buy, especially since they come with all the bells and whistles (other than night sights, which I believe do come on select models).
Don't be a 1911 snob. Just because it is stamped "Taurus" doesn't mean it can't hold its own against other, more expensive 1911s. Sometimes you luck out and actually get more than you paid for.
Full retail on the PT1911AR is $944.88, but you can usually find them for quite a bit less. Plus you get a lifetime warranty on all Taurus firearms.