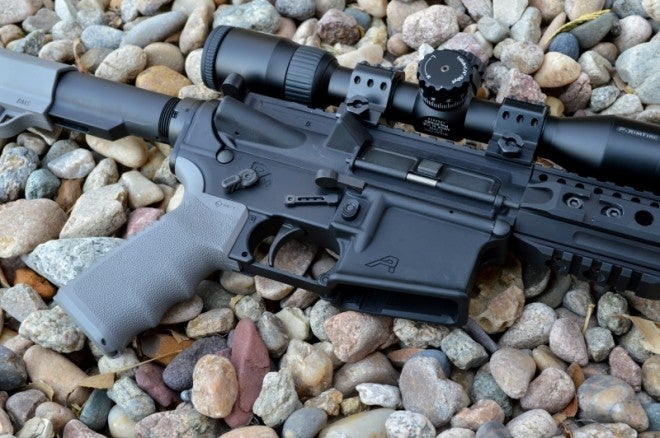 Now that our beloved 22 LR ammo seems to be coming available again at reasonable prices, we all want to shoot more of it. For the AR15 shooter, there are a couple options. The first is to buy a dedicated 22 LR AR format rifle such as the S&W M&P15-22 or one of Umarex's Colt 22 LR models. Another option is to build a dedicated upper or use a drop-in .223 to 22 LR adapter Atchison/Ciener style conversion.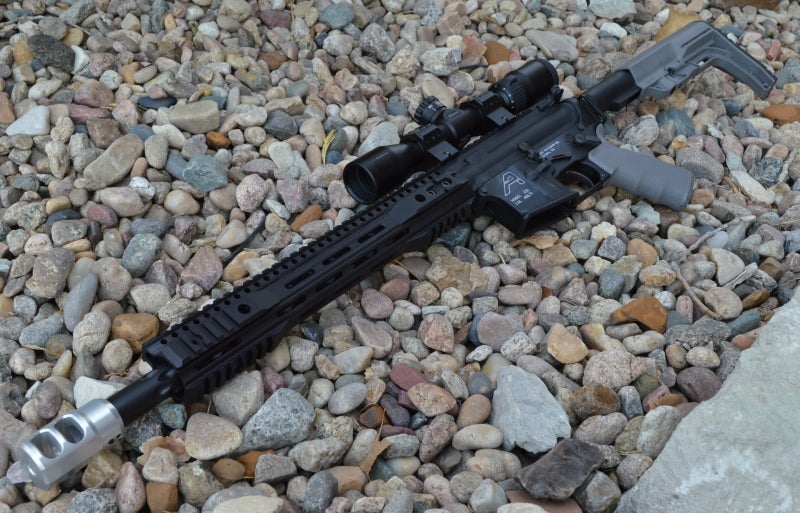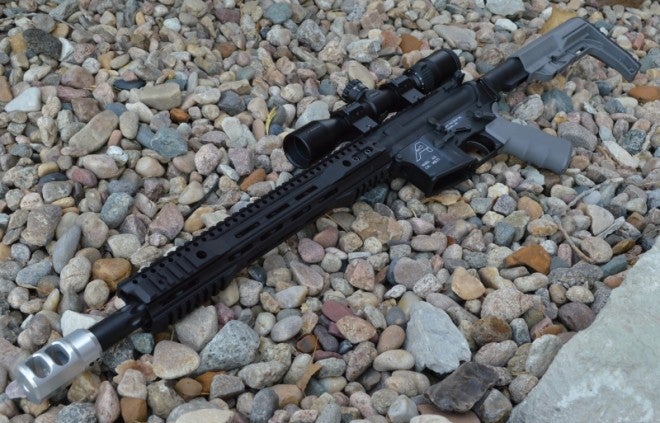 Drop-in conversions are simple and allow you to use your existing AR15 5.56mm barreled action with just a bolt and magazine swap. They technically allow you to shoot 22 LR ammo out of your .223 chambered rifle, but the sacrifice is that they generally deliver poor accuracy and reliability. The main reason for reliability issues is that they usually require a higher-power hammer spring to ensure reliability, which then requires very high velocity rounds to provide reliable cycling and charging due to that heavy hammer spring.
Accuracy suffers due to two reasons: the long jump the bullet has to make to go through the conversion adapter before it gets to the rifling and the typically fast twist of an AR barrel tends to destabilize the slower and shorter 22 LR round. The result of using 22 LR AR15 conversion kits is usually frustrating reliability and marginal accuracy.
If you want to shoot 22 LR from a standard AR15 lower, the best option is to go for a dedicated upper receiver. Although high hammer force is still required for reliable ignition, I lusted for the accuracy potential a dedicated 22 LR AR15 upper could provide.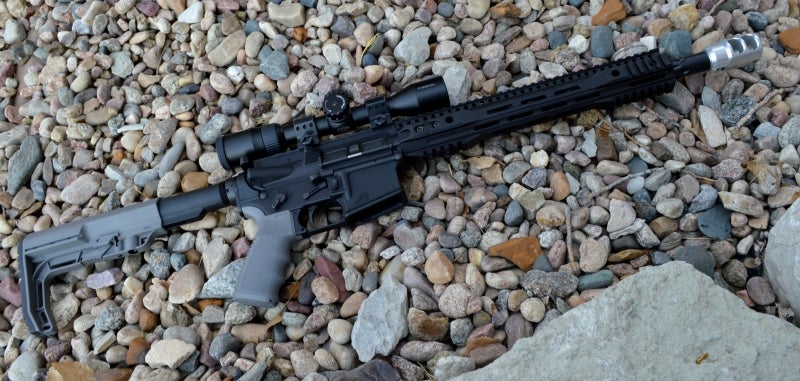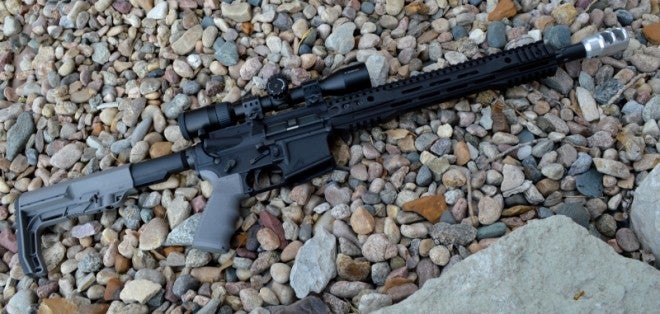 One of the leaders of high quality 22 LR conversions has been CMMG, which has created an updated design that is more reliable, more user-friendly, and offers more available optional features such as forward assist and last shot bolt hold open. CMMG conversions are also fully compatible with the large supply of Black Dog 22 LR AR15 magazines I already had on hand. Black Dog X-Form magazines are pretty much "the" standard magazine of choice for almost every dedicated 22 LR kit out there.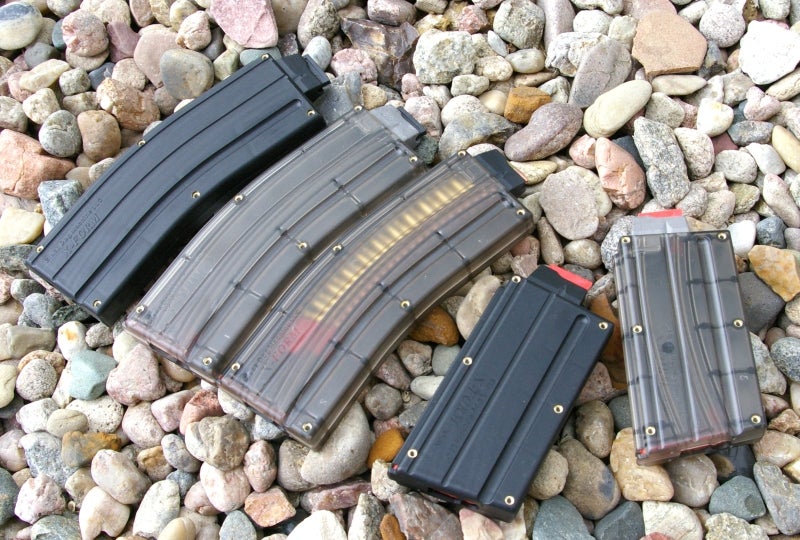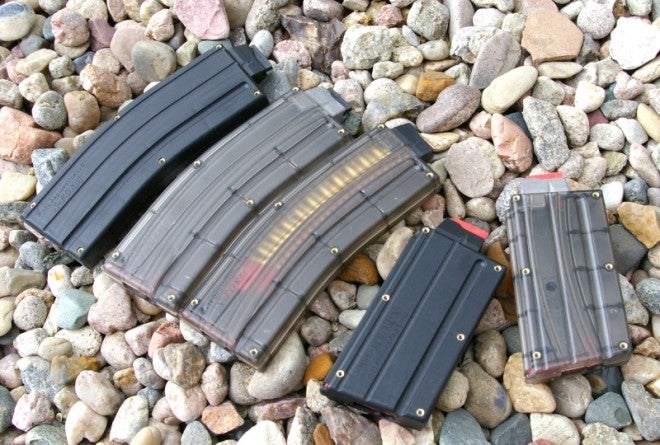 I previously tested an ATI Chiappa 22 LR upper, which had okay accuracy, so this time I decided to do my own build from the ground up using a 22 LR Match grade barrel. My previous experience with Beyer Barrels has been positive, so my thought was to use one of their cool-looking fluted match AR15 22 LR barrels for this build.


The Build
The general build specs of a dedicated AR15 22 LR upper are very similar to those of any other AR15 upper build. Actually, all the components are the same except for the dedicated barrel, barrel collar, and bolt assembly plus you can omit a few parts. The 22 LR action is recoil-operated and bolt movement is limited to the length of the 22 LR bolt carrier (which does not have forward assist capabilities), so you can omit a gas block, gas tube, and forward assist on the upper and the buffer spring and buffer on the lower receiver.
If you already have a favorite lower receiver, the buffer and buffer spring can be left in place when swapping between your 5.56 upper and .22 upper receivers, but just note the 22 LR carrier does not reciprocate into the buffer tube.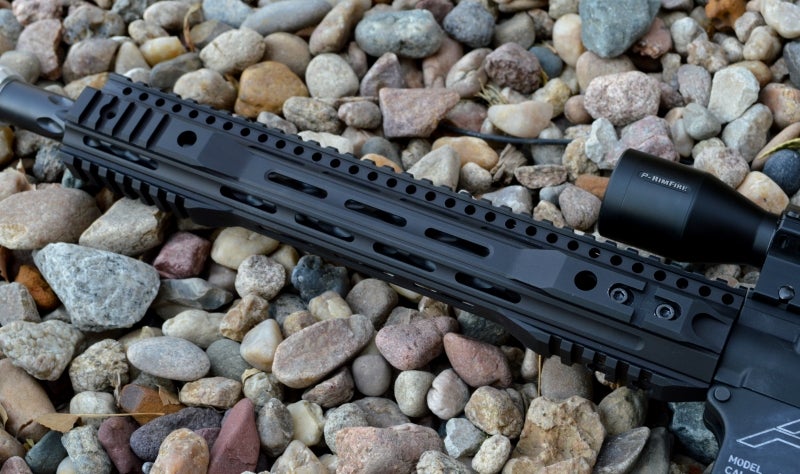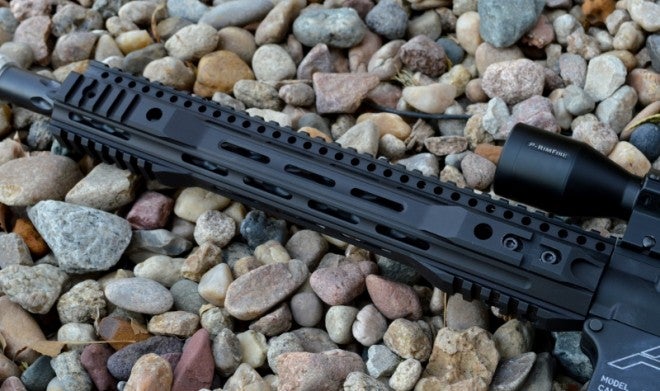 You can use the same charging handle, upper receiver, barrel nut, and free float handguard that you would with any AR15 build. If you want a 22 LR replica of your favorite AR15 upper, simply build it in 22 LR.
For this build, I used a Beyer AR15 Match Barrel with CMMG complete 22 LR bolt carrier and barrel collar. The barrel and carrier slipped into an Aero Precision upper with a Parallax Tactical Slim 15" forend. I initially left off the forward assist simply because the one I had was needed in another 5.56 build, but later on after the photo shoot, I installed one to complete the look of the build. Had I thought a little further ahead, I should have use one of Aero Precisions No-Forward Assist uppers.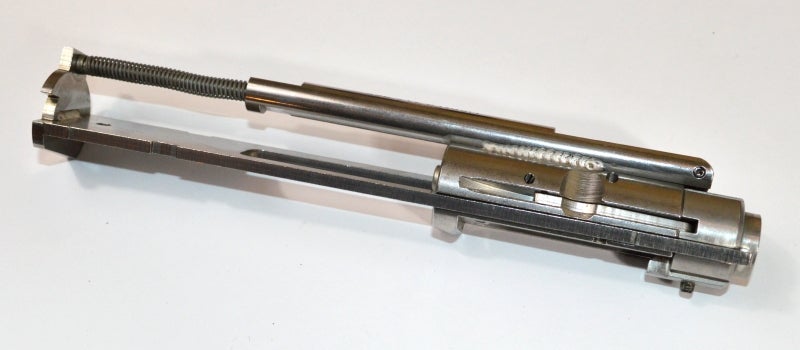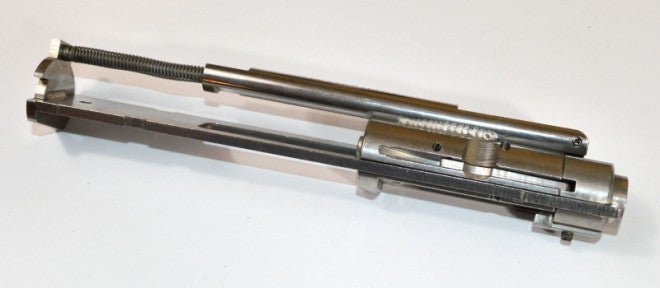 The initial upper build was complete in about 5 minutes. I simply slipped the Beyer barrel into the Aero Precision receiver, installed the Parallax Tactical slim barrel nut and forend, and inserted a charging handle and CMMG bolt carrier. The barrel collar on the CMMG carrier just snaps on and off the Beyer barrel and can be removed or installed easily without tools for cleaning. I added a giant 22 LR Tactical Innovations Muzzle brake. Done!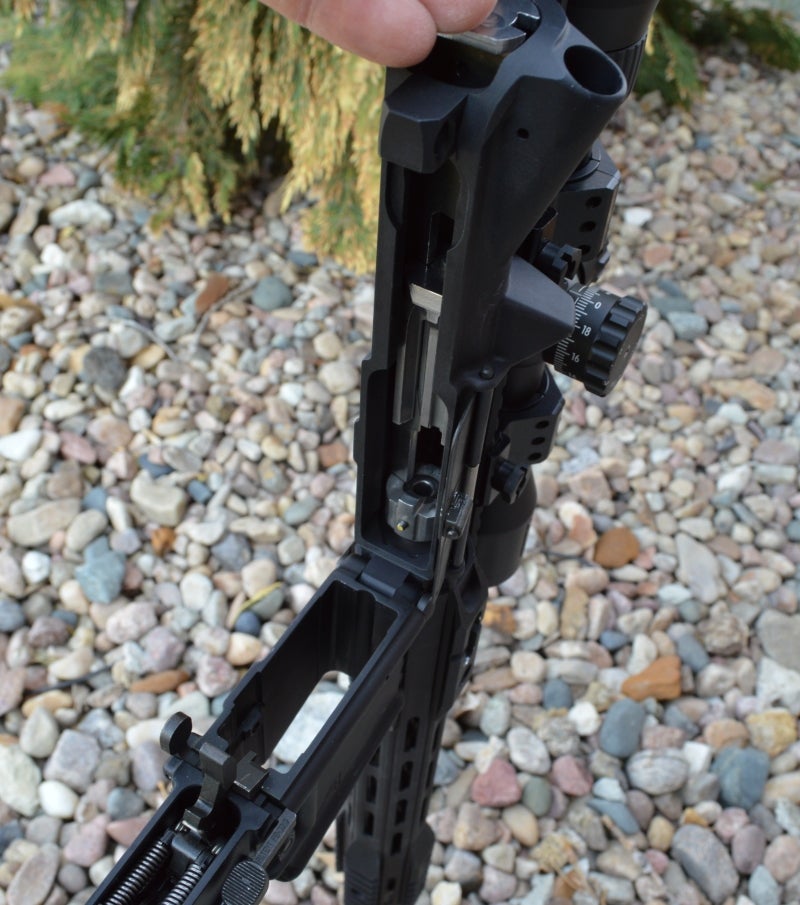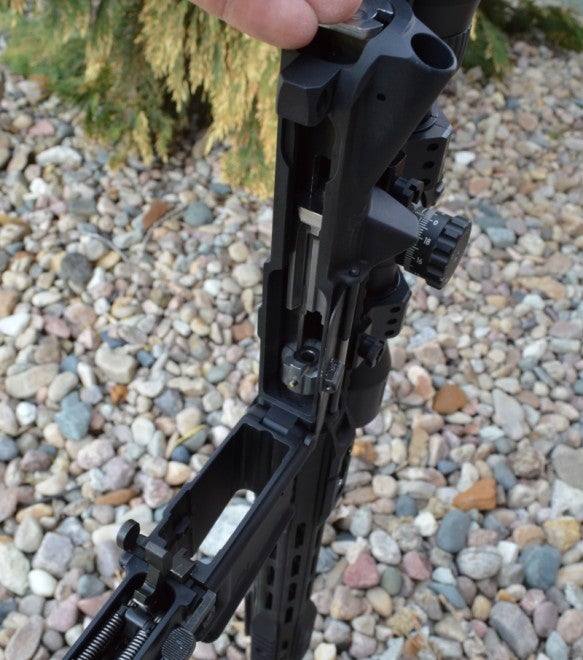 I topped off the build with one of my favorite 22 LR optics: the Nikon P-Rimfire 2-7×32 Matte BDC 150. This variable-power scope offers a really low 2x magnification for fast moving targets and up to 7x magnification for more precise target shooting. It also features a swappable turret design for dial-and-shoot capabilities at extended ranges. Nikon supplies two turrets; one aligned to high velocity round and another for standard velocity rounds. This allows for a pretty easy way to hit larger range targets with just the twist of the knob. Nikon also has other models with built in BDC (Bullet Drop Compensating) reticle.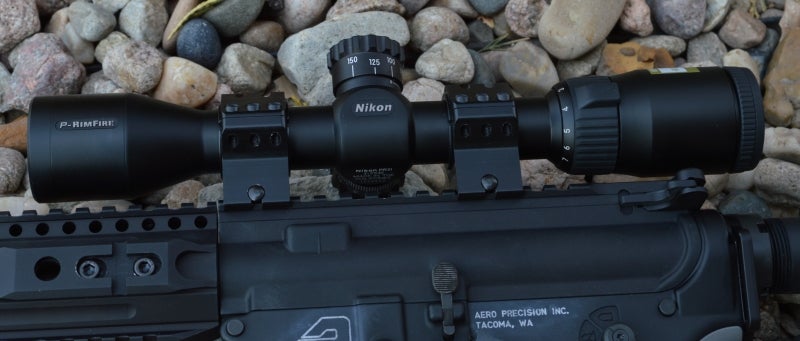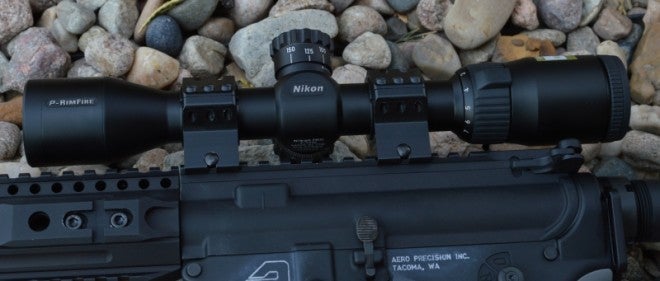 I went all out on the lower simply because I needed a nice lower receiver to use for other builds. I snagged one of Aero Precision's newer ambi lower receivers with Ambi Short throw Selector. This receiver looks like any other standard Mil-Spec profile lower, but features an ambi bolt release lever on the right hand side and has markings specifically set up for the Battle Arms Development short throw selector switch. Having tested many manufacturers' attempts at ambi bolt release controls, I have to say that I think Aero's design is one of the more user-friendly of those I have tested.
Because I was already spending the money, I decided to upgrade to a Hiper-Tough Hiper-Fire 24E match Trigger to deliver that high hammer-fall energy the 22 LR detonation requires and really awesome trigger feel. The rest of the lower receiver was completed with Mission First Tactical's ENGAGE Grip and BATTLELINK Minimalist stock, a Barnes Precision Machine lower parts kit, and KNS Precision Anti-Rotate Pins to dress things up a bit. The final completed lower receiver offers a great blend of looks and performance.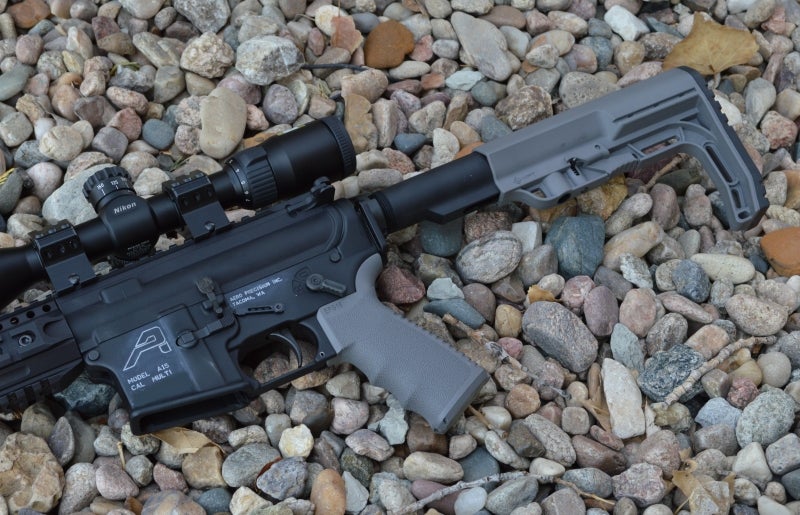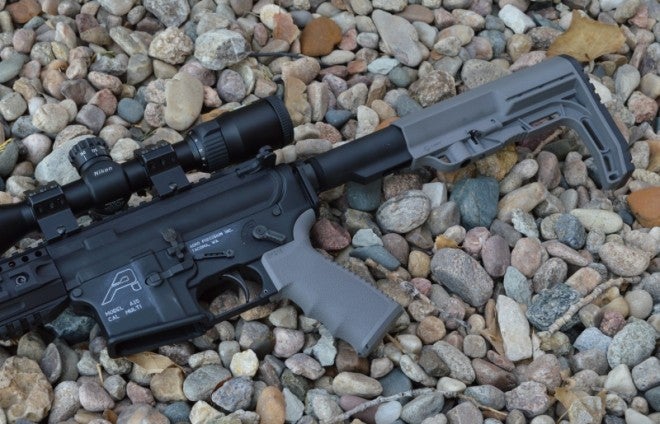 Fit, Finish, Feel, Features, and Functionality
The quality, fit, and finish of the CMMG bolt is excellent. I previously tested an ATI Chiappa upper and there is zero comparison between the low-end ATI quality and CMMG's. The CMMG design is a huge upgrade. Just like my previous Beyer barrel for my 10/22 build, this AR15 version features the same high-quality fit and finish, which is a step up from Tactical Solutions aluminum sleeved barrels. The Beyer barrel is more precise and more durable due to the 7075 aluminum sleeve versus competitors 6061 sleeves.
Beyer uses a proprietary Benz style 22 LR match chamber, which I have found to produce a good blend of accuracy and reliability with a wide variety of ammunition. There are all-steel full weight barrels on the market, but for a 22 LR I believe it is better to keep weight down to encourage use by younger shooters. The Beyer barrels are definitely light, but still a bit heavier than typical aluminum sleeved barrels.
The Tactical Innovations giant muzzle break does nothing other than look cool. I had it rattling around in my parts bin, so I thought this build would be a fun use for it. The TI brake slips on to any .920 bull 22 LR barrel and is secured via set screws. In this case, I just secured it to the removable thread protector on the end of the Beyer barrel. It's a fun accessory, not a performance upgrade.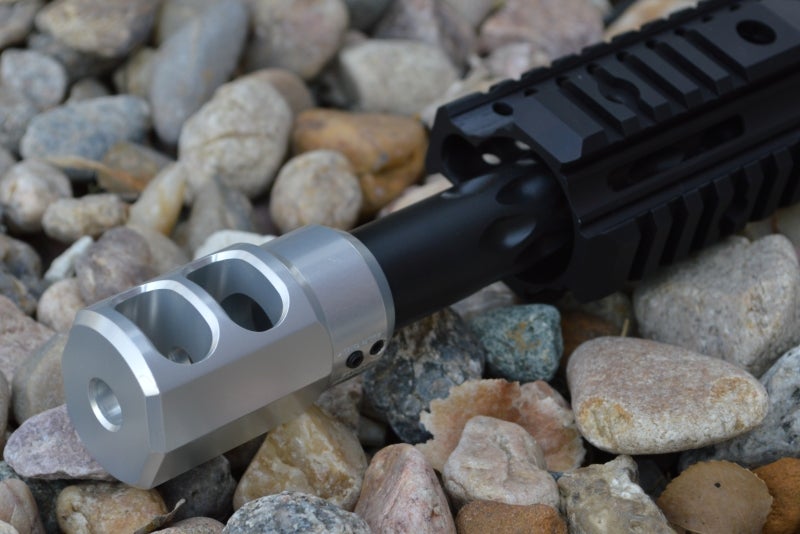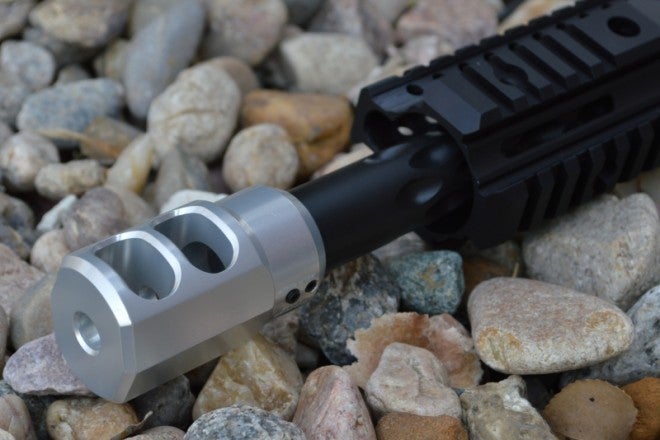 Functionally the build works well, but initially I did have some cycling reliability issues with low velocity (subsonic) ammo such as CCI SV, SK, and Lapua, but high velocity rounds functioned almost flawlessly (same performance I see from my M&P 15-22 rifle). As with any match-chambered barrel, this one performs best with standard velocity rounds.
Over the last couple months, I have noticed that after a couple thousand rounds my reliability went way up, and I have found the barrel became less finicky about ammo. My best group with Lapua Center-X was just under ½" at 50 yards, which is excellent for an AR15 22 LR upper. By contrast, the three drop-in 22 LR AR15 conversions I have tested could barely hold 2" groups at 25 yards, and one had far worse accuracy. The M&P 15-22 is not inaccurate, but it cannot come close to ½" 50-yard groups.
A dedicated AR15 22 LR upper is the way to go for those who want accuracy. Winchester M-22 ammo functioned perfectly, as did a bulk Survival Tin of Federal 22 LR HV ammo. My best groups with high velocity ammo were from CCI Velocitor ammo, which coincides closely with my accuracy results of the 10/22 Beyer barrel I tested previously. I did find that unless I kept the CMMG bolt well lubed I would start to see reliability issues. About every couple hundred rounds, I gave the carrier a solid oil soaking to prevent that.
The HiperFire trigger is a fine upgrade and seemed to all but eliminate light strikes. It's a great trigger that I like more and more.
Final Thoughts
There are some teething pains and a pretty long break-in process for one of these builds, but I don't think anyone will complain too much. In some ways I had these same issues with custom 10/22 builds. My custom Kidd 10/22 rifle is just now finally humming along after about 2000+ rounds.
Is the cost of a dedicated 22 LR upper justified? Well, it's easy to justify from an ammo-cost perspective now that 22 LR ammo is returning to the shelves at reasonable prices. Even a high-end dedicated 22 LR AR15 upper such as this one can pay for itself quickly as a trainer. Add in that you are spending more time behind the same lower receiver that you shoot defensively, competitively, or for hunting.
It is also a great option for those who want an accurate 22 LR upper for their favorite AR15 lower receiver, and you can even build the upper with the same components to replicate the feel of your current .223/5.56 upper. Obviously, for the cost I have invested in this upper I could have just purchased a complete S&W M&P 15-22 or Umarex 22 LR AR15 model as these are regularly on sale for under $500. Doing that would not be quite the same.
For me, I have an M&P15-22 and have had the Umarex models, but I wanted a dedicated upper to use with my existing lowers that would give better accuracy and reliability than my ATI Chiappa upper. This build works well enough for me as long as I keep it well lubed and fed with high velocity rounds. And most importantly, it has been an absolute blast to shoot.
Barrel Specs
Beyer Barrels
Fully machined to precise, match grade tolerances from exceptionally hard 7075 aluminum
Light weight ranging from 13-18 ounces
Barrel shanks are oversized to .001″ and may require a little sanding to fit receiver
Barrel: 22 LR Ultralight Target, AR15
Price: $244.00
Caliber: 22 Long Rifle
Chamber: Custom Beyer Match 22 LR Chamber with recessed target crown
Finish: Matte Black
Length: 16.5
Diameter: .920
Twist: 1-16
Options: Fluted
Product Notes: Threaded
Upper Specs
Lower Specs
Aero Precision Ambi Lower Reviewer with BAD ASS Ambi Short throw Selector – $250
Hiper-Touch Hiper-Fire 24E Match Trigger – $225
Mission First Tactical – ENGAGE Grip and BATTLELINK Minimalist Stock – $89 Street
Barnes Precision Machine – Lower and Upper parts kit – $69.99
KNS Precision – Anti-Rotate Pins – $29.99