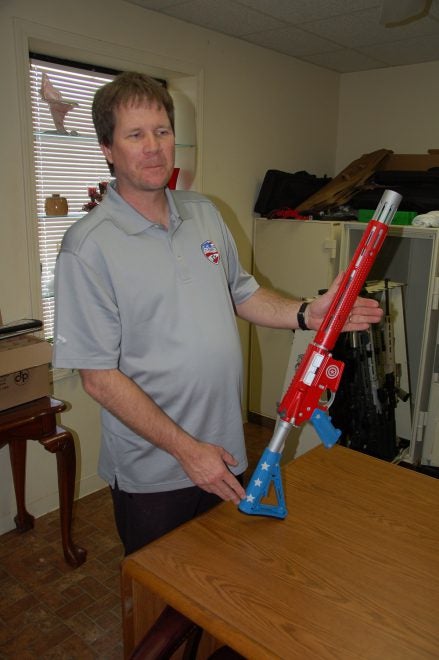 A lot of things are generic these days. That goes from medications to base models of new vehicles to AR rifles that come off the shelf. Now there is nothing usually wrong with these products, it is just a scenario of "one size fits all" sort of approach. Haven't you ever craved an AR rifle designed with your own specifications, characteristics, features, and accessories? Well now you can have an AR customized just for you.
BMS (Bryant's Machine Shop in Jackson, Mississippi) is producing custom made AR rifles according to the desires of the customer. BMS is a Type 07 FFL dealer and a Class 3 Manufacturer, so they have the creative talents and manufacturing skills to produce just what the shooter wants in a truly custom rifle.
Their AR platform choices allow the customer to choose their particular upper and lower units decked out as they like. They can pick from numerous choices for handguard types, materials, textures, and profile. They offer a wide variety of custom coating colors as well as custom engraving. The buyer can pick parts choices and even request a custom serial number to be applied to the rifle.
BMS's ARs can be chambered in .223, .22-250, 300 AAC, the 6.8 SPC, and the .308 Winchester. If a customer is interested in something else, they need only to speak their wishes to BMS owner, rifle designer, and manufacturer Ricky Bryant.
Another product that can be added to any AR is a BMS proprietary suppressor. In particular their .30 caliber suppressors are all stainless steel with "K" baffles in a standard length size of 8 ¼ inches. A suppressor can be purchased for around $650 plus the required $200 NFA tax payment with the appropriate application and approval from BATF. BMS can walk the customer through the whole process and assist with every step.
The guys at BMS are big time hog hunters, and they use their own custom rifles with fitted suppressors to shoot the pigs with minimal muzzle noise. This gives them the opportunity to field test their products.
BMS also makes a really cool, integrally suppressed Ruger 10-22 rifle in .22 rimfire. These rifles carry a 16.5 inch barrel for light weight and portability. There is also a new take-down version coming out, which ought to be extremely popular.
BMS details can be viewed at their website or phoned at 601-922-1937. I suspect if you can dream it, they can make it.