Review: FN FNS Semi-Automatic Pistol in 40 S&W
Pat Cascio 07.21.16

I've owned a few FN firearms over the years (Browning Hi-Power pistols that were made by FN), and they were all great guns. So when I ran across a used
FN FNS 40 S&W
in 99% condition at my local gun gun shop, and snapped it up for $399.00 out the door.
The first thing I noticed about this pistol was that it fit my hand perfectly; the second was the great trigger pull. Although it's double action only (DAO), it breaks at a crisp 5 pounds. And the third thing was that this gun had all of the original factory 14-round magazines, and it comes with three of them.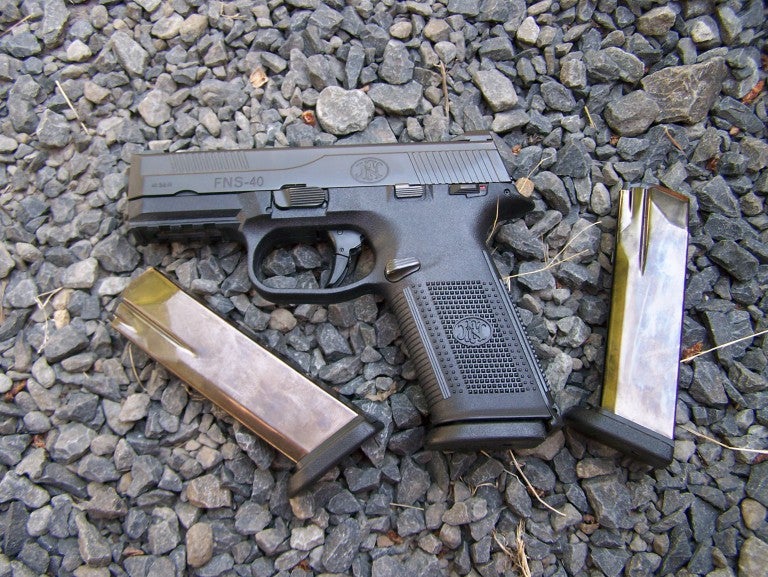 The frame is some kind of polymer, which is nicely checkered for a sure grip. I did swap out the arched back strap for the flat one that also came with the gun, I like that one better. The front of the trigger guard is serrated as well.
The slide is stainless steel, but black in color; a shiny stainless version is available. The chamber and feed ramp were polished, and it fed every kind of 40 S&W ammo I threw at it. There is also a Mil-Standard 1913 accessory rail on the frame for lights or lasers.
My model has the ambidextrous safety, but they also make them without a manual safety. The safety, slide release, and magazine release are all ambidextrous. There are white dots on the sights, one on the front and two on the rear sight, and the front dot is a little bit bigger than the dots on the rear sight.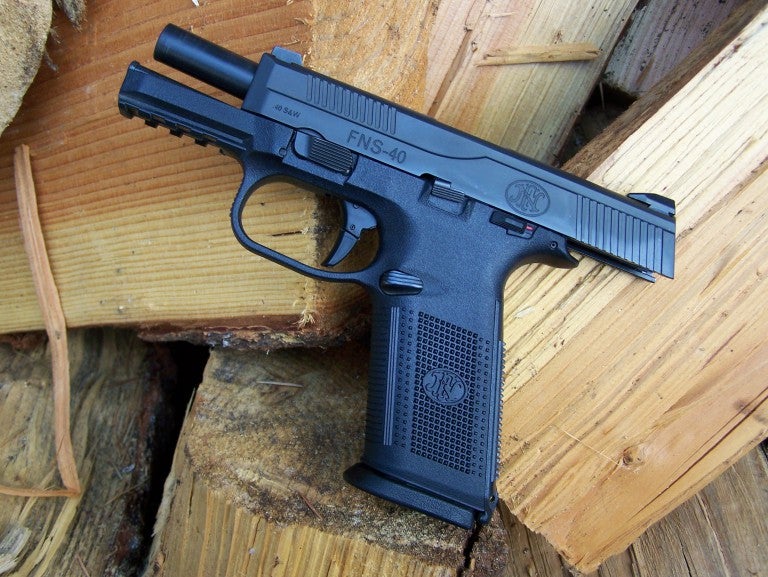 Accuracy
My FNS was match-grade accurate, right out of the box, I couldn't believe how accurate it was with all ammo tested; I could easily print 2.5 to 3 inch groups, and when I settled down, I could get sub-two-inch groups. And unlike my GLOCK 23, the FNS doesn't have harsh recoil with full-power 40 S&W loads. It was a real joy to shoot this gun!
As is my usual method for accuracy testing, I used a rolled-up sleeping bag on the hood of my SUV. Shooting was done at 25 yards. I used the following ammo from Black Hills and Buffalo Bore:
Black Hills 155-grain JHP reloads
Black Hills 155-grain JHP
Black Hills 180-grain FMJ reloads
Black Hills 180-grain JHP
Buffalo Bore 125-grain standard pressure Barnes TAC-XP
Buffalo Bore 140-grain standard pressure Barnes TAC-XP
Buffalo Bore Outdoorsman 200-grain hard cast flat nose
The Buffalo Bore 125-grain TAC-XP was the hottest load. It really let me know I had something there. I was surprised the recoil was more than the 140-grain Barnes load.
So, which round won the accuracy contest? Well, this FNS shot everything extremely well. When it came down to it, the Black Hills 155-grain JHP would once in a while break the 2-inch mark, and the Buffalo Bore 200-gr HC FN Outdoorsman load would shoot around 2 inches all day long and wasn't punishing in the least.
One of the guys who works at the local gun shop has the FNS in 9mm, and he tells me that his gun is also super accurate. He said it's a real "keeper" in his collection.
The FNS 9mm and 40 S&W pistols are close in size to the GLOCK 23–just a tad thicker and a little bit longer. I think it's an outstanding open carry or duty firearm for law enforcement or security work. The FNS might be one of the best-kept secrets in the firearms industry these days. I'll readily admit that I never really gave a thought to getting one before, but I'm sure glad I latched on to one. And don't forget that you get three 14-round magazines with the gun.
The FNS is a best buy in my book.