Review: Vortex Optics Strikefire II Red Dot and VMX-3T Magnifier
Major Pandemic 07.21.16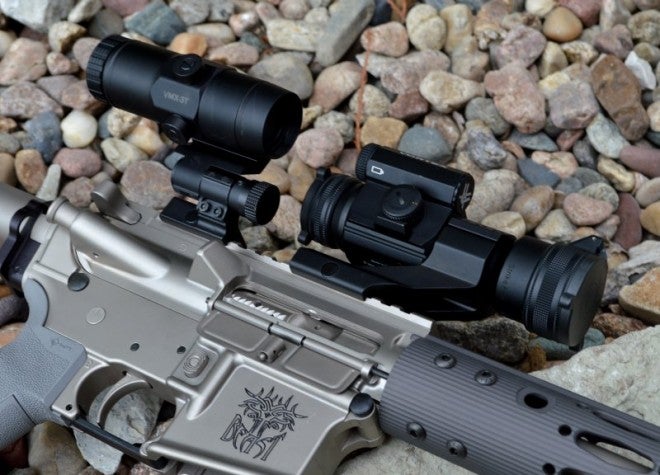 When Vortex Optics decided to update their Strikefire red dot sight, they created the Vortex Strikefire II. The main updates were simplified controls, 1/2″ shorter overall size, and two extra-low night vision settings. Model variants include versions with both red or green dots or the less-expensive, single color red dot model. Retail on the red dot model is $229, but street price is down around $180, which is extremely competitive with similar optics. They also include a lower third co-witness height cantilever mount, which is always an appreciated addition to the box versus having to spend another $40 on the appropriate mount.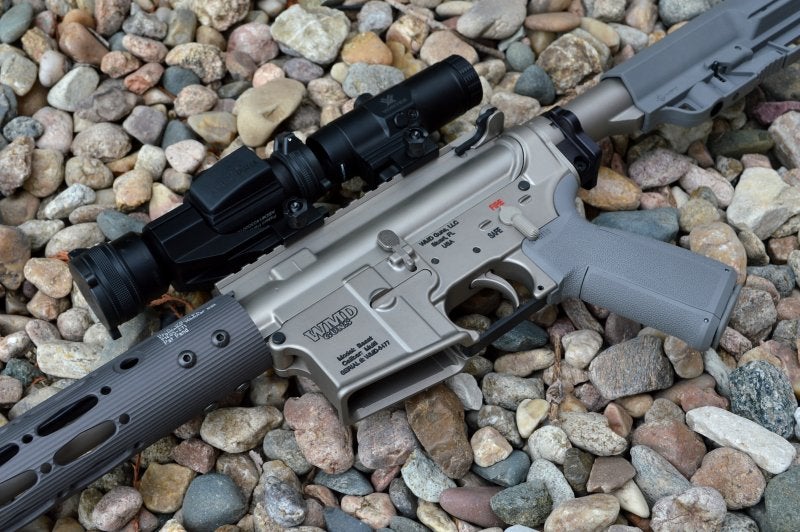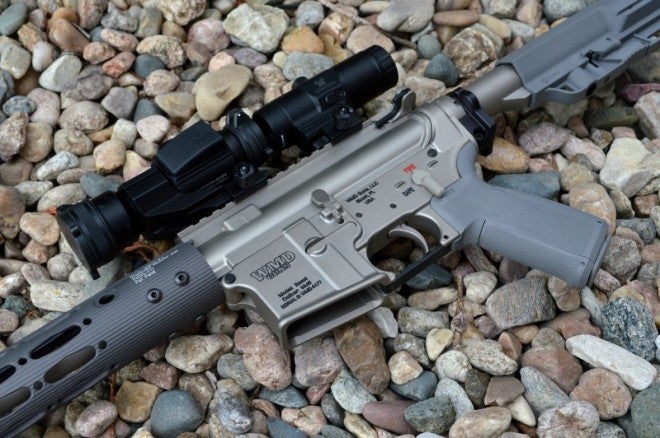 Why use a larger format red dot versus one of the smaller micro-dot red dots? The main reason is FOV (field of view). You can see more stuff within a large optic, and the Strikefire II offers a large FOV. Generally a larger FOV equals faster target acquisition. In a zombie apocalypse or while hunting dangerous game, I would want a wide field of view.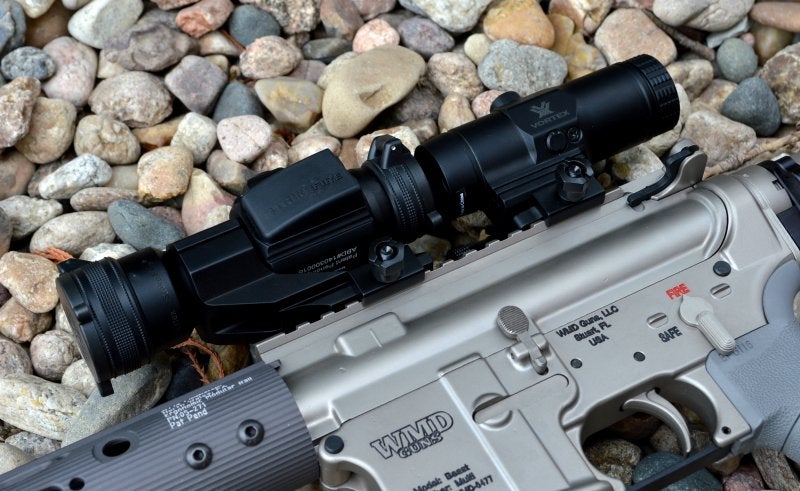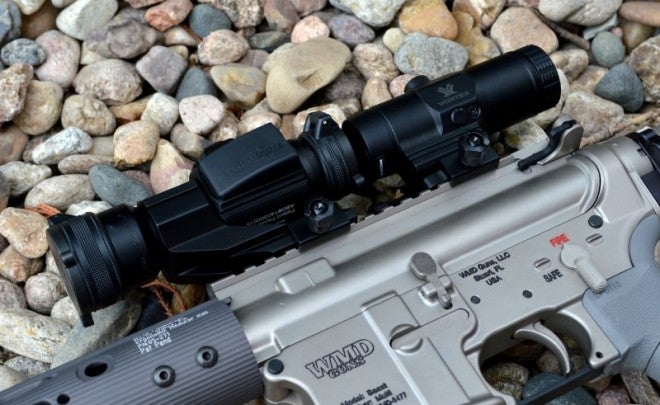 My one gripe is that the Strikefire II uses the CR2 battery as a power source even though everyone else on the planet uses CR2032 wafer batteries for red dots. The CR2 is a little smaller than a CR123 battery and is available at many stores. The advantage is longer life than wafer CR2032 batteries. With an average battery life of around 3000 hours (6000 hours at best; 300 at worst) and a 12-hour auto shutoff, you should see at least a year of life out of each battery even in extreme situations.
I would have preferred them to use a widely available AAA battery or CR123, but the CR2 works and delivers a long run time in an inexpensive and light lithium battery format. Stick six CR2 in the AR15's grip and call it good for a minimum of 5-6 years.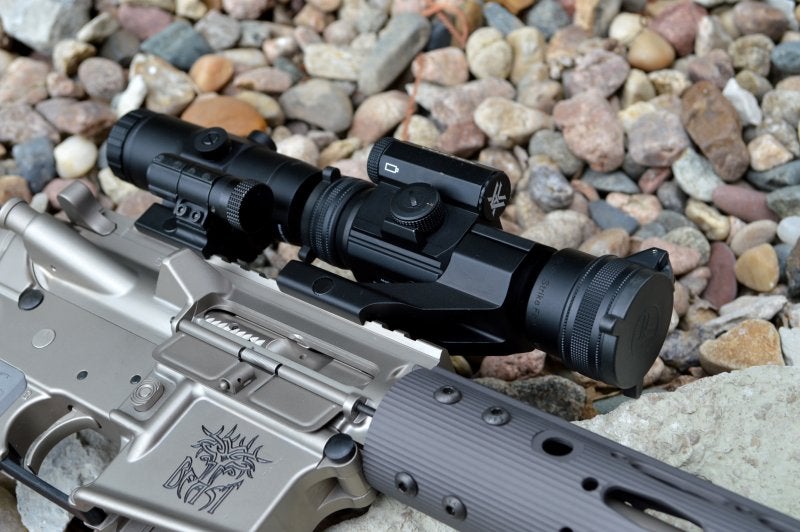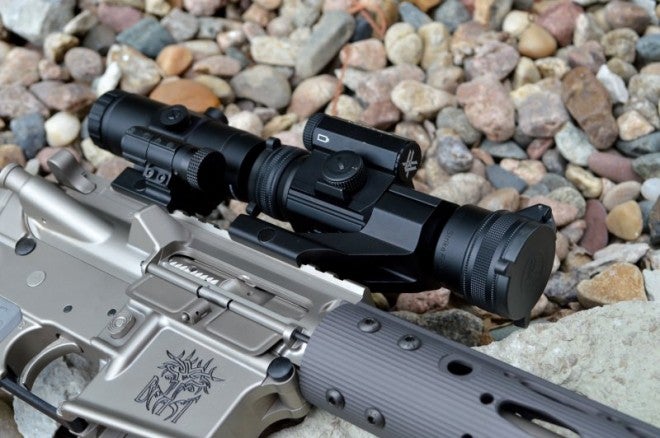 The Strikefire II is a quality optic which is fully fog-, water-, and shock-proof with a nitrogen purged heavy duty 30mm body. It can take serious punishment and keep working.
Vortex also offers the VMX-3T flip-over magnifier, aka "tripler," to complement any of their own or competitors' red dots. The idea of the tripler was popularized in the military, and it simply adds instant magnification to existing optics for larger shots and target identification. Vortex's flip-aside multiplier is similar to others on the market. The Vortex VMX-3T offers 3x magnification, focusing eyepiece, and zero-able windage and elevation so you can use the Vortex tripler with any red dot.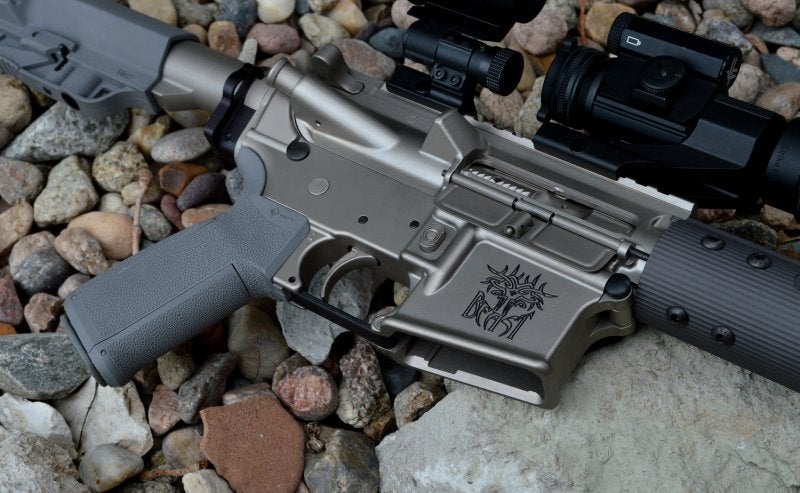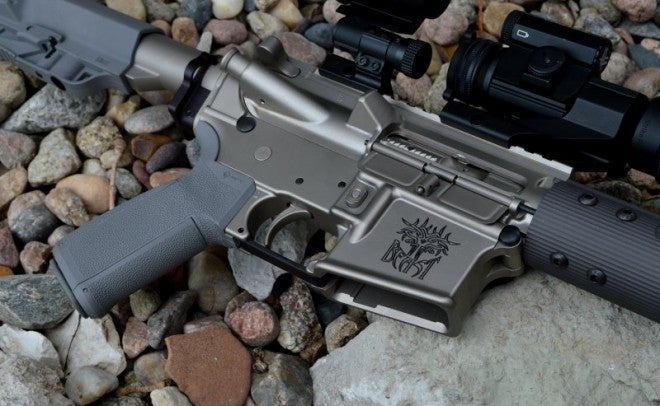 The included flip over mount on the VMX-3T is a bit different in that the flip mechanism is button-operated from the front. This allows the shooter to either reach over with the primary hand or with with support hand. Rear-mounted buttons can be harder to reach with the support hand.
I like this setup, and although I am more fond of the Eotech spring detent non-locking style flip over mount, I could buy two Vortex triplers for the price of one Eotech.
I have seem some flip over mounts get a little wobbly, but I found the Vortex to be pretty tight. The mount can make or break an optic like this, and this mount does what it is supposed to.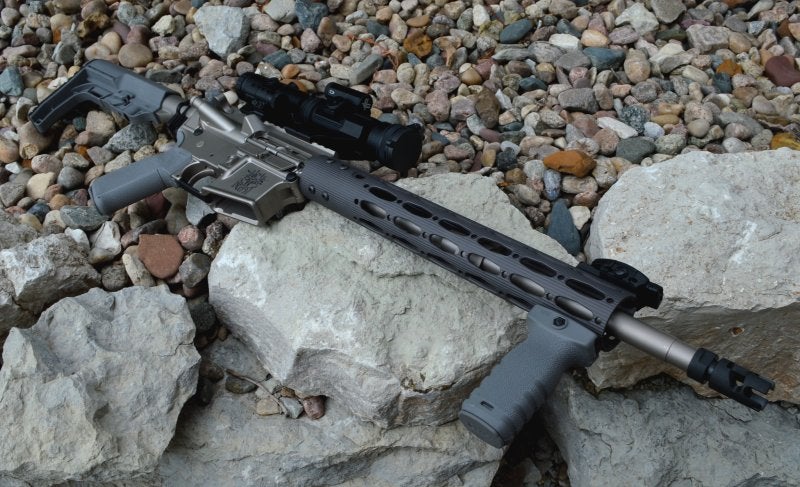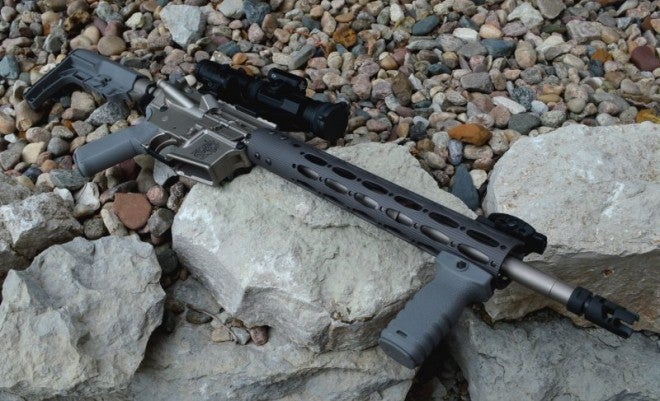 The Vortex tripler works extremely well, is crystal clear, and is solidly durable. If I put the unit side-by-side with Sub-$300 tripler competitors like Burris, I like the Vortex VMX-3T a bit better.
Final Thoughts
For testing, I mounted the Vortex Strikefire II and the VMX-3T to my WMD NiBx coated Beast AR15 rifle chambered in 5.56 Nato. The Vortex Strikefire II and VMX-3T setup mounted perfectly without problems. Like almost every red dot optic in the sub-$500 price range, the actual dot is a bit splashy and looked something like a teeny tiny squashed Nike logo when using the VMX-3T magnifier.
I have come to expect that crisp totally uniform dot size is something you have to pony up big bucks for in a red dot and you just are not going to get that level of quality in a sub-$500 red dot. That noted, the Vortex dot uniformity is still far above average and still better than some more expensive red dots.
The Vortex Strikefire II remains one of the best deals when it comes to robust military-grade quality in something priced below $300. The features are solid, the design is well thought out, and performance and value are well above the price.
The Vortex Strikefire II and VMX-3T magnifier are sold separately; here are some specs:
Strikefire II Manufacturer Specs
Cantilever Mount
Red/Green Dot or Red Dot Options
4 MOA DOT
Lower 1/3 Co-Witness Cantilever Mount
Eye Relief – Unlimited
Magnification 1x
Length 5.6″
Weight 7.2 oz
Fully Multi-Coated: Multiple anti-reflective coatings on all air-to-glass surfaces increase light transmission.
Red/Green Dot Option: Allows shooters a choice of dot color.
Single-Piece Chassis: Compact and lightweight.
Waterproof: O-ring seals prevent moisture, dust, and debris from penetrating for reliable performance in all environments.
Fogproof: Nitrogen gas purging delivers fogproof, waterproof performance.
Shockproof: Rugged construction withstands recoil and impact.
Hard Anodized Finish: Highly durable low-glare matte finish.
Operating Temperature: Rated from -22 degrees to +140 degrees Fahrenheit.
Cantilever Ring Mount: Puts the optic bore center 40 mm above the base, providing lower 1/3 co-witness with iron sights on flat top AR-15 rifles.
Unlimited Eye Relief: Non-critical eye relief for rapid target acquisition.
Adjustable Dot Intensity: Provides ten variable illumination settings—the lowest two settings are night-vision compatible.
Battery Life: 12-hour auto-shutdown feature maximizes battery life. CR-2 Battery. Typical battery life is 300 hours at maximum brightness and 6,000 hours at minimum brightness setting.
Base MSRP: $239
VMX-3T Manufacturer Specs
VIP Warranty Nitrogen Purged Waterproof
Magnification: 3 x
Eye Relief: 2.2 inches
Field of View: 38.2 feet/100 yards
Tube Size: 30 mm
Length: 4.3 inches
Weight: 11.9 oz
MSRP: $249