Review: Snugpak Square Foot Sleeping Bag
Pat Cascio 07.25.16

Like any good prepper or camper, I have more sleeping bags than I need. I'm always on the lookout for something a little better, lighter, smaller, has a better cold rating, etc. As I get older, I don't like packing any more weight than I have to, but I still want the gear to do the job for me.
Enter the Snugpak "Square Foot" that is being sold by the nice folks at
Infidel Body Armor
. At $75 retail, it's quite the bag for the money.
Snugpak
is well-known in the outdoor industry for their sleeping bags and insulated clothing. The Square Foot model I obtained for testing is lightweight at 64 ounces (4 pounds), and when fully compressed it fits into a 10″ x 10″ compression bag. The included compression bag has straps for snugging it down tightly.
The temperature rating is 32 degrees and with a low range of 19 degrees. What many people don't understand about these ratings is that they're for you inside the bag with clothing on, not in your underwear or naked. The lower rating is for you clothed, with some additional clothing, such as long underwear.
And we all have different tolerances to heat and cold; I can't tolerate heat, but don't mind cooler winter temps. So a sleeping bag rating that may be comfortable for me down to 10 degrees may not be comfortable to you. Please keep that in mind.
The Square Foot is 86 inches long (and 60 inches wide when opened as a blanket), so you have plenty of room if you're tall. This bag is a bit unique in that it has a hood like a "mummy bag," but instead of being tapered to trap your feet where you can't move, this one has a square foot. So if you get the jimmy legs you've got room to move.
The side zipper is on the right side (as you're laying in it), and as stated earlier it can be fully unzipped so you can use it flat like a blanket.
About the insulation, they say this : "Highly siliconized synthetic fibers give a soft touch finish and prolonged lifespan compared to traditional hollowfiber filled products."
The outer fabric is lightweight nylon and the inner fabric is called "Supersoft," and it is very smooth on your skin.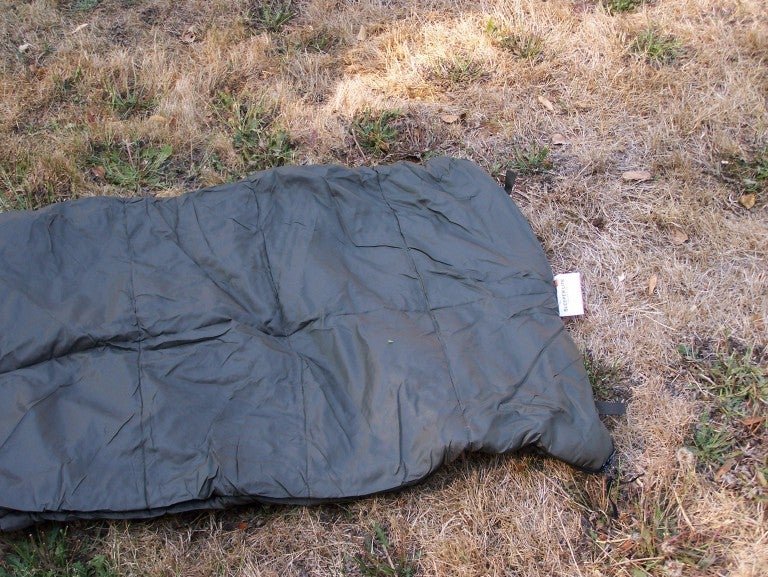 On the coldest night I was able to test the Snugpak Square Foot one evening, the temperature got down to 43 degrees. I was plenty warm, and actually had the bag halfway unzipped because I was so warm. I have no doubts whatsoever that this bag will easily keep me warm down to the 18-degree range and probably even a little colder.
I have an older, bulky sleeping bag in the back of my SUV, which I keep there in case of breakdown or getting stuck in cold weather. That bag will be going in the house and the Snugpak Square Foot will be going in my SUV. That's right, this sleeping bag is too good to send back after the review.
This sleeping bag will easily stuff into some pretty small backpacks or attach to your military A.L.I.C.E. gear with sleeping bag "spaghetti straps." And it is a heck of a lot warmer than some military sleeping bags I've used over the years.
If there is one minor complaint about the Square Foot, it would be the stuff bag. It is quite a chore to get the Square Foot rolled up small enough to stuff it in the bag. It can be done, but it's not easy. Once you get it in there, cinch it down tight with the compression straps. I'm told that a lot of our Special Forces guys like this bag and actually purchase it out of their own funds. That says a lot if you ask me.
If you're in the market for a sleeping bag that will keep you plenty warm and can pack super-small, take a close look at the Snugpak Square Foot.