Summer Fishing Hot Spot: White River, Arkansas: Brown/Rainbow Trout
Bob McNally 07.26.16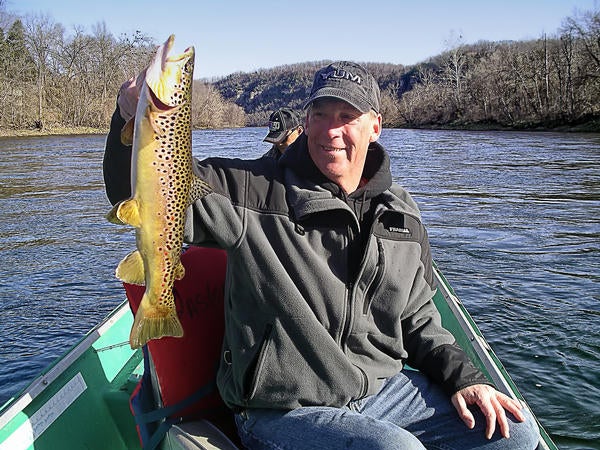 One of the best and most famous trout destinations in North America is the famed White River in north-central Arkansas. The wide, clean, clear, cold White provides anglers with excellent trout fishing virtually 12 months per year. And while the bulk of the fish caught are put-and-take rainbows, there are some giant trout taken annually, including some eye-openers by any standard. World-record size browns weighing in the 30-pound range even have been caught below Bull Shoals Dam, near the town of Bull Shoals.
Action is tops in the White for a couple reasons. For one, because the river starts from under big Bull Shoals Dam, the water temperature seldom varies from between 50 and 58 degrees–ideal for rainbows. Secondly, the river is stocked heavily with trout reared in a nearby hatchery. The White is rich in forage food, so stocked trout live the good life, waxing fat and quickly growing to large size.
A typical day's fishing on the White usually sees each angler taking from six to 10 fish, most weighing in the one to two-pound range. Rainbows weighing four to six pounds are fairly common, and ones pushing 20 pounds have been recorded. IGFA record browns weighing to 33 pounds also have been landed from the White.
The White offers anglers simple, easy, relaxing trout fishing that almost invariably results in excellent catches. The most effective method of working the White is float fishing. It's the type angling anyone can successfully do. Anglers merely float down the river in large johnboats, casting bait (worms, corn, or salmon eggs) impaled on hooks and allowed to bump along bottom as the boat drifts.
Anglers employing small spoons, jigs, and spinners often do well on White River rainbows. Fly fishermen have their innings with trout, too, especially when wading shoal areas during float trip stops. The White has its share of hatches, so dry fly anglers can score well, especially in summer when insects are abundant.
Numerous float trip and overnight camping-floating outfitters and very capable guides operate on the White River. Float trips for trout can be arranged in the towns of Bull Shoals, Flippin, Mountain Home, and Cotter. One of the best trout outfitting services and places to headquarter on the White is Gaston's Resort (www.gastons.com, phone 870-431-5202) in the town of Lakeview.