If you don't know by now that coloring by adults is a thing, it's time you learned. It's an interesting phenomenon, and in addition to filling the colorist's time with something more worthwhile than Farmville or constantly checking Facebook, coloring has legitimate therapeutic effects. If you don't believe me, see what the American Art Therapy Association has to say about it.
Now I'm admittedly a bit biased on this since my wife has created a number of successful coloring books herself, but I think it's pretty cool. I find my own art therapy by playing guitar and such, and by occasionally welding some scrap steel into a sculpture… everybody needs something like that, and coloring provides it for many.
Enter "Full Metal Coloring: A Book of Down Range Reflection," by former competitive shooter Kimberly Kolb Eakin. It offers more than images of guns and stuff for you to color; here's a quote from the Amazon page where it's selling for $9.99:
Filled with humor, history and iconic images, Full Metal Coloring appeals to military, veterans, shooting sports athletes and hunters. Amusing quotes by Aristotle, Walter Cronkite, Wyatt Earp and more! Shooting tips by Jerry Miculek, Brian Zins, Jim Henderson and more! Images of the world's greatest shooters, Julie Golob, Sandra & Eric Uptagrafft, Dustin Ellerman, Randi Rogers and more! Featuring coloring pages for Tom Gresham of GunTalk and Michael Waddell of Bone Collector.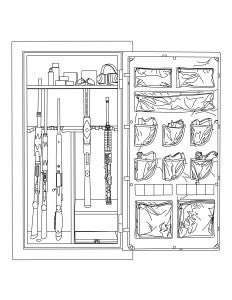 So if you're looking for some relaxing time alone with guns and related stuff–and you want to get some art therapy while you're at it–this book might be just the thing for you.