Beginner Handgun Choices: Spin Six or Mag Eight?
Dr. John Woods 08.08.16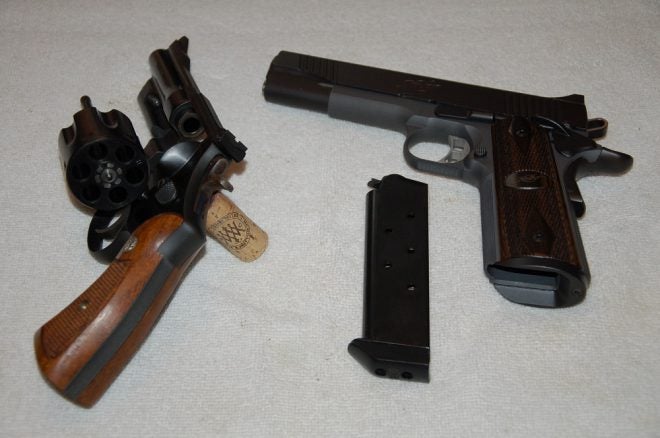 For first time handgun buyers, the big question is whether to go with a revolver or a semi-auto for personal protection. This was brought home to me again recently when working a gun show. It is gratifying to be available to counsel gun buyers with perspective and advice.
An older woman on a cane with her husband on her arm nearly fainted in front of our show table. We brought her behind the table to sit in a chair while the husband went to the car to get her wheelchair. We got her settled into the chair, so the husband could continue his shopping.
He was looking for a handgun "to show" evidence that he was armed and ready. Apparently he (along with a daughter) had a business carrying expensive equipment into not-so secure areas of various towns. He wanted a gun he could carry in open carry not only for easy access, but also to be seen. He had no idea what to buy.
He appeared in good health and otherwise able to handle a handgun. He said he was a deer hunter and a good shot, but had no experience with a handgun. I asked a lot of questions and made a thorough inquiry before I recommended anything. He thought he wanted a semi-auto pistol but had no idea of their complexity or of the training required to use one effectively.
As he looked over our selection of revolvers and pistols, I initially just let him handle several brands and types as I continued to inquire about his intent to own a handgun. After he looked for a while, I simply asked him if he would like my best advice. He okayed that, but I could tell he had opinions on a subject he had no experience with. That is common.
I took a pistol from the table and explained the loading procedures, the safety mechanisms, how the slide functioned, and other principles of using a semi-auto pistol. He was already lost in the presentation. Then I picked up a simple Charter Arms 6-shot revolver in .38 Special and instructed him on the simplicity and easy of loading and shooting. That brought approval.
If you are a prepper, initial survivalist, or gun buyer, do your homework. Start slow and shoot small until you are ready for a more powerful handgun. With that, I urge you to take a training course, be properly fitted for the right handgun, and go from there.