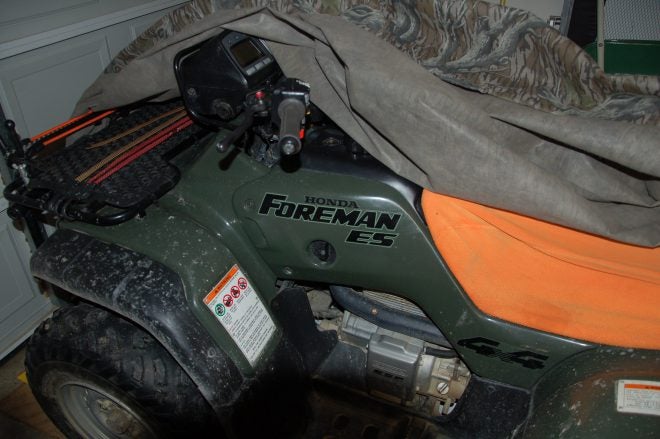 Is your trusty All-Terrain Vehicle ready for field service? It matters not if you are riding a standard 4-wheeler type machine or one of the larger UTV type utility vehicles. Is it rigged out with the necessary gear and supplies to get you safely back to camp? Maybe it is time to consider how really run-ready your ATV is.
First, taking care of basic and necessary machine maintenance is prudent. On a regular basis or at least annually have the oil changed, add a new oil filter, clean air filter, and change the spark plug. Check the wear on the tires and inflate them to the proper suggested pressure. Have the throttle and choke adjusted. Inspect the brakes. Charge the battery or replace it. Do the lights work? Gas it up with non-Ethanol fuel and add some fuel additive to keep moisture at bay.
Many ATV riders will add a gear box or basket to the front and or rear racks for carrying extra items in the field. You can stock this box up according to the likely demands of use you might encounter in the field. Here are a few useful suggestions based on practical experience.
Have a can of "tire fix" on board. If you run over a stick, stab, glass, or something to cause a flat, you'll want a quick fix to get you home. Put a long tow strap in the box just in case. A cable "come-along" ratchet can work wonders to get you unstuck in the field.
Include a limb saw and brush hand cutters. Put in a pair of heavy duty work gloves. A roll of duct tape is not a bad idea. Some basic repair tools would be good, tools like a hammer, pliers, and a couple screwdrivers. Have a knife or cutting blade on board. Add a roll of orange trail marking or forestry tape in case you venture into new unknown areas on the machine or off on foot.
Get a good quality flashlight or two and make sure they have fresh batteries. Some rope is a good idea. Fire starting kits can save the day. To that include some water and nabs. And include a small first aid kit, too. Maybe have a handgun on board and extra ammo.
Everybody that leaves camp on an ATV expects to come back. Just make sure you do.