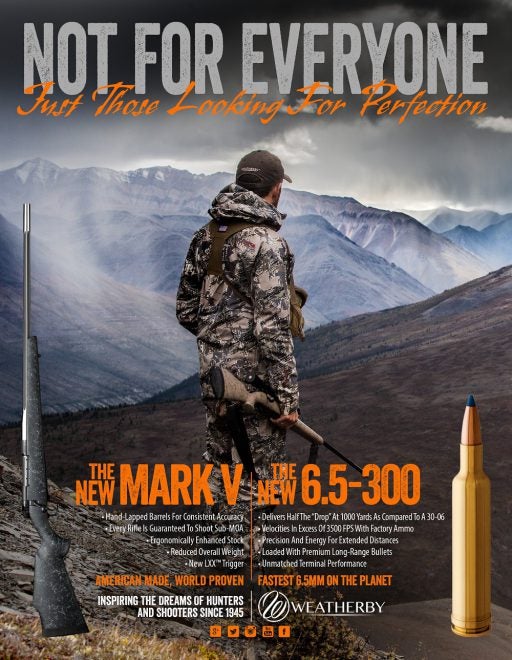 Okay you hunter guys and dolls, you make the final call on this one. Late last year the rifle-making firm started by Roy Weatherby brought out a factory combo version of the 6.5/300, including three different proprietary rifle models and three factory loadings of ammunition. So, ask yourself the question, what is this hummer for anyway?
The 6.5 bullet size has garnered some popularity as of late with the 6.5 Creedmoor, but this bore size has been around quite a while. There are several other 6.5s rather hidden in obscurity with at least some shooting or hunting value. Honestly though, the 6.5 had not been as popular in America as it has been in Europe, Africa and elsewhere. The 6.5×55 Swedish is still a good round but hardly seen here.
Anyway, as history of the company tells it, Roy Weatherby actually made up a 6.5/300 back in 1950 but never brought it out into commercial production, perhaps fearing it would not sell. I wonder if it will now.
Weatherby ammunition will come with three bullet weights of 127, 130, and 140. The 130 and 140 versions will be with Swift bullets, the Scirocco and the A-Frame. These are excellent hunting bullets for such, but with these low end weights, one wonders what game the 6.5/300 is meant to be useful for. Oh, by the way, the ammo will sell for $95 a box of 20. With sales tax, that will be around a Lincoln a pop.
The velocities of these rounds go from 3395-3531 feet per second. Yep, pretty darn speedy bullets to say the least. Kind of reminds me of the old .220 Swift, which has just about disappeared now.
Other hunting writers have suggested this 6.5/300 round ought to be a real dandy for long range shots a medium game. One even rather implied it would be good for elk, moose, and larger game. Hate to bust that bubble, but with those excellent Swift bullets, I could not recommend them for medium big game. It is likely such bullets would fly through any thin-skinned animal like a deer or antelope. All that is yet to be tested, so time will tell.
I am the first to support any new rifle or ammunition development, but sometimes the exercise exceeds the utility. For ammo at $5 a shot through $2000 plus costing rifles, many will search out other options.