Review: Hi-Lux Leatherwood Micro-Max B-Dot Red Dot Sight
Major Pandemic 08.17.16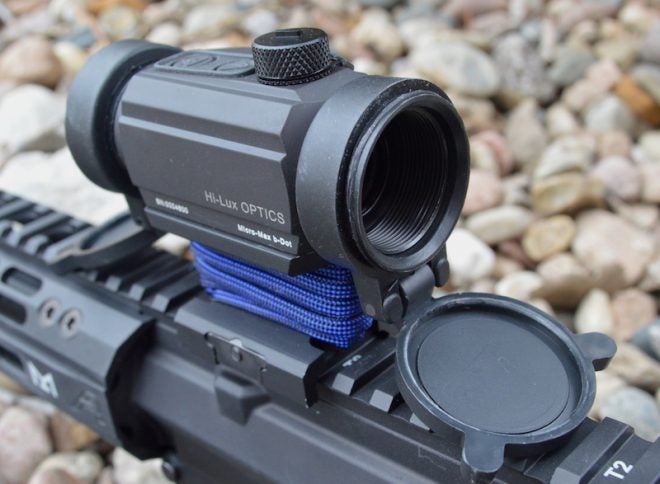 It used to be that you had to spend the price of your gun just to get a quality red dot that would endure the abuse dished out in the field, but those days are over.
Just after I got it, my then-new Hi-Lux Micro-Max B-Dot red dot sight was mounted on a basic AR15 pistol, and I later moved it to a Sig MPX 9mm pistol. After more than a year and approximately 8000 rounds later of 223 and 9mm, the Micro-Max B-Dot has performed amazingly well, still holds zero, and I am still using the original factory-included battery.
From my perspective it is one of the top values for a high-quality red dot sight, so much so that I ordered another one from Optics Planet.
To be up front, I am a Brand Ambassador for Optics Planet, but I could have ordered anything from them and I chose to buy the same optic again. This should speak volumes about my opinion of this sight. Because you are reading this, feel free to use code "MAJOR5" for 5% off your entire OpticsPlanet.com order of anything you might want to purchase.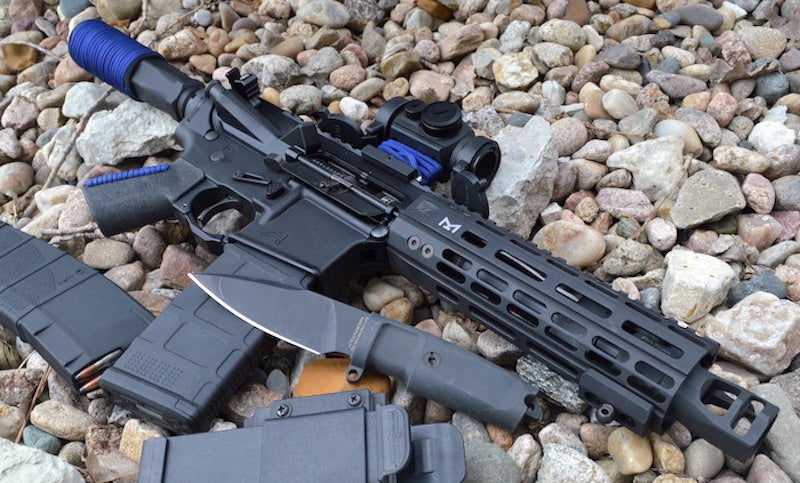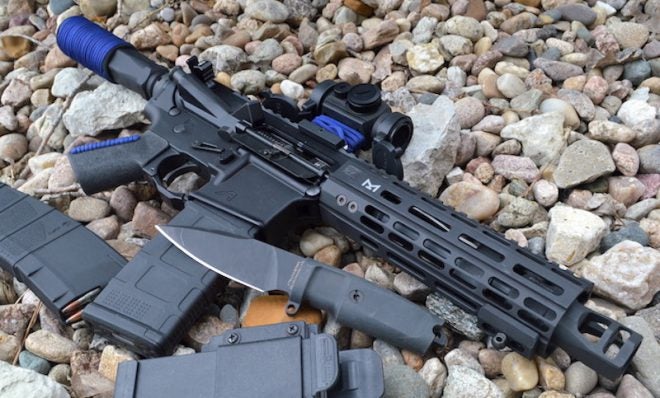 I mounted the new Hi-Lux sight on a special Aero Precision M4E1 custom AR15 pistol. It is a really tricked-out build that needed a great red dot, and the Micro-Max B-Dot was the perfect choice.
Fit, Finish, Feel, Features, and Functions
The Hi-Lux Micro-Max B-Dot shows the typical high quality of all Leatherwood Hi-Lux optics. The design is robust and it's built to take a lot of abuse. Once upon a time, only Aimpoint could boast a 50K+ hour run time, but here's a $220 red dot that can do the same.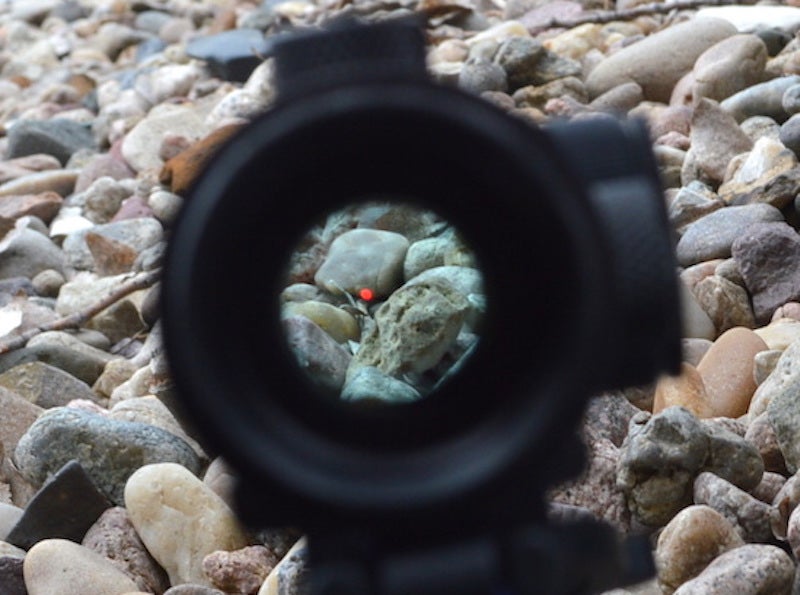 This sight is not tinted, so it can provide good clarity and enhanced low light vision. It is one of the few red dot sights that gives the shooter clear glass.
Concerning form factor, this sight is completely cross-compatible with all Aimpoint T-1 mounts, which are widely available. So if you have a favorite Aimpoint T1 mount, it will work with the Micro-Max B-Dot. Hi-Lux offers its own $35 co-witness riser, which is hard to pass up for the price, and is the mount I ordered for this build.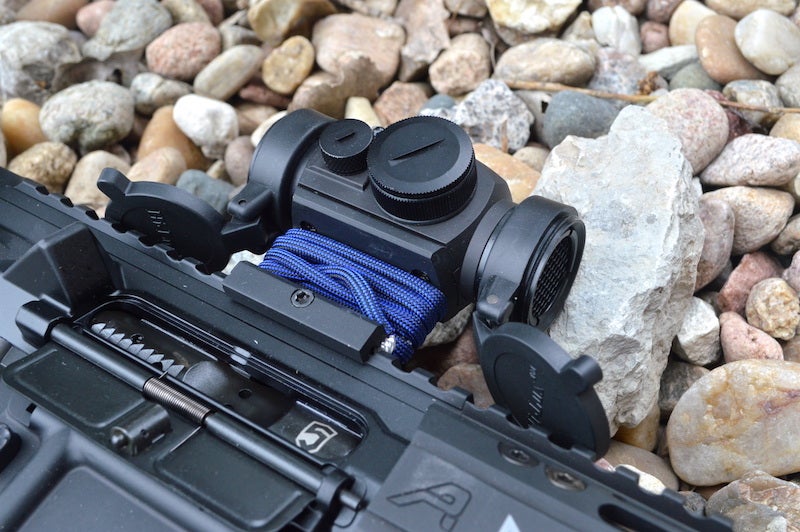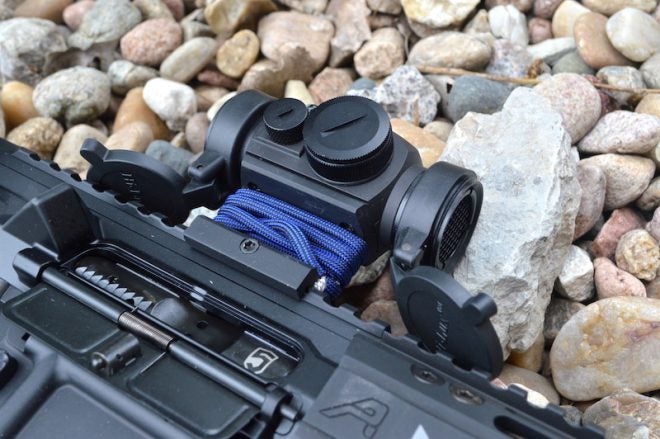 The Hi-Lux Micro-Max B-Dot is a mere 2.5 inches long, 1.4 inches tall, and 1.4 inches wide. It comes with flip-up lens covers, screw on/off kill flash filter, and spare CR2032 battery compartment in the battery cover. I should note that, with the added kill flash filter and lens covers installed, you do have a bit more bulk than an Aimpoint T1 or similar Primary Arms Micro Dot (but not any significant weight).
I think most people will appreciate and use these features, unless they really need to strip all the extras off for some reason.
My original Hi-Lux Micro-Max B-Dot sight held zero perfectly through more than a few bumps, bangs, and scrapes and thousands of rounds of 9mm and 5.56 NATO, and the second one has done just as well. I did have some initial concern that the lightweight Hi-Lux riser might not hold up well to side hits, but I have never had an issue and it is far stronger than it looks.
Instead of the typical rotary switch, Hi-Lux has push-button operation that provides click on, hold for off, and click up/down to cycle through the twelve power settings.
Final Thoughts
The Hi-Lux Micro-Max B-Dot red dot is one of my favorite red dot sights. It functions perfectly, delivers excellent clarity, and offers plenty of daylight to low-light dot brightness settings. I will not likely be in a situation where I need a kill flash attachment, but the lens covers work well. I've got a safe full of red dot sights, and they get dirty quickly; flip-up covers help keep the glass clean and bright.
Manufacturer Specs
The Micro-Max B-Dot collimator reflex red dot sight provides quick target acquisition, unlimited versatility, and an outstanding six year battery life in a compact package. Successfully thermal cycled from -85° F to +185° F without failure on an Alexander Arms 338 Lapua Magnum Ulfberht.
Power

1X

Object lens

20

Exit Pupil Range

N/A

EYE Relief

Unlimited

Length

2.5"

Short Reticle

Dot

Elevation Adjustment

1/2 (MOA)

2 MOA Dot Size, With Mount, Flip-Up Lens Covers, Anti-Reflection Device

FOV

42′

Coating

Fully Multi-Coated

Multi-Coated Lenses

All exterior air-glass lenses are treated with DiamondTuff14™ to ensure optimal light transmission for more visibility in low light situations.

Nitrogen Gas Purged

All scopes are purged with nitrogen gas to ensure they remain fogproof for wide range of temperatures.

Waterproof –

The Tac Dot sight is waterproof for use in any weather conditions.

LED Bright Dot Technology

Red dot is clearly visible even in daytime light conditions.

Outstanding Battery Life

Expected battery life of 55,000 hours at medium brightness settings.

Digital Brightness Adjustment – 12 adjustable +/- brightness settings

Automatic Shutoff Timer

Scope turns off after one hour of inactivity. This timer is programmable and can be reset to the shooter's liking.

MSRP $249