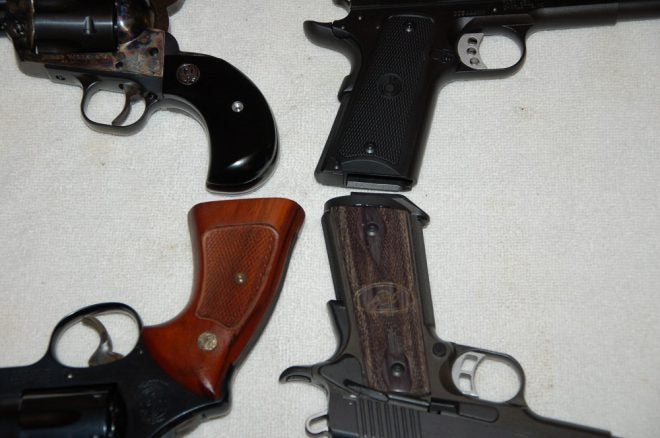 Handgun grips are for, well, gripping. Some are better than others at accomplishing this task, so gun buyers should be aware of how a handgun fits your shooting hand, but also take note of the type of material they are made of for a number of reasons.
Over history since handheld weapons have really come into vogue, the gripping designs have changed radically. Early black powder handguns basically had stocks that included short forearms to support the barrel, but the hand grip and stock was all one piece of wood back in those days.
Over time as handgun designs evolved into metal gun frames, the manufacturers began putting on externally attached grips or panels. These were made from a wide variety of materials, though mostly they were made of wood or a plastic-synthetic material of many different types of compositions. Aftermarket handgun grips are also available in soft rubberized materials for recoil absorption such as those made by Pachmayr.
Handgun grips can have many different kinds of textures, too. Some of these, such as smooth wood, permit the handgun to recoil in the hand without any particular abrasion impact. Sharply checkered grips allow for a firm grip, but can be rough on the palm of the hands, especially in heavy recoiling handguns in .357 Magnum, .44 Magnum, or some of the pistol calibers such as .40 S&W. When you buy a handgun, be sure you can tolerate the type of grip texture on the gun.
Modern synthetic materials for handgun grips are very popular now. Top on the list are grips molded from various kinds of Acrylics. These can come in an endless array of colors or molded in designs, logos, tradenames or other features.
Also highly popular today are grips made of the super tough G-10 epoxy fiberglass. These grips can be milled down to an exact shape to fit practically any handgun model. G-10 grip panels are often found on upscale models of 1911 pistols and come in smooth or checkered versions in a wide variety of colors and combinations. G-10 grips are extremely durable.
Wood grips are still very useful and practical. The aftermarket is flooded with brands and varieties. Some are laminated types, bringing a mix of colors in stripes or other configurations. Popular now are grips that combine wood or laminated wood with soft rubber inserts to absorb recoil. So, when you buy a handgun, also know the type of grips you are buying.