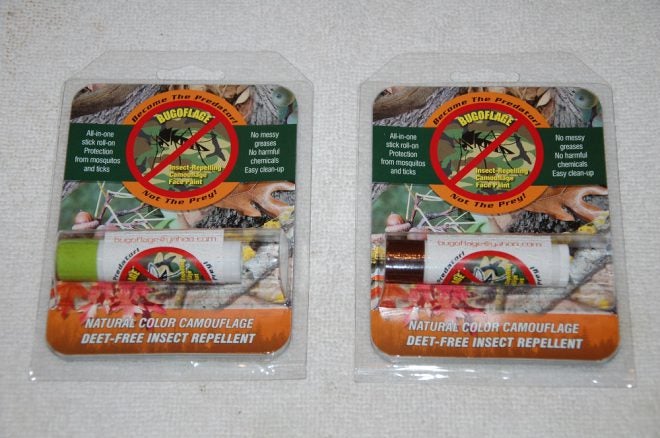 So fresh on the market it is only available just now on the company's web site and email plus a few select test markets in the retail sector. Expectations are high that Bugoflage will be everywhere soon enough.
So, what is Bugoflage? I was first introduced to the new product via the Small Business Development Office in the division I direct at the college where I work full time. Created and developed by avid Delta duck hunter Jack Lyon, who wanted a product to keep the "skeeters" away at the same time as providing a camouflage cover up in the duck blind. At least that is how it all got started.
Several recipes later, as well as some practical field testing, Jack was ready to launch Bugoflage as a natural, ready-to-use insect repellant that also provided a camouflage face paint for hunters. The product is currently delivered via a tube container similar to a lip balm.
Bugoflage initially came out in black, dark green, and dark brown for duck and deer hunting applications, but the concept has already been expanded. Now there is a sort of spring green color for turkey hunters, and soon to be produced will be a clear formula for endless outdoor applications from construction workers to landscaping, gardeners, and anybody working or playing outdoors, including fishing.
Bugoflage is a clinically proven, Deet-free insect repellent that lasts up to 12 hours of protection from mosquitoes, ticks, flies, gnats, and no-see-ums. The product has a nice, fresh smelling citrus scent that incidentally does not spook deer as I have proven myself in the woods this past hunting season.
This stuff is easy to apply. Just remove the cap, screw it up, and apply to the face across the forehead, or cheeks like hunters normally would do to apply any kind of a camouflage face covering. It resists water, sweat, and smudging. Bugoflage is easy to remove in the field with a paper towel, dry cloth, or wet wipe. Complete removal is recommended with common soap and water with a wash cloth.
Order inquiries or for other product information check them out on Facebook or email them at [email protected] A comprehensive web site is under construction now.