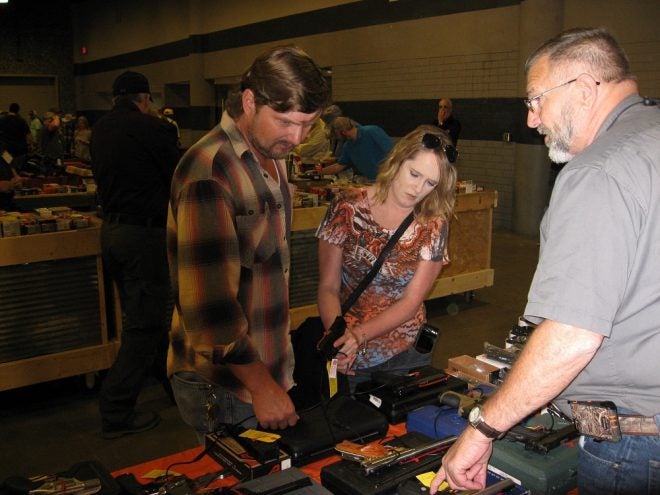 When the new shooting range and training center Boondocks opened last year in this local area, I helped assist with the opening of their new gun shop. What I was immediately amazed by was the number of women that visited the shop that day. These ladies were primarily interested in learning to shoot a handgun for self-defense and wanted to be fitted and sold an appropriate gun for this purpose.
The second thing that amazed me was the age profile of the women coming through the training center and gun shop that day. At least half or more of the ladies coming through to investigate the center were over the age of 50 and quite a few were much older than that. Many were retired ladies, living home alone either in town or out in the rural areas, and they were concerned for their safety. A good number of these senior ladies signed up for a personal protection training courses.
This trend has been noticed as well at the regional gun shows over the past few years. Women want to be empowered to be able to defend themselves, and quite frankly they are not interested in judo. What they want and buy are small, handy, lightweight handguns, both revolvers and pistols. The most popular calibers are .38 Special, .380 ACP, and the 9mm.
Even the NSSF, the National Shooting Sports Foundation research on this issue has recognized the growth in retail gun sales to women since 2001. NSSF has found that between 2001-2013 that the number of women taking up target shooting has jumped 85 percent. This translates into gun sales, ammunition, targets, shooting glasses, earmuffs, and other gear.
One store owner in Iowa was quoted as reporting that since opening their gun store in January of 2015 that 30 percent of their sales are to women. We all know about the huge surge in gun sales in the last 3-4 years in particular, and now we discover a big part of those sales are to women.
When I talk to the women at our gun show tables, it is obvious they are scared as personal crime assaults, carjacking, and home invasions continue to rise. I think if they had a choice they would rather not own a gun, but given the situation today, they are taking the steps necessary to protect themselves. I really encourage that they take a training course, too.