Try These Tips for Biggest Fall Walleyes, Part 1
Bob McNally 09.07.16

Often it's the little, subtle things that catch the biggest walleyes. These guides and pro tournament anglers know how to catch them.
Ross Grothe
The "frog migration" is a unique even in some parts of walleye country, and when it's happening, anglers can tag some "toad-size" walleyes by capitalizing on it.
Shallow mud-bottom bays with a close proximity to deep water pull migrating frogs and the oversize walleyes feeding on them.
Live bait rigs of almost any style, used with live frogs in and around bays, can produce some of the biggest walleyes of the season.
John Balla
On the Great Lakes, big autumn walleyes prefer the subtle action of shallow-diving stick baits trolled at S-L-O-W speeds.
Troll using lead-core line or with snap weights to reach deep suspended fish that migrate along the steepest breaks in the few miles below river mouths. Add a 5 to 10 foot leader of 14-pound test fluorocarbon line for the clear water of the Great Lakes.
Troll at .6 to 1.0 MPH and use planer boards to spread lines away from a boat wake, sound, and wave pressure boat presence.
Lures such as #11 and #13 Rapala "Husky Jerks," AJ "Thundersticks," and Smithwick "Rattlin' Rogues" are great choices. Use natural colors like black/silver, black/gold, and any of the prism colors, with purple getting the most favorable nod.
 Jason Przekurat
"Low and slow" is my best technique for big fall lake walleyes. I like working the deepest flats or humps available, sometimes down 35 to 40 feet. An offshore hump surrounded by a main lake basin is a great place for using this "low and slow" technique.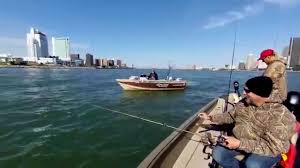 I want my lures right on or near the bottom, which requires very slow trolling speeds of 1 to 1.2 mph. This isn't the best way for lots of fish, but for big ones–perhaps the walleye of a lifetime–this is the way to catch it.
Slow-trolling with fine-diameter braid, like "Fireline" helps keep lures deep, and ultra-deep divers like the "Deep Tail Dancer" works well. Lure colors are pretty straight forward, with brighter colors on stained water and natural colors in clear water. Use long rods with line counters and rods with a very soft action to absorb the shock of no-stretch Fireline.
Terry Filkins
One deadly fall tactic I use for big walleyes is trolling lead core line and placing spinner blades in front of my crankbaits.
I use a bobber stop to hold the blades three feet in front of my lure. In front I use a #4 blade, then 6 beads, a #5 blade, 6 beads, and a #9 willow leaf blade.
This looks like baitfish in the water, and it really gets big walleye attention. I will also dip my nickel spinner blades in "UV Blast" to get more attention from walleyes, especially in dark or deep water. It works well for me, most recently on Lake Erie.
Toby Kvalevog
During the day, most big walleyes will be near bottom of a break or on a deep flat adjacent to it. For this situation I prefer using Rapala's "Jigging Rapala" lure. Monofilament line in the 10 to 12 pound range with a little stretch is a key to success. When a fish hits, it's pretty violent and braided line without stretch rips out hooks from a big walleye mouth. The stretch of monofilament is your friend in this case and keeps big fish hooked.
For jigging, I like a 6 ½-foot St. Croix medium-heavy rod. Long, smooth jigging strokes with a slight pause on the bottom is most productive. Most of the time a fish hits a lure on the fall of a jigging stroke, and you won't feel the fish until you begin the next rod action. The weight will be instant, and when you feel it, set the hook hard and fast and keep the line tight. Rapala's "Jigging Raps" come with extremely sharp hooks, and keeping a fish on is not much of an issue.
Not only is this method exciting fishing, it can be fast and furious because walleyes are schooled tight. They're big and hungry.