Try These Tips for the Biggest Fall Walleyes, Part 2
Bob McNally 09.08.16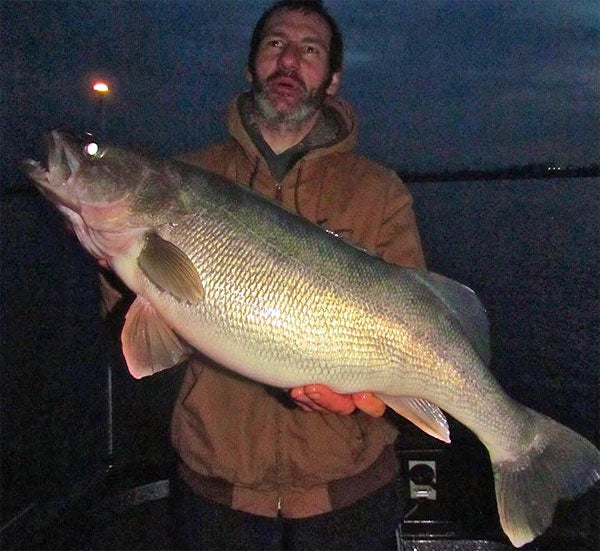 Yep, it's football season, and hunting is cranking up everywhere. But if you want to catch a mega-walleye, now's the time to get on the water. Follow these professional fisherman tips and the big one is all yours.
John Balla
One of my favorite big fish river walleye live bait set ups is a simple one, designed for use around rocks, jetties, and wing dams.
It's a simple slip-sinker rig with live-bait hook. Slide onto the main fishing line a 3/8- to ¾-ounce egg sinker (depending on depth and current), then a bead, and tie to a high-quality ball-bearing barrel swivel.
To other end of swivel fasten a 12- to 36-inch leader of 10- to 12-pound monofilament to a #1 to #6 live bait hook, octopus-style preferred. A bright-colored bead can also be used in front of the hook as an added attractant.
For bait during autumn in rivers, nothing beats a willow cat if they are legally available in your area or state. Other options include 3- to 5-inch chubs, suckers, and nightcrawlers.
Tom Kemos
Great Lakes big walleyes rally around shallow wind-swept or current-swept rock humps and points in fall. And when I say shallow, I mean just enough water to cover their backs.
Shiners, as well as shad and gobies move up onto these areas on days when the sun is high. This pattern begins around mid-fall, when surface water temperatures drop into the low sixties.
I position my Mercury-powered Ranger boat a long cast away and hold it in position with my Motorguide bow-mount electric motor. Swimming a swim bait or even pitching a lively red-tail chub are two of the best ways to get the big autumn beasts to bite.
One important note is that I spool my spinning rods with 8-pound pound Sufix Siege clear monofilament, as opposed to braid. I have found that in the gnarly shallows of the Great Lakes, zebra mussels don't have a catastrophic effect on mono, and the clear line draws more strikes. Nevertheless, always monitor your line for abrasion.
Scott Steil
For fall walleyes I keep it simple. My go-to bait is a long-shank, wide-gap jig tipped with a small chub. Since fall walleye are often found on shallow rocks, I use this set-up to keep the jig far enough away from the boat that fish don't spook.
Since the jig is fairly light, usually 1/8-ounce, and the minnow is fairly large, 6-inch chub, the bait moves over the scattered rocks without getting snagged, and large walleyes are usually willing to take the easy meal.
If you add a little bit of wind to the equation to decrease light penetration, your success improves dramatically.
Tommy Skarlis
For fall walleyes, "go big and fast or go home."
Often times the forage in fall is at its peak size and quantity. When an angler is faced with a lot of food and not a lot of "biters," one option is to put on the largest baits in your arsenal and troll fast to locate active fish.
I usually prefer to put on an 800 series Reef Runner and troll around 3 to 4 miles per hour in lakes and reservoirs or troll up to 5 miles an hour downstream in rivers or 3 miles per hour upstream. This often times will trigger fish into biting. An angler can even do well on big walleyes using big, deep-diving, "musky" baits in this situation.
I also like big jigs, with 3/8 ounce to one ounce jigs my favorites, even in water not "deep" or "fast." I have started to make and/or fish a lot with hand crafted jigs like "Do-Its" Round Ball or Banana Head and utilize a light wire hook to get out of snags easier. Bigger jigs make more noise and force me to "fish faster" as well as they accommodate bigger artificials or plastics than most smaller commercial jigs.
I prefer to tip autumn jigs with larger offerings like the biggest Berkley Ripple Shad or even a hollow belly, or my favorite: a four inch Gulp! Alive Minnow to "match the hatch" of slender species like shiners, chubs, suckers, etc. and then "double decker" the jig with two of them to match shad, sheephead, crappie, cluegill and other "taller" forage.
Match the color of the leaves, too. One little trick is to pay attention to the leaves. As they start to turn red, orange, yellow and brown, so do my bait colors.
Toby Kvalevog
Big walleyes tend to school deep in fall, and locating deep flats and saddle areas near deep breaklines often is the key to pinpointing and catching fish.
After the fall "turn over," fish can and will be at all depths. And walleyes can be on almost any part of deep structures, top, sides, or bottom.
The key for deep walleye location is rocks. This type of structure will hold tullibees (ciscoes) and whitefish in autumn, and this is where you should target the top predators in the food chain.