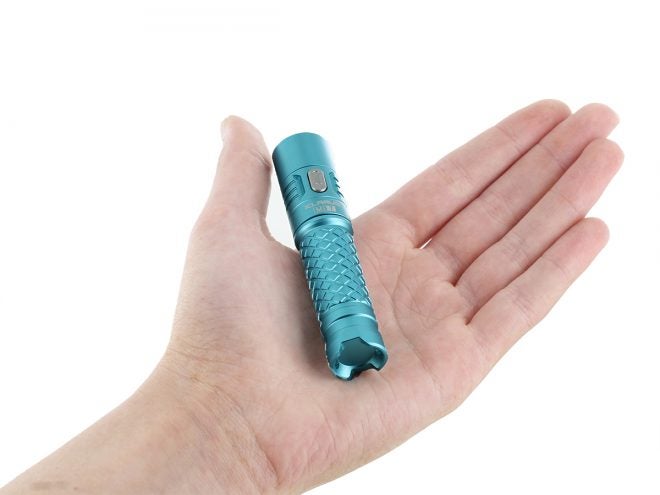 If you are flashlight company and you want to make a light that will sell well, go with a common cell, like a AA or a AAA. If you are flashlight company and you want to make a light that will appeal to aficionados, make something that is super bright. As it turns out not very many lights do both of those things. The Surefire Titan Plus is probably the best light on the market, considering only these two perspectives. But it will soon have a rival, and that rival will cost about 40% of what the Titan Plus does.
Set to hit the markets in the beginning of July, the Klarus Mi7 Mini Might EDC is a spec beast. It's got all sorts of things that flashlight fans really, really want, and it has the battery format and price that mainstream consumers demand. Klarus better make a bunch of these things because they are going to go like hotcakes.
Let's start with the obvious point: using a single rechargeable AA battery, the Mi7 will hit 700 lumens. That is an insane amount of photons for the format, the best on the market by a wide margin. But it's not just a rechargeables-inflated number. Using a standard cell it can hit 300 lumens, right there with many of the best lights available. That's the attention grabber, of course. But there is more to the Mi7.
First, there is the UI. It is a side switch clicky, something I have come to really appreciate. More than that though it is the fact that the user can access high or low (which is a tasty 5 lumens regardless of battery type) from off with a single button press. Press and release and you get the wall o' photons. Press and hold and you get the whisper bright low. Really, really great feature and a simple implementation.
Second, the light has a battery check mode. Again, all of this is done by use of the side switch. From off you press the switch three times and you get a series of pulses of light. One pulse tells you you're at 70% or more battery life, three tells you you are at 10% or less. Again, good feature, good UI, and simple implementation.
Third, the runtimes are all really good. Some of these "burner" lights, lights with explosive highs, achieve this by siphoning away runtime. The MBI HF-R, a great flashlight in its own right, hits 600 lumens but does so for only a few minutes. On high you get almost a full hour, though, as always, I imagine that is an aggregate runtime, as that many lumens in that small an object would probably result in a puddle of aluminum after .88 of an hour. You can get 67 hours at 5 lumens, which is definitely above par. It's not as good as a Zebralight, but it is more than adequate.
There are a bunch of other little things that are nice. The switch is metal instead of a gushy rubber boot on a switch, there is a lockout mode, and the light can tailstand with ease. It also happens to come in three very solid color choices: black, red, and bright blue.
It's been a two horse race for more than a year now in terms of EDC lights: the Olight S1 Baton and the Surefire Titan Plus. But with the release of the Mi7, we have a real three way battle. And the cool thing is they are all different and each has advantages the other does not. It's a good time to be a flashlight nerd or just someone who likes to be ready in case of a power outage.


SHOP NOW