American-Made Pocket Pistol: The SCCY CPX-1 in 9mm
Dr. John Woods 09.12.16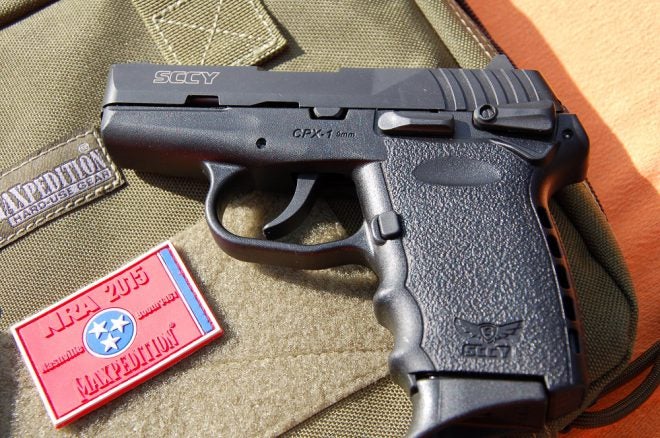 Though not a brand new pistol model on the market now, the SCCY (pronounced Sky) CPX-1 in 9mm is a very well made pocket pistol for a reasonable price. Even as we speak though, a new model the CPX-3 is coming out in .380 ACP, which ought to be a good one as well. There is also a CPX-2, 9mm version that comes without the external safety mechanism.
The SCCY handguns are made in Daytona Beach, Florida, and they are loaded with features that would make any handgunner quite happy. The list includes the Zytel synthetic frame with a steel slide either finished in nitride black or a matte stainless steel. The pistol's receiver is aluminum. The frame comes in nine different colors to match any mood, including black, crimson red, OFDE olive, orange, pink, purple, SCCY blue, Snipe Gray, and white.
The manual safety is ambidextrous. The trigger is double action with a 10-round magazine. There are two included, one with a flat base and the second with an extended base for the little finger. These pistols come with a trigger lock with two keys and a foam lined box for storage protection.
The grip back strap is made of a recoil absorbing material. The grips have very good gripping texture characteristics. The recoil spring and guide rod are made of steel for strength and reliability. The SCCY comes with a white 3-dot sight system.
The overall length of the CPX-1 is 5.7 inches with a width of only 1.1 inches, so this pistol is very concealable in a variety of carry modes. The barrel is only 3.1 inches, being perfect for close quarters work and concealment. The pistol only weighs 15 ounces.
I got a firsthand dose of handling the SCCY CPX-1 last year working a gun show with Renegade Arms. Vernon had just gotten in a good stock of them in nearly every color. I drove him crazy picking up the black one and was disappointed when it quickly sold, as did all the other ones. But, much to my surprise, he and wife Helen presented me with a black model for Christmas. Man, talk about nice friends.
As soon as I could, I had the SCCY at the range and put several boxes of assorted ammo through the pistol. At a range of 10 yards, I easily hit the 10-inch "kill zone" pie plate every time. The SCCY CPX-1 was easy to control and a delight to shoot. Concealment wise, it hides easily in the pocket.