Survival Trial: Test Your Survival and Shooting Skills
Doc Rader 09.12.16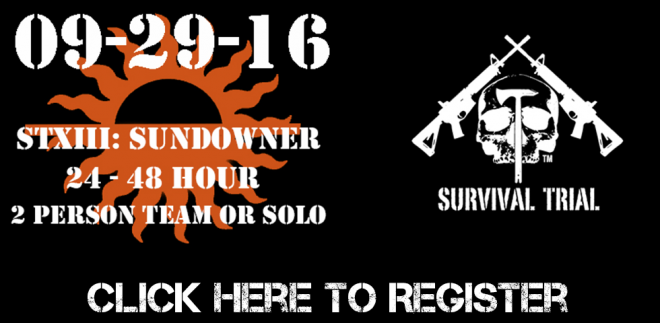 Back in May, a writer from The Firearm Blog (and I) competed in Survival Trial XII: Daybreaker 2016. It was a stellar event and provided a serious challenge, testing both our mental and physical endurance, as well as shooting skills, during a twenty-four hour, marathon distance event.
To date, I have not participated in a more encompassing, nor well rounded event. It takes place in the beautiful mountains of Northern New Mexico, at the amazing NRA Whittington Center (near Raton, NM). It is billed as being:
a survival-based adventure race that incorporates Defensive Shooting Situations, Wilderness/Urban Survival Skills, Land Navigation, Physical Obstacles and Mental Challenges
Each event is different, so there is no easy way to prepare other than to be in a normal state of readiness with regards to gear, skills, and fitness.
The next one is about two weeks out, launching on September 29th at 11:59pm. As of the writing of this article there were still two slots available (one solo, and one team). Jon Weiler, creator of Survival Trial, stated that they can always use evaluators to assist on the course (if you are an evaluator you not only get to see how the event is run and get some Survival Trial schwag, but you also get $100 off if you choose to compete in one).
This event was good enough that I will be competing in the one next spring; I will be an evaluator in two weeks so I can get the discount. 🙂
If you are interested in stepping up to the plate (and can work the logistics this close to the event), you can find more information at:
Or register at: