Affordable Hunting Bow Shootout + Video
Lucas Cooney 09.14.16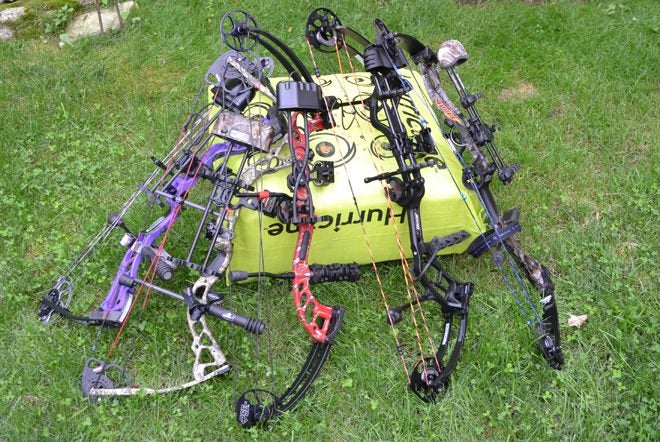 It's hard to think of a better time to be an archer than right now. Archery participation, including bow hunting, is on the rise, and the bow manufacturers have responded by building more and better bows.
While modern flagship hunting bows are packed full of the latest and greatest technology, even entry level hunting bows offer better performance than anything available in the not too distant past.
Since it seems that most every publication focuses on flagship bows starting at $900 and going up significantly from there, we thought we'd show you what was available for the bow hunter on a budget.
With the help of Shooter's Choice in Waterloo, Canada, we borrowed a Diamond Edge SB-1, PSE Stinger X, Bowtech Fuel, Quest Forge and Bear Threat. Each of these bows comes with just about everything a bow hunter needs to get started, including bow, multi-pin sight, arrow rest, quiver, and stabilizer. U.S. retail prices on these five packages range from $400 to $600.
Price
At just $400, the Diamond Edge SB-1 gets top marks as the least expensive bow package in this comparison. It is followed by the PSE Stinger X at $450, the Bowtech Fuel at $500, the Quest Forge at $530, and the Bear Threat at $600. It should be noted that you can find the Stinger X package for $400 and the Fuel for $430 if you opt for black instead of camo. Also of note, Bear Archery has several bows that are more affordable than the Threat, but we wanted to provide a range of prices in this comparison.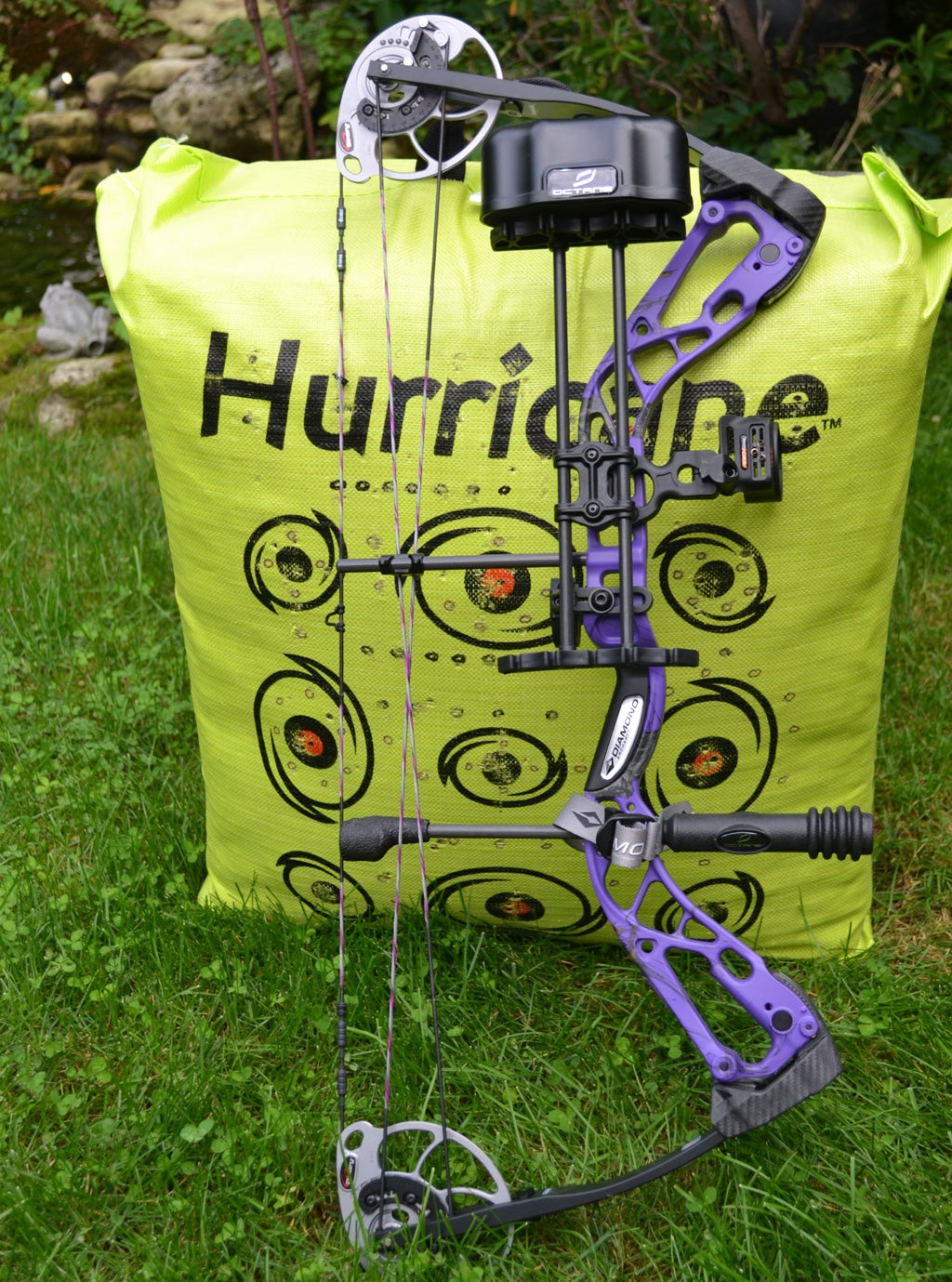 Specs
At least on paper, these bows are all fairly similar. Axle-to-Axle (ATA) lengths are all between 31 and 32.5 inches. The Quest Forge was listed at 32 inches on the official website, but we measured it at 31 ¼ inches. With a little digging we found a spec sheet that matched our findings. A quick call to the manufacturer confirmed our numbers, which was relief. Still, it would be good if the Quest website had the correct information to avoid this confusion for other customers.
| | | | | | |
| --- | --- | --- | --- | --- | --- |
| Specs | Diamond Edge SB-1 | PSE Stinger X | Bowtech Fuel | Quest Forge | Bear Threat |
| ATA | 31 in. | 32 1/2 in. | 31 1/2 in. | 31 1/4 in. | 31 1/4 in. |
| Rated Speed | 318 fps | 308 fps | 320 fps | 315 fps | 330 fps |
| Brace Height | 7 in. | 7 1/8 in. | 7 in. | 7 in. | 6 1/4 in. |
| Mass Weight | 3.6 lbs | 3.5 lbs | 3.4 lbs | 3.9 lbs | 4.0 lbs |
| Let-Off | 80% | 75% | N/A | 73-80% | 80% |
Unlike ATA length, IBO rated speeds do see a pretty big spread from 308 to 330 feet per second. The Bear Threat leads the charge at 330 fps, some of which will come from its brace height, which is ¾ of an inch shorter than any other model here.
As for weight, the three most affordable bows are all about the same mass, while the Quest Forge and Bear Threat come in about a half pound heavier. That extra weight is definitely noticeable in real life, but we didn't find it detrimental.
Accessories
A big point in separation for us is the quality of accessories. The Quest Forge wins this category by a considerable margin. The Head-Loc quiver comes in matching camo and just looks and feels like a high quality item. Three of the bows come with capture-style rests, but the one on the Forge features spring-loaded plastic arms rather than brushes. Our favorite accessory, though, is the G5 sight on the Forge. It is the only sight of the five with tool-less gang adjustments (vertical and horizontal), and the individual pins are the easiest to set, as they move very fluidly. A light comes standard, which is great for indoor shooting, but we wouldn't use it in most hunting situations as it spreads blue light beyond the pins and onto the scope housing.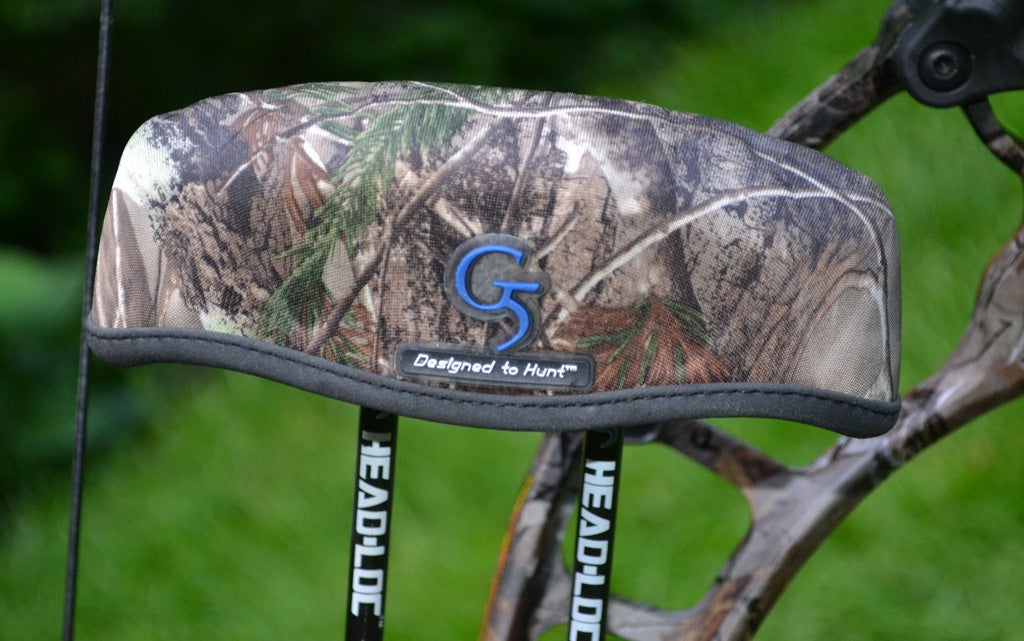 Bear-owned Trophy Ridge accessories are all over the Bear Threat, good for a firm second place in this category. The Whisker Biscuit rest is simple to use and just plain works, while the quiver wouldn't look out of place on a more expensive bow. The sight is also of good quality and the pins move fairly easily, though it is a noticeable step below the sight on the Forge.
Accessories on the PSE Stinger X get the slightest edge over those on the Diamond Edge SB-1 and Bowtech Fuel. We prefer the Whisker Biscuit rest on the Stinger over the capture-style rests on the SB-1 and Fuel. The Stinger's sight is also a slight improvement, thanks to clearly visible gang adjustment markings. The Apex sights on the Edge SB-1 and Fuel gave us fits. Moving the individual pins was an exercise in patience, as the pins liked to rotate as we tightened them down.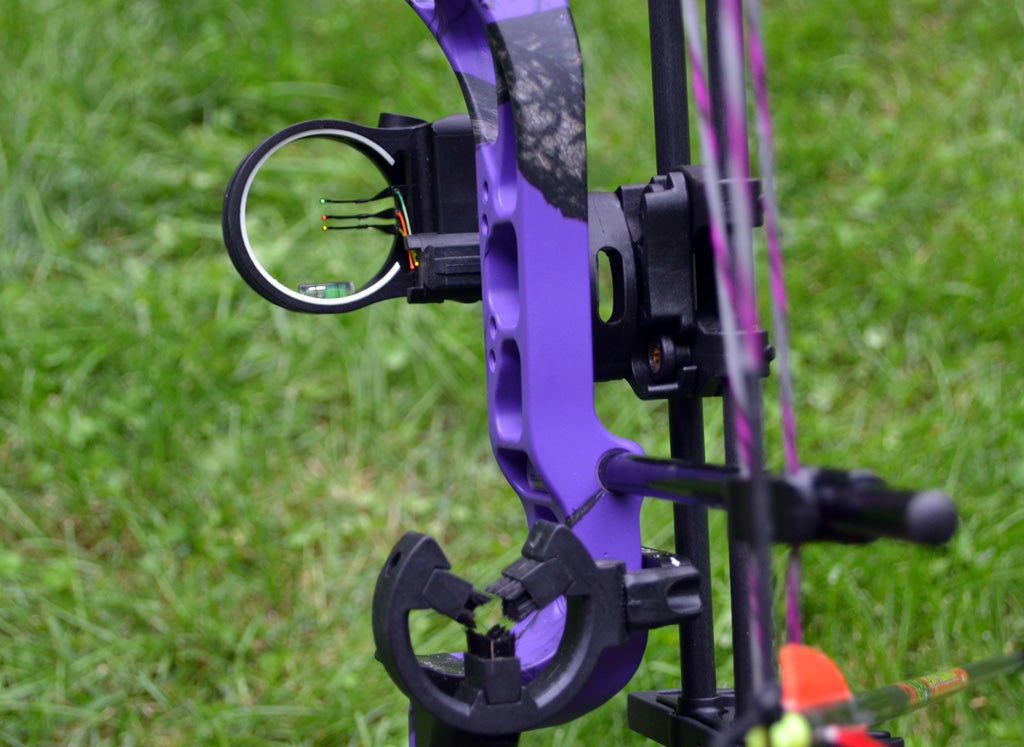 Fit and Finish
Considering the price of these bows, the fit and finish was surprisingly good. We'd give top points to the Bear Threat, which makes sense considering it is not exactly an entry-level bow. The flat black riser looks fantastic and the striking orange and black string and cables are easily our favorites. The Bear Threat would not look out of place next to a $1,000 flagship bow. About the only thing we didn't like was that we couldn't put our peep quite high enough on the string due to serving material getting in the way.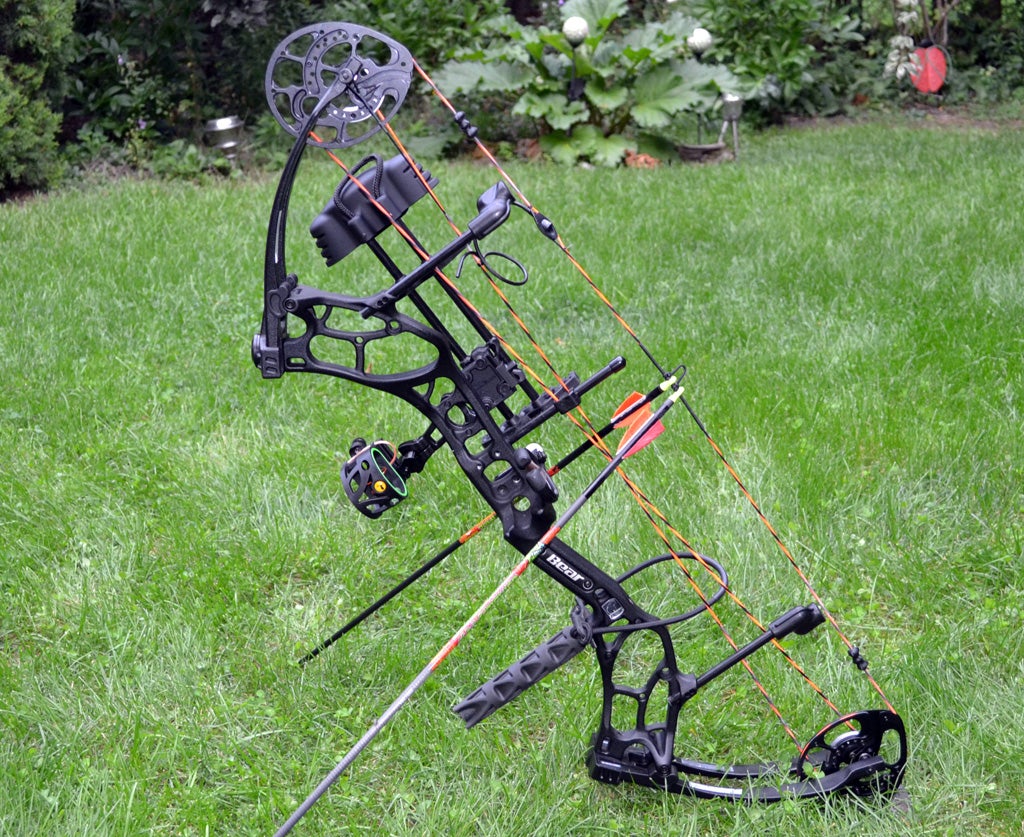 The Quest Forge gets second place points here as the camo finish on the riser looks great and the blue and black strings are sharp. We don't love the rounded grip, but that is a personal choice.
We'd put the PSE Stinger X right with the Forge for fit and finish. Though we don't love the Red Skullworks riser, PSE has five other color options, including a couple we really like. This bow also has our favorite grip of any we tested.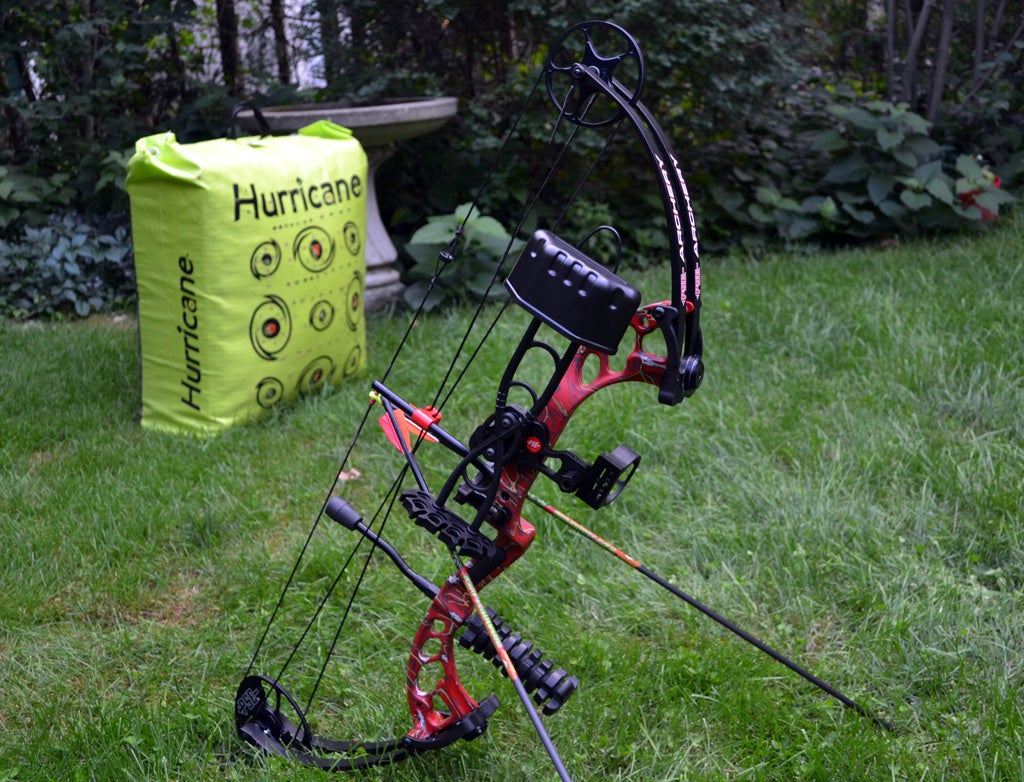 The Bowtech Fuel finishes fourth. We found a few minor imperfections in the Mossy Oak Break Up Country Camo finish, but nothing to really dwell on. Another issue was the material on the string/cable end loops. It was very fragile and we actually split the material when adding a twist to the string.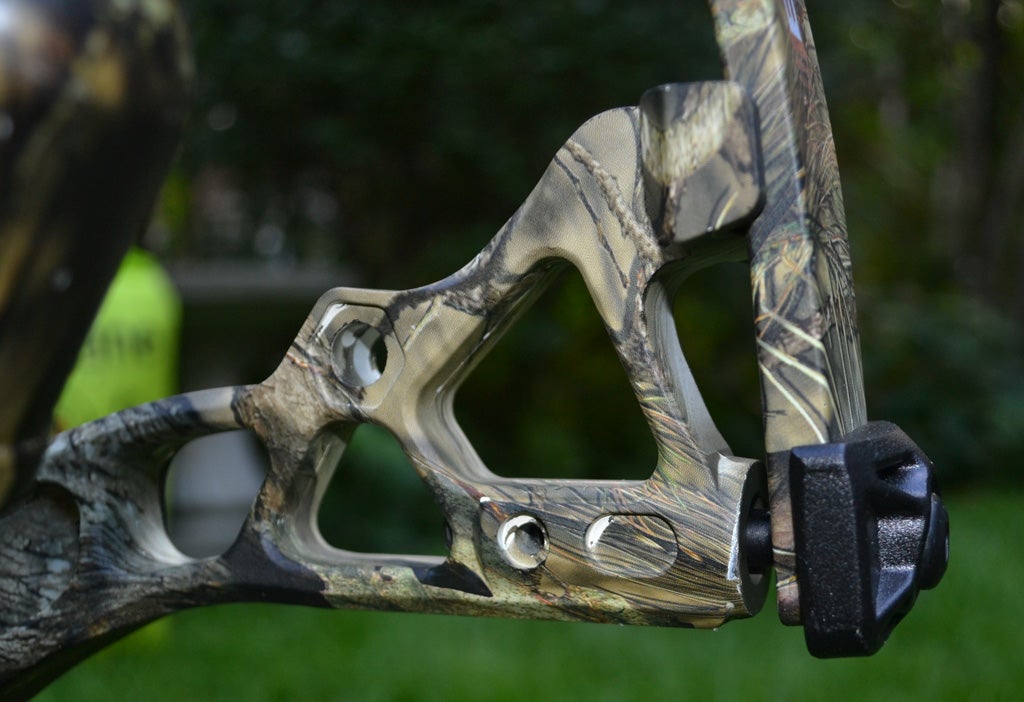 In fifth place is the Diamond Edge SB-1. It has the same fragile end loop material as the Bowtech Fuel and though the riser finish looks very good, there is an awful lot of plastic/composite material on this bow and we worry how that will hold up to years of abuse. We also had an issue with movement in the plastic portion of the hand grip and the string stop was out too far when we picked up the bow, though it was easily adjusted. If you aren't crazy about the Purple Blaze riser color, the SB-1 is available in three other colors, including the same Mossy Oak Break Up Country found on the Bowtech Fuel.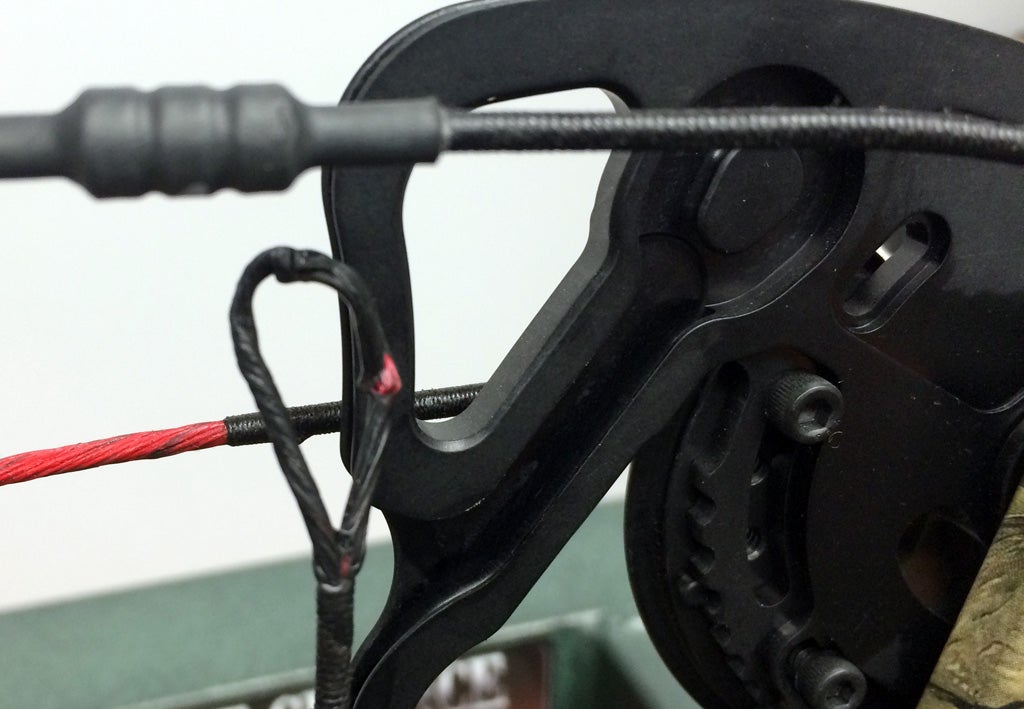 Adjustability
All five of our test bows are very easy to set up, so you can get shooting as soon as possible. Draw length adjustments are made on the cams and don't require the use of a bow press in most circumstances. Draw weight adjustment is as simple as turning a hex key. The differences lie in how much adjustability is offered.
Simply put, the Diamond Edge SB-1 is the most versatile bow we've ever seen. Draw weight can be adjusted from seven to 70 pounds and draw length is adjustable from 15 to 30 inches. You could set this bow up for a seven-year-old child or give it to a six-foot tall man to hunt big game. Diamond even has a website dedicated to setting up this bow: adjustmybow.com. This is also the only bow we've seen that has adjustment marks on each limb pocket, so you can add or remove poundage while easily finding your way back to where you started. It's a great system. Our only issue was that this was the only bow we needed to put in a press to adjust the draw length, as one of the module screws was blocked by a limb.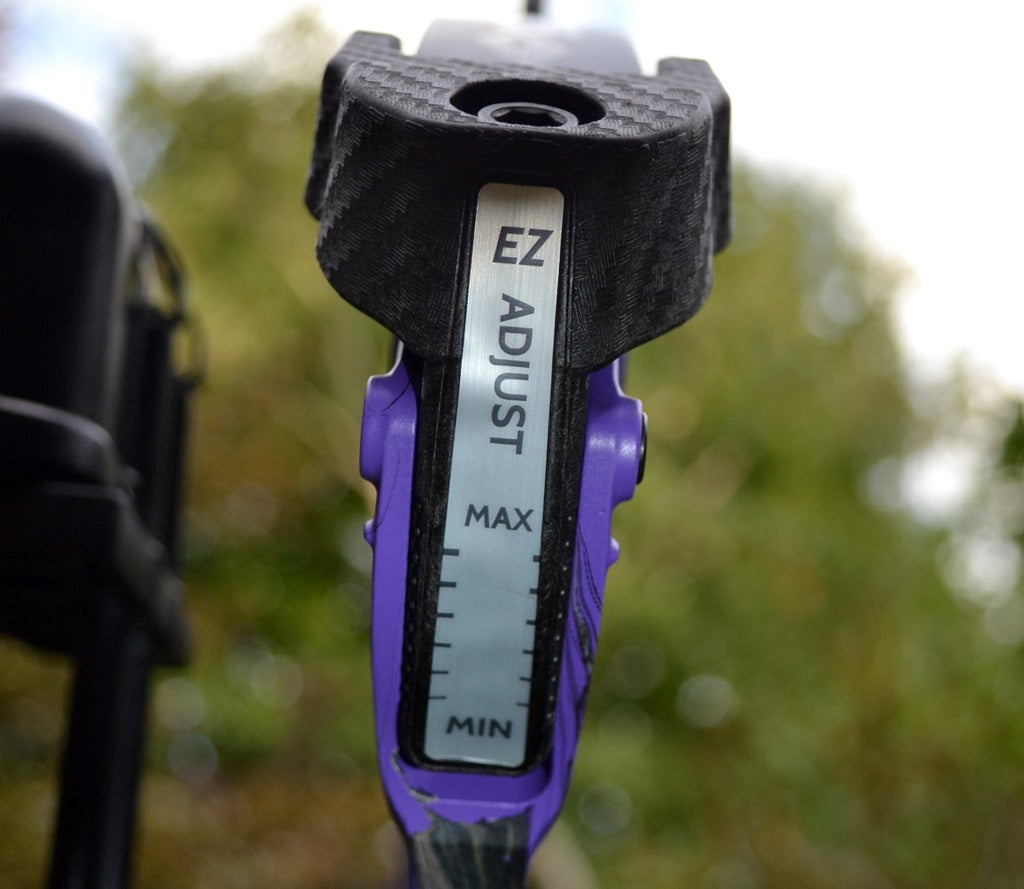 Coming in second in adjustability is the Bowtech Fuel. It offers draw weight adjustment from 14 to 70 pounds and draw length is adjustable from 18 to 30 inches. That's still enough adjustment for any adult and all but really young children.
In third place is the Quest Forge. It offers draw length adjustments from 25.5 to 30 inches and draw weight is adjustable from 40 to 70 pounds. That should be enough to fit the vast majority of adults, men or women.
We gave the nod to the Forge over the PSE Stinger X, but just barely. The Stinger X actually offers greater draw length adjustability (21 to 30 inches), while draw weight is adjustable from 42 to 60 pounds in the performance setting. You can also get draw weights ranging from 35 to 50 pounds or 49 to 70 pounds with different limbs.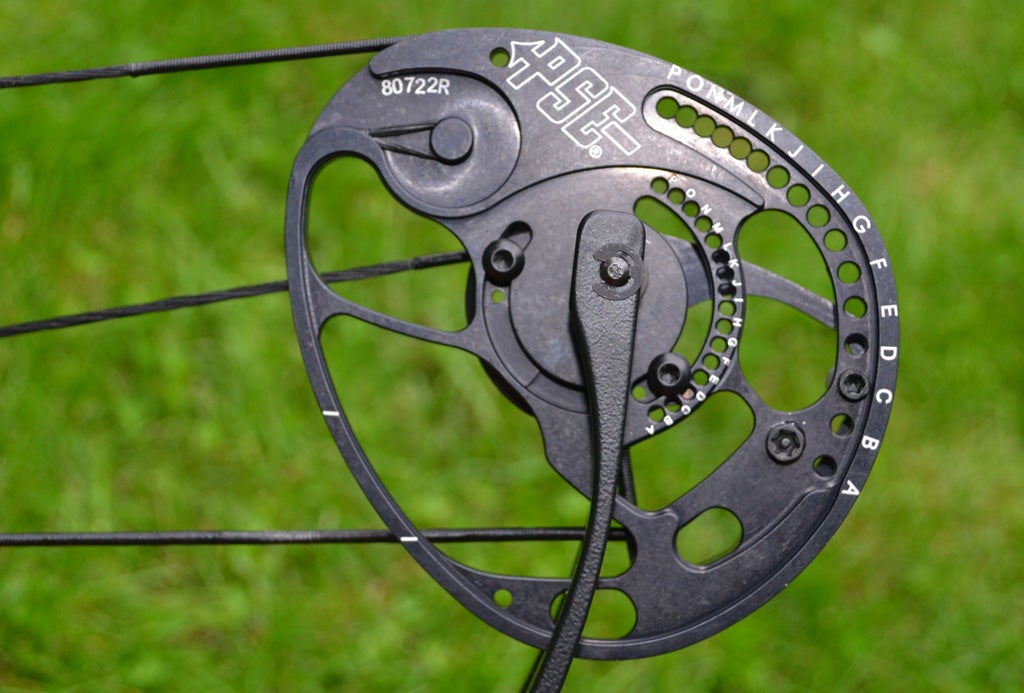 The Bear Threat comes in fifth place in adjustability, offering 25 to 30-inch draw length adjustments and 10-pound draw weight adjustments (50 to 60 pounds or 60 to 70 pounds). It might not seem like much adjustment compared to bows listed above, but it's still more draw length adjustability than most flagship-level bows offer without having to buy new modules or replacing cams entirely.
Speed
All of our speed tests were done with the bows set at 60 pounds of draw weight, 29 inches of draw length, and using a 380-grain arrow.
The speed battle was really a one-horse race, won easily by the Bear Threat. We recorded an average speed of 288 feet per second, which is impressive for a bow in this price range. Just for fun we also speed tested a 328-grain arrow (still well within the industry standard five grains per pound safety limit) and saw an average speed of 306 feet per second.
The other four bows all finished pretty close together in speed, though a good bit behind the Bear. We recorded average speeds of 276 feet per second with the Diamond Edge SB-1, 274 feet per second with the PSE Stinger X, 272 feet per second with the Bowtech Fuel, and 270 feet per second with the Quest Forge. The Stinger X had the slowest IBO rated speed, so its third place finish was a pleasant surprise.
Shootability
We've had a difficult time ranking this category, as no single bow was best at every aspect of the shot cycle. All have their plusses and minuses.
Ultimately, the Diamond Edge SB-1 gets the nod as we shot good groups more consistently than we did with the other four competitors. The draw cycle was very smooth and it didn't feel like we were pulling its 60 pounds of draw weight. We did find this bow will creep on you at full draw if you aren't holding firm against the wall. It also didn't feel like we were getting the full 80% let-off, so holding at full draw for a long time requires some effort.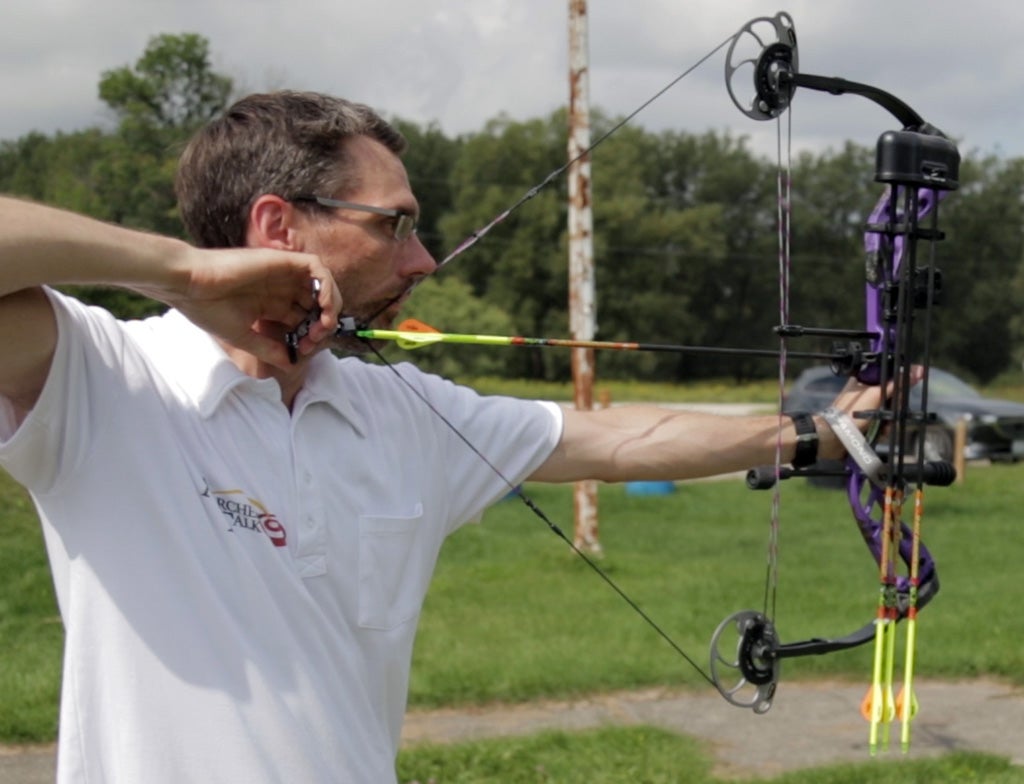 It's really a tie for second between the Bowtech Fuel and Quest Forge, but the top three are so close in our eyes that any could take first place. The Fuel was the easiest bow to draw of the bunch and has the most forgiving let-off. It feels like we could hold this bow on target all day. The Forge is also nice and smooth to draw back and offers good let-off, but we were able to shoot slightly better groups more consistently with it compared to the Fuel.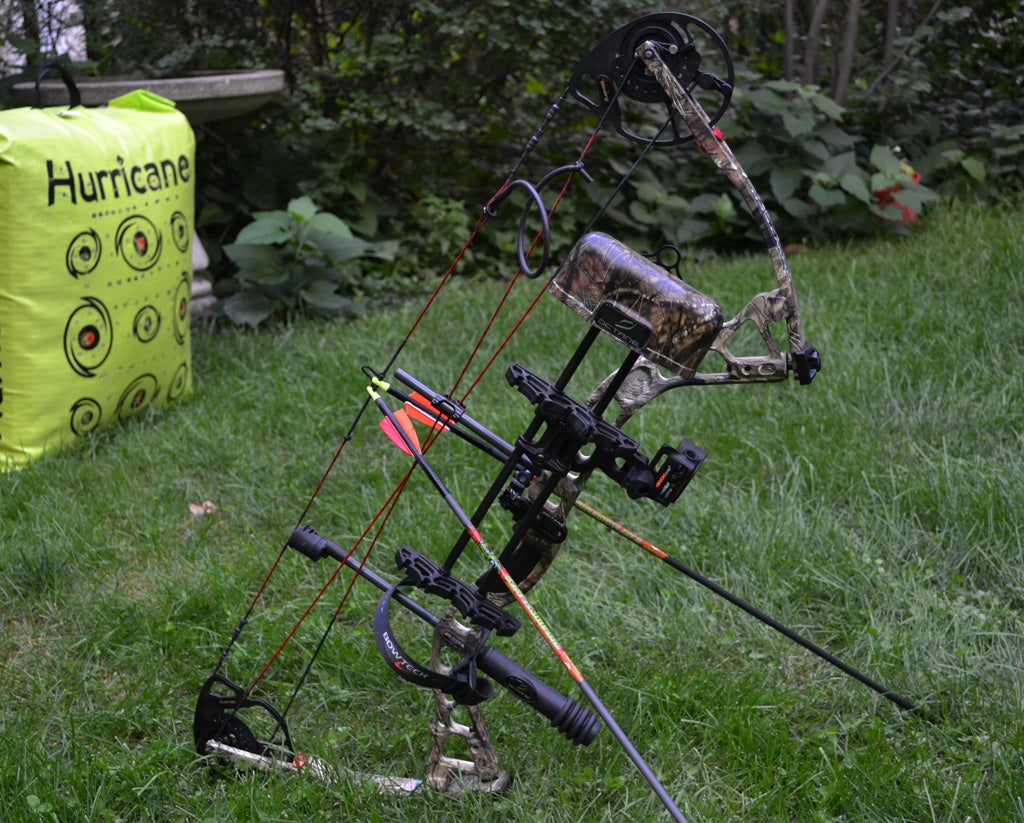 We were more up and down with the PSE Stinger X and Bear Threat. The Stinger has a firmer draw cycle than expected and is a touch jumpy if you aren't pulling firmly into the wall. The Bear is the toughest to pull back, but that is to be expected with such a fast bow. It is eager to jump at the wall and the let-off felt far below the 80% listed in the specs.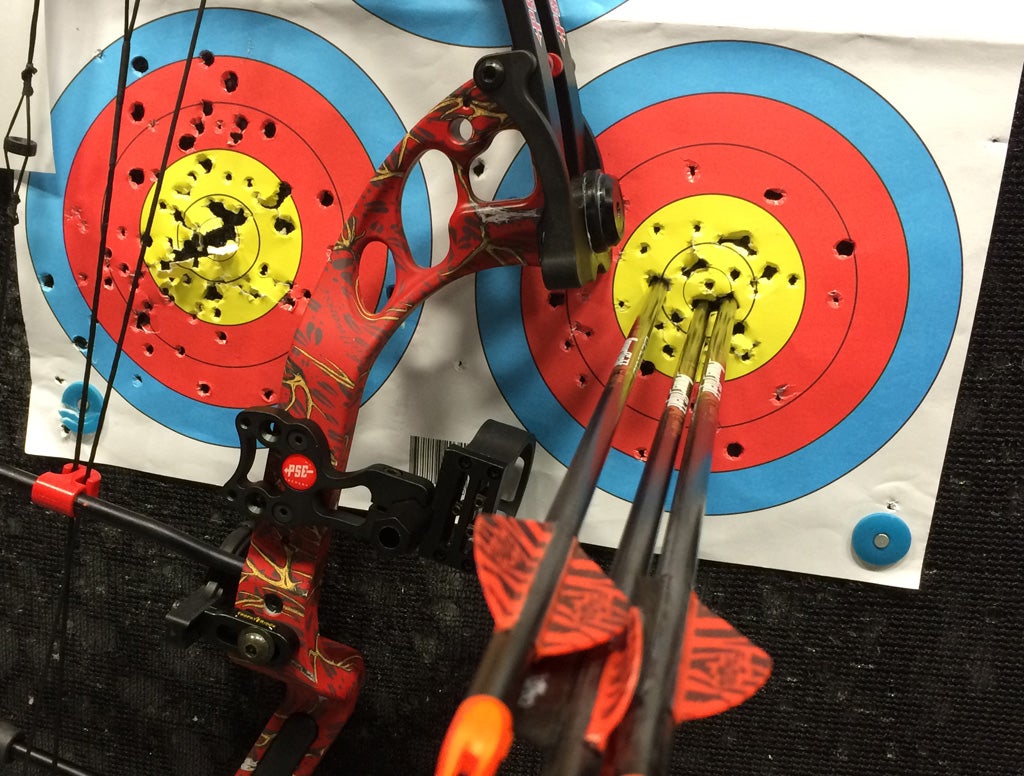 Interestingly, some of our best groups came from these two bows, but so did our worst. If you can stay totally focused on each and every shot, both will perform great. We just didn't find them as forgiving as the other three bows in this comparison.
And the Winner Is…
We came into this project with some preconceived notions about the quality and performance of these affordable hunting bow packages, and we came away more impressed than we'd expected. All five were simple to set up for proper draw length and we were up and shooting in no time.
We shot hundreds of arrows out of each of these bows, and though we've got our favorites, there is no dud in this group. With proper setup and tuning, we'd have no issue taking any of them hunting.
Picking an overall winner out of this group was tough, but we are going to give the crown to the Quest Forge by the slightest of margins over the Diamond Edge SB-1.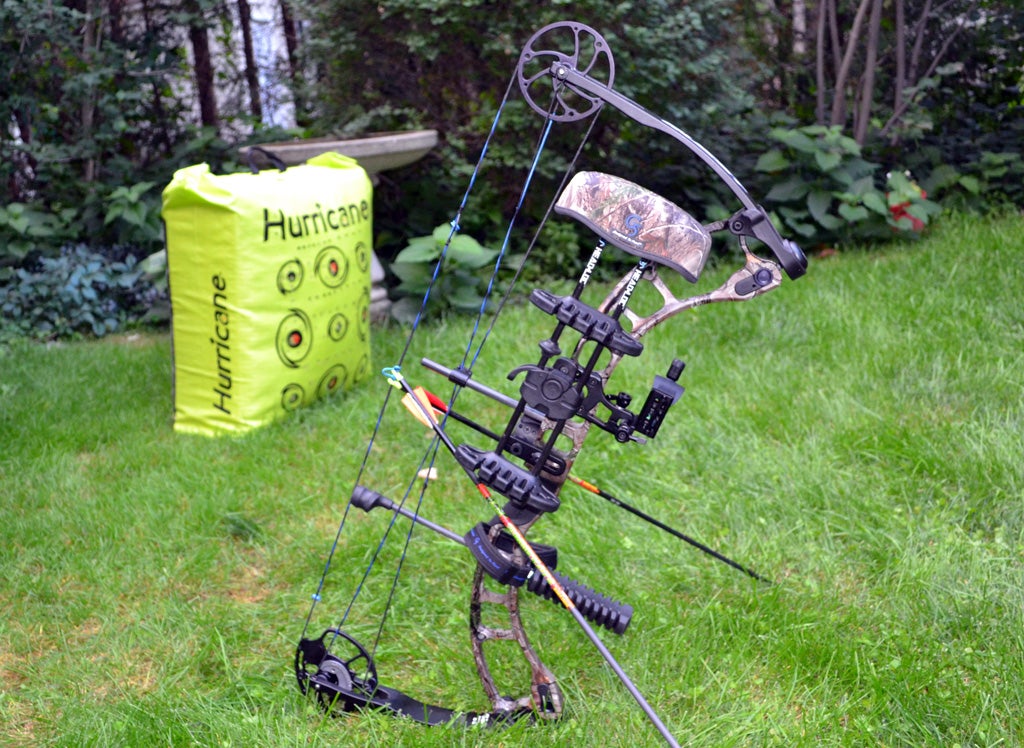 The Quest Forge gets the nod thanks to its superior package of accessories. They are just a notch better than anything else we tested, making the slight price premium well worth it. If we owned any of the other bows, we'd want to make some accessory upgrades. Not so with the Forge, which more than makes up for its second highest sticker price. The bow is also a shooter.
We give the Diamond Edge SB-1 a very close second largely because of how well we shot it. We shot multiple Vegas-style scoring rounds out of each bow and our top two scores were on the SB-1. If this bow had slightly better strings and an improved sight, we'd happily pay an extra $100 for it. Even though we already own more bows than we need, keeping an Edge SB-1 in the collection is tempting for those times when somebody new wants to give archery a try. This bow will fit just about anybody.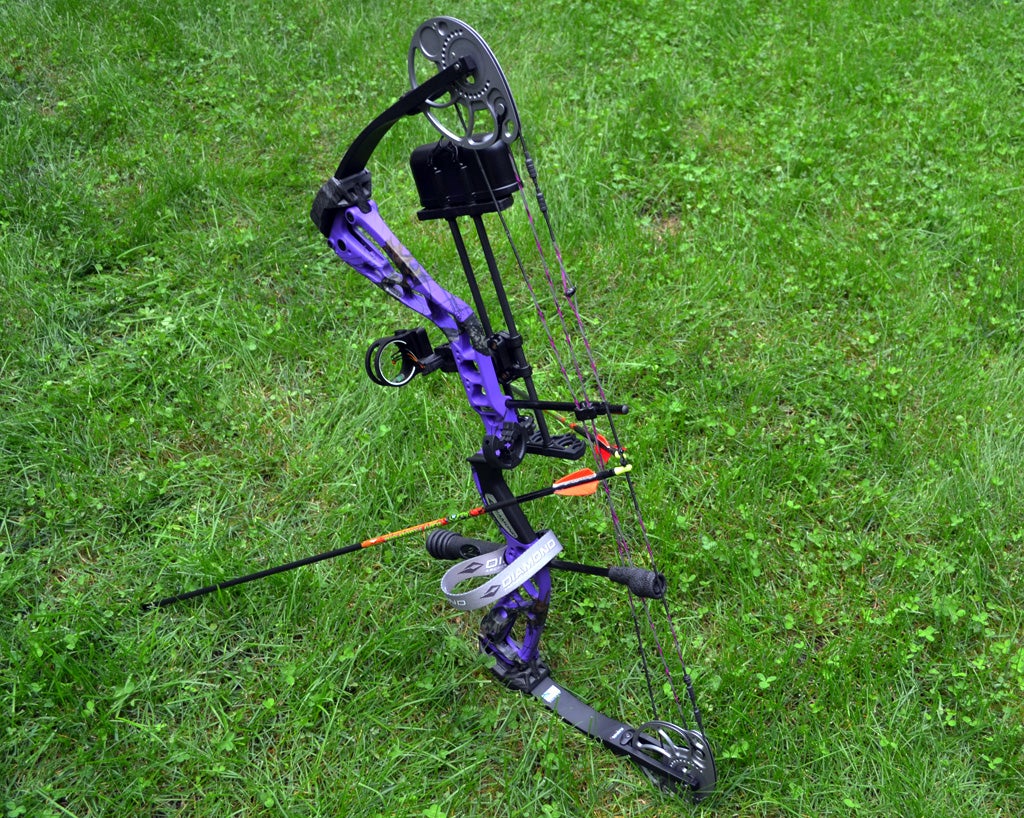 None of this is to say that the Bowtech Fuel, PSE Stinger X or Bear Threat are unworthy. Any of these bows could win the crown if it was decided by another shooter. All five are well worth considering if you want to give archery a try or just want a new and capable hunting bow without breaking the bank.