Watch: Gibbs Quadski ATV and Jet Ski All in One
Russ Chastain 09.16.16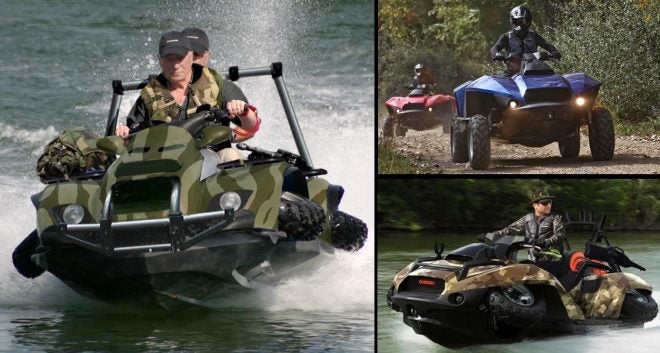 The Gibbs Quadski looks pretty cool. It's an off-road ATV that looks wide enough to be pretty stable–and it's also a speedy jet-ski-like personal watercraft.
Awesome: Drive your personal watercraft to the boat ramp. Drive it on down into the water. Convert it to water mode, which retracts the wheels. Take off and enjoy your time on the water!
Anti-awesome: They cost like $40 grand, and there's already been a recall because "The handlebar can fail while the vehicle is in operation, causing the operator to lose control of the steering and braking system of the vehicle."
Bummer.
Still, that cannot fully negate the cool factor. And if someday I become filthy rich, this looks like a toy I'd like to try.
Some manufacturer specs:
Engine: 4 cylinder 1300cc 16 valve DOHC
Fuel Type: 98 RON Premium plus unleaded
Ground Clearance: 8.9in (225mm)
Marine Propulsion: Gibbs jet drive with reverse
Brakes: 4 Wheel disc brakes (on land)
Drive Layout (land): RWD
Suspension: Independent coil springs/hydraulic dampers
Weight (curb): 1,333 lbs (605kg)
Hull: Monocoque dual skin composite
Overall length: 128.3 in (3,260mm)
Overall width: 62.5 in (1,587mm)
Wheelbase: 70.5 in (1,790mm)
Land Speed: Up to 45 mph
Overall height: 53.5 in (1,359mm)
Track width: 55.5 in (1,410mm)
Water Speed: Up to 45 mph
Colors: Red, Blue, Yellow, Silver, Camo (add $2500); custom colors available
There's also an XL version, which is a two-seater (one behind the other).
Kinda sad that for this kind of money (way more than I paid for my 3/4-ton 4-wheel-drive pickup) you only get rear wheel drive. But hey, my truck's not amphibious, either. So there's that.
Anyhow, I kinda want one. You?