When I needed a scope for an accurate AR15 pistol, I chose the Leupold FX-II 4x28mm. This optic has just enough magnification to maximize the potential of the AR15 pistol format with plenty of eye relief for arm's-length aiming.
Fit, Finish, Feel, Features, and Functions
Leupold has a long reputation for high quality optics, and the FX-II I tested is no exception. It has fixed 4X magnification, superb optical clarity, and a generous eyebox.
Handgun optics are subjected to more violent recoil than most rifle scopes due to the lower weight of the firearm. The reality is that lower-quality optics just do not hold up to the punishment of rifle cartridges in handguns. Thankfully, Leupold's pistol scopes are famous for durability, and they guarantee the scope should you ever have an issue.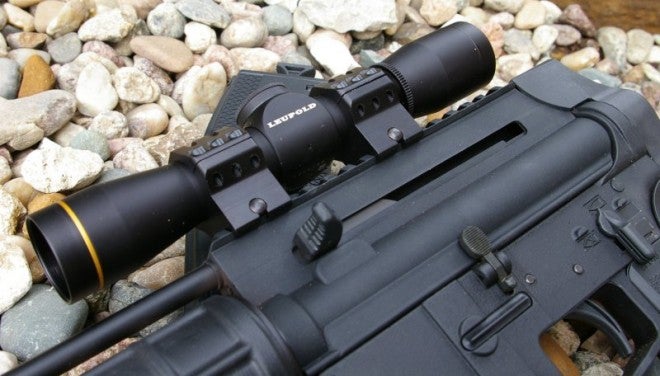 The Leupold 4x FX-II scope offers all the usual Leupold features, including Multicoat 4, Xtended Twilight Lens System, Diamondcoat II, and other proprietary image, reflection, light transmission, and durability enhancements. Other features include Twin Bias Spring Erector System, Super Fast-Focus Eyepiece, Lockable Fast-Focus Eyepiece, Clasic/Standard Lockable Eyepiece, Micro-Friction 1/4 MOA, and 1/4 MOA Finger Click.
The one-inch tube is made of 6061-T6 aircraft quality aluminum, and the reticle (crosshair) is standard duplex, which I think is perfect for this application.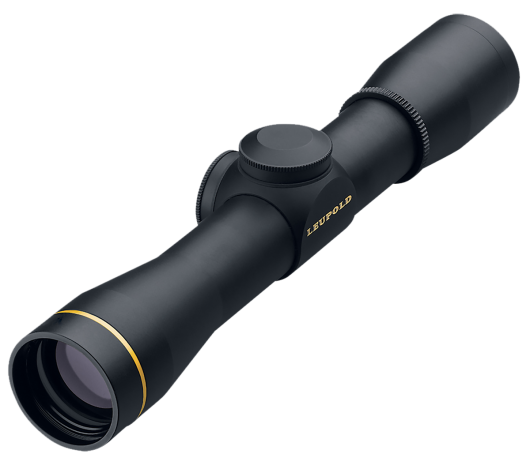 Most people add far too much magnification on both handguns and rifles, and this can be a real problem with a handgun. 4x is a usable magnification that is not too frustrating to hold steady at arm's length.
I knew from experience the importance of a generous eye-relief box/window on a handgun scope. If the eye-relief box is too narrow, the shooter is constantly fighting to see through the scope. That's not a problem on this Leupold, so you're able to concentrate on the target.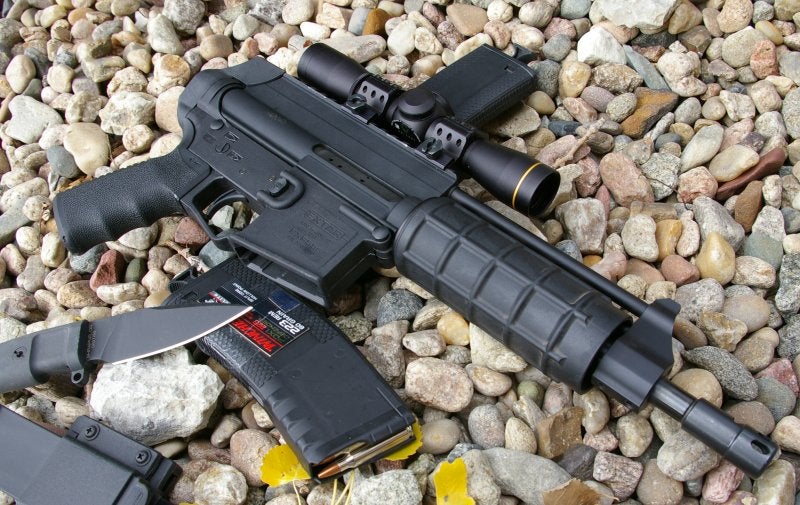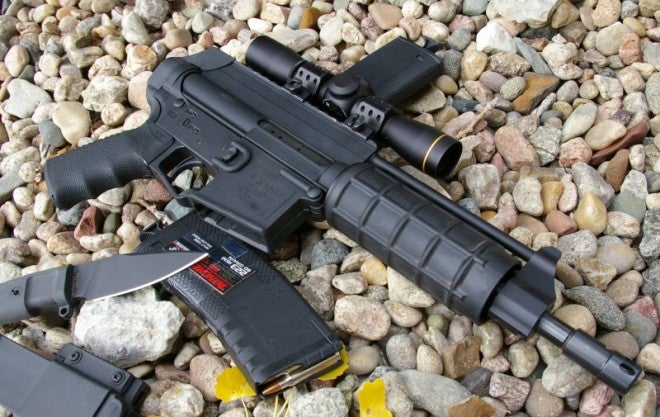 Final Thoughts
The Leupold FX-II Handgun scope delivers a proven and reliable design that is specifically built to take the increased punishment a handgun can deliver, even the really big handgun rounds like 45-70 and .308. Obviously the EXTAR 5.56 AR15 pistol didn't even phase this scope, but it did deliver a super light pistol that, when equipped with a scope, was more than accurate enough for varminting and plinking all the way out to the 300 yard line.
Manufacturer Specs
Matte Black finish, item 58750, MSRP $454.99
Silver finish, item 58760, MSRP $519.99
Standard Duplex Reticle
Multicoat 4 lens coating
Xtended Twilight Lens System for improved light-gathering
DiamondCoat 2 protective lens coating
2nd Generation Argon/Krypton Waterproofing
Twin Bias Spring Erector System
Super Fast-Focus Eyepiece
Lockable Fast-Focus Eyepiece
Classic/Standard Lockable Eyepiece
3:1 Zoom Ratio
Standard Multicoat
Micro-Friction 1/4 MOA
1/4 MOA Finger Click
Custom Shop serviceable
Tactile Power Selector
Proprietary Nitrogen Fill Process
One inch Maintube
6061-T6 Aircraft Quality Aluminum
Standard Power Selector
Durable Lens Cover
24K Gold Ring and Medallion
Actual Magnification: 3.70 x
Linear Field of View (ft/100 yd): 9.00 ft
Linear Field of View (m/100 m): 3.00 m
Eye Relief: 18.00 in
Eye Relief: 457.00 mm
Weight: 7.00 oz
Weight: 199.00 g
Objective Clear Aperture: 1.10 in
Objective Clear Aperture: 28.00 mm
Elevation Adjustment Range: 60.00 moa
Windage Adjustment Range: 60.00 moa