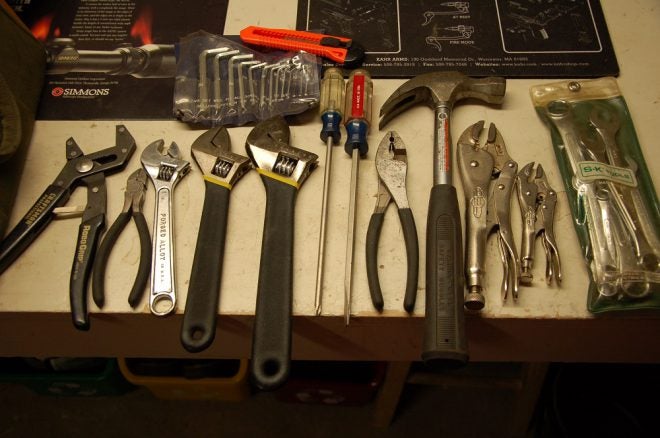 Admittedly a full sized toolbox or even an abbreviated tool bag can get heavy and cumbersome as an everyday carry tool source. I have tried them all and keep working to pare down the weight and cut back on some of the items I never seem to use after all. It is always comforting to have more items at hand than you need, but often there is simply too much in the kit to make it practical.
At some point I hit upon the idea to have a smaller version of a tool tote. This can simply be a tool roll containing the most basic and likely needed emergency tools. Now, everyone's selection of what to add to a roll will be different, but here are my critical choices.
I first took everything out of my existing bug-out camp tool bag and laid it all out on the work bench. Now, I am not moving some of these tools to a roll, but just duplicating them. There are times when I want more items at hand such as during an extended stay at our bug-out camp. Ultimately this tool roll will be like an EDC bag, but only tools that are permanently carried in my primary vehicle.
So, from all this stuff I chose these items for the roll. First, four screwdrivers, two each Phillips and flathead types, one large, one smaller each. One pair of standard pliers. I added one medium sized adjustable wrench. A pocketknife or razor blade box cutter, and a roll of electrician's tape. I put in one high quality flashlight like a Cree chip light. One hammer— the biggest I could fit into the roll. One vise grip tool, small or large to clamp things.
If space permits consider these other items. One small can of spray lubricant like WD-40 or Liquid Wrench. A shop towel is always welcome. Add a little bottle of hand cleaner or sanitizer. I am sure there are other tools you might select, too.
Finding a good tool roll itself can be a challenge. I am still searching for just the perfect item with sleeves sewn in to hold the tools that can actually be rolled up and tied by attached straps. I have looked at carpenter's tool aprons, various kinds of surplus carry pouches, and even a small canvas war surplus tool bag. Find the right roll, add the tools, and slide it under the back seat or trunk.