Watch: Hook Line and Threader Threads Hooks Through Live or Artificial Bait
Russ Chastain 09.29.16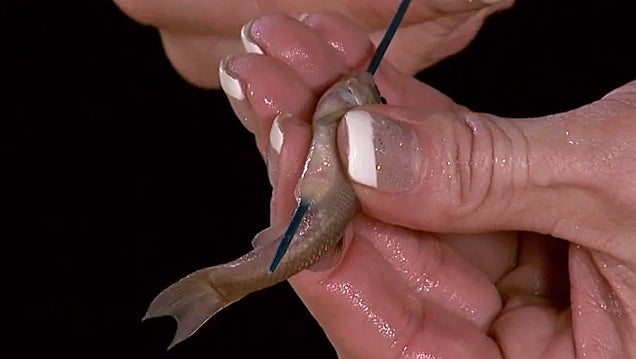 This is an interesting product. The Hook, LIne, & Threader is pretty much a needle-threader for fishing line, and it can be used for threading snelled hooks through artificial bait such as plastic worms or live bait like minnows and shiners.
You stick it through the bait from front to back, then hook a looped leader to it; then you pull that leader back through the bait. The hook on the other end of the leader can be pulled inside of the bait to help conceal the hook.
This lets you create custom baits and allows you to hook artificial or live bait in a "weedless" fashion to help avoid getting the hook hung up on snags.
This simple tool appears to work as advertised, and the bait does look to stay alive afterward–and the handle on the threader floats if you drop it overboard.
They sell these things in kits of different sizes, as well as offering soft baits, snelled double-prong hooks, loose double-prong hooks, and more.
Check it out and see what you think of it.