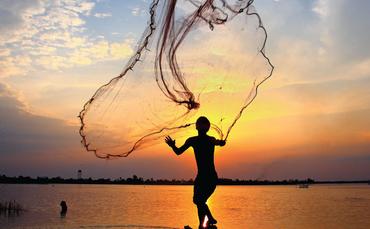 Troy Boudin of New Orleans had made friends with his new neighbor who'd just moved South from New York. The transplant loved fishing, so Troy took him.
First they had to catch bait, so Troy began tossing a cast net, which the New Yorker wanted to try. Troy showed him how to hold the net in his arms, hands, and with his teeth.
"Be sure," warned Troy, "that you only hold the net's lead line with your lips, not your teeth, or you might break 'em when you toss this heavy net."
First cast, the New Yorker forgot the warning and broke off his top two front teeth at the gums because he held the net lead line with them.
A month later Troy and the New Yorker were on the water again, and still the new resident wanted to cast a net.
"Remember, lips, not teeth," cautioned Troy.
Sure enough, first cast both top front false teeth came sailing out with the net lead line, and were promptly lost in the bayou.
Three months later, the duo were back on the water, and again the New Yorker wanted to cast Troy's net. Wiser this time, the man removed his new set of front teeth dentures, wound up with the cast net, but when he let it go the net snagged his eyeglasses, which were catapulted far out and lost in open water.